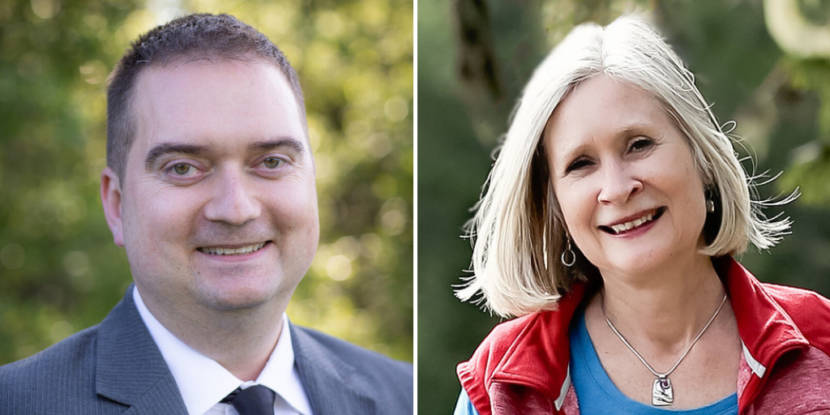 Juneau Democrat Andi Story is facing a challenger for her seat representing the Mendenhall Valley in the Alaska House of Representatives. Economist Ed King is running as a nonpartisan candidate.
The state's fiscal crisis dominated discussion at a candidate forum Thursday put on by the Greater Juneau Chamber of Commerce.
The candidates are generally aligned on a lot of big goals — the Alaska Marine Highway System should be improved, the state's budget needs to be balanced, the economy needs to be stabilized and the Juneau Access Project, a.k.a., "the road," should go forward.
But there's contrast in how they'd get there.
For example, Story said she'll vote for the ballot measure to raise taxes on oil companies to help with the state's budget. She says it's not perfect, but that it's too difficult politically for lawmakers to pass oil tax legislation of their own that would survive the governor's veto.
"And I believe it would spur the Legislature to clean up this Ballot Measure One," she said. "That, one, would get the governor's support, and be a reasonable middle way that would be sustainable to the oil companies and Alaska."
King said he voted against it. He suggested it would help in the short term but would cause bigger fiscal problems in the long run.
"That's not a good fix. That's not a fix at all, that's just kicking the can," he said.
He also had problems with the idea that the regular lawmaking process was a nonstarter.
"We've amended the oil tax law six times in 14 years," King said. "The idea that we can't have a conversation about oil taxes is asinine. We have that conversation every single year."
Both candidates said it's appropriate to use Permanent Fund earnings to pay for essential government services.
"And that is what we are using as our main source of revenue right now, is our permanent fund earnings," Story said. "We need to protect that. We do not need to go over the sustainable draw. Now we have to decide, about how big should a permanent fund dividend be?"
She cautioned against paying out the bigger dividends prescribed in a 1982 law because that may force Alaska to become a high-tax state to pay for government services.
King said making policy on how to split permanent fund earnings between dividends and the government should be more bottom-up — the public should be more directly involved.
"We need to involve them in that conversation," King said. "And recognize, the people will recognize that if we want to continue to pay the full PFD according to statute, that's probably going to mean we need to do something different with our taxes or budget. So let's include the people, let's have that conversation, let's be grownups."
One thing Story is proposing is new state bonds.
"We need to get people to work," she said. "I propose putting a statewide general obligation bond on the ballot to address deferred maintenance and infrastructure needs."
She suggested targeting road, marine highway and airport projects that federal dollars can largely pay for, plus economic development projects.
In terms of personal legislation, King's top priority is the ferry system.
"I intend to pre-file a bill that establishes the Alaska Marine Highway Corp.," King said. "I think that that is the most critical thing for Juneau. … We have to fix the governance of our Alaska Marine Highway System. It's gotta happen."
One of the main planks of King's pitch is that he's better suited for dealing with the fiscal crisis at hand. That's because of his experience and expertise as an economist who's worked in three different governors' administrations.
Story's main credentials when she was first elected to the statehouse were her long-time leadership on the Juneau School Board and the Association of Alaska School Boards. On an education question, King described goals, but said he'd defer to experts like Story on how to achieve them.
In the neighboring House District 33, incumbent Democratic Rep. Sara Hannan's seat is uncontested this year. She represents downtown Juneau, Douglas, Excursion Inlet, Gustavus, Haines and Skagway.
More election coverage and resources are available at KTOO.org/elections.