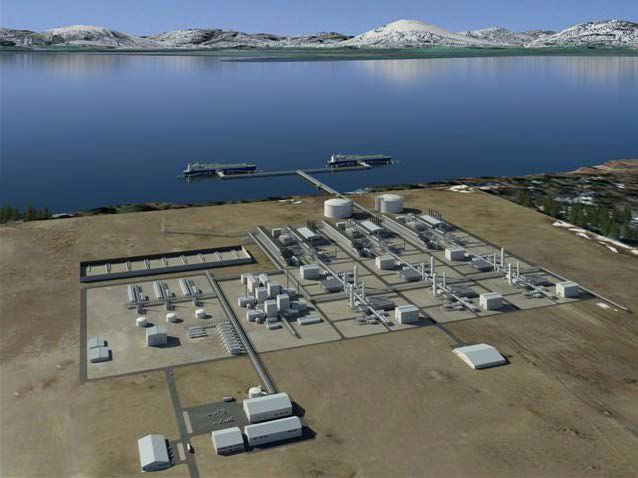 Alaska's latest plan to get North Slope natural gas to market got environmental approval from federal energy regulators on Thursday. 
Several state lawmakers, Gov. Mike Dunleavy and the state's congressional delegation congratulated the state's gas corporation for reaching the milestone. 
In a news release Alaska Gasline Development Corporation president Frank Richards said that getting approval from the Federal Energy Regulatory Commission helps make the project less risky for investors and potential partners to consider — because it defines the environmental impacts.
In its current form, the Alaska LNG project has two facilities — one on the North Slope and one on the Kenai Peninsula — connected by an 800-mile long pipeline. 
But, there are still a lot of things that have to happen before the project gets off the ground. The state doesn't have control of all of the land it needs, or the finances to get the $43 billion project built. 
The state corporation is still working to make the project economically competitive. The markets the project is targeting are in Asia, where current prices aren't high enough to make Alaska's gas financially feasible to develop. 
The Alaska LNG project is the latest iteration of the state's 40-year quest for a natural gas pipeline. 
This version kicked off in 2014 as a partnership between the state and its big three oil producers BP, ConocoPhillips and Exxon Mobil. There was a fourth partner, TransCanada. 
But, by 2016 those producers backed away from the project, saying the market conditions weren't right. Then, the state took the lead. 
But the state corporation's board does not want the state to continue being the projects only sponsor. In April the board adopted a plan to bring on new partners to guide the project — the goal is to have those partners in place by January of 2021. 
The environmental impact statement released today has its detractors. 
Environmental groups like Earthjustice, The Center for Biological Diversity and Sierra Club say the environmental impacts outweigh its benefits.  
And one of the four federal commissioners who heads up the regulatory agency shares those concerns. And disagreed with the decision. In his dissent, Richard Glick wrote that the commission is refusing to consider the impact the Alaska LNG project would have on climate change.  
He wrote "claiming that a project's environmental impacts are acceptable while at the same time refusing to assess the significance of the project's impact on the most important environmental issue of our time is not reasoned decisionmaking." 
Editor's note: This story has been updated with a change in the headline to reflect that the Alaska LNG project's environmental impact statement was not significantly delayed, and to add further information from that impact statement.