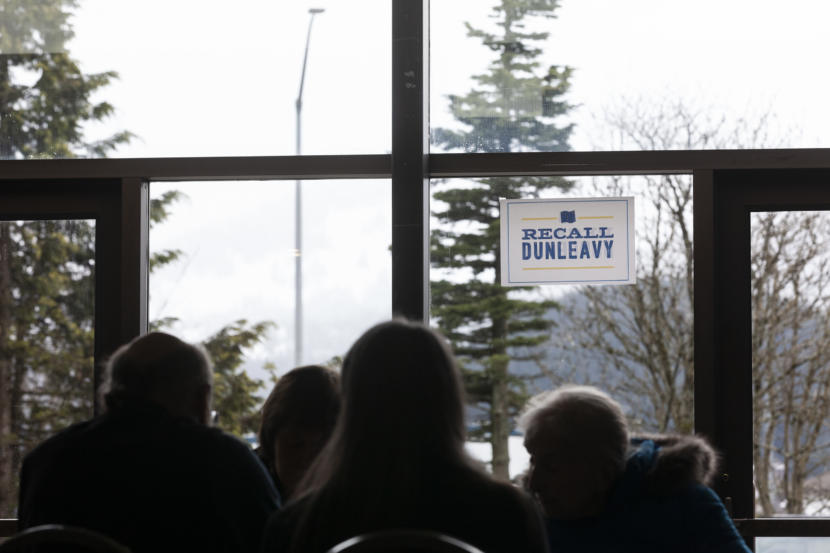 The campaign to recall Gov. Mike Dunleavy looks different in different parts of Alaska. In smaller communities, one person is doing all of the signature gathering. But the campaign in the state's three largest cities kicked off last weekend with teams of volunteers gathering signatures.
This is the second time the organizers of the campaign to recall Dunleavy have had to gather signatures. The first time was in August, for the recall application.
August was just over a month after Dunleavy vetoed hundreds of millions of dollars from the state budget. And the kickoff events drew big crowds. The organizers struggled to keep up with the demand to sign.
Now, the campaign is at it again — this time gathering signatures for a petition to actually hold the recall election. And this time it's after the governor proposed a budget without large cuts.
"I think people see the budget that he put out right now as like two-year-old frost-bit salmon," said Recall Dunleavy chair Meda DeWitt. "So, people realize that he's just trying to back off a little bit and hoping that people will forget what his actual agenda is and people here in Alaska have long memories. They remember what his agenda is. We have audio and written accounts of his words. Everybody remembers, and they want to protect their state."
DeWitt was in Juneau on Saturday, Feb. 29, delivering a second batch of recall petition booklets from Anchorage. She's confident that the campaign will get the more than 71,000 signatures it needs to hold a recall election.
Volunteers started staffing tables at Juneau's recall event Saturday at 8 a.m. In the first four hours, roughly 200 people came through.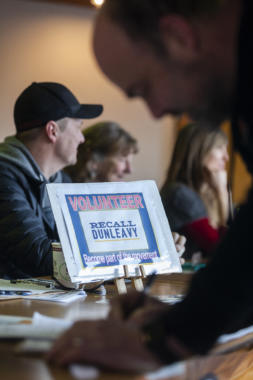 In more than 20 interviews with recall supporters on Saturday, only a few volunteered the listed grounds for recall as reasons for supporting the campaign. Most cited budget cuts, particularly to the Alaska Marine Highway System.
SueAnn Randall is an artist who brought her own pen to sign the petition.
"I have been saving this pen for something and I brought this pen to sign because I plan on framing it because I feel like this is a historic moment in our state where Alaskans are standing up and banding together for the things that they value," she said. "That's why I brought my own pen."
As the petition campaign moves ahead, Alaskans opposed to the recall also are organizing.
"We can see that the recall folks are mounting quite a campaign and it needed to be countered," said Cynthia Henry, who chairs Keep Dunleavy, a new group fighting the recall.
Henry is an Alaska member of the Republican National Committee. She says the listed grounds for recall are flimsy.
"It's pretty clear that it's politically motivated. And that's not a good way to run government," she said.
Keep Dunleavy has started taking donations on its website.
"There have been a lot of people who support the governor's position here and oppose the recall who have wanted to weigh in. And so we're giving them a good opportunity," Henry said.
The petition must be submitted before April 20 to ensure there is a special election before the state primary.