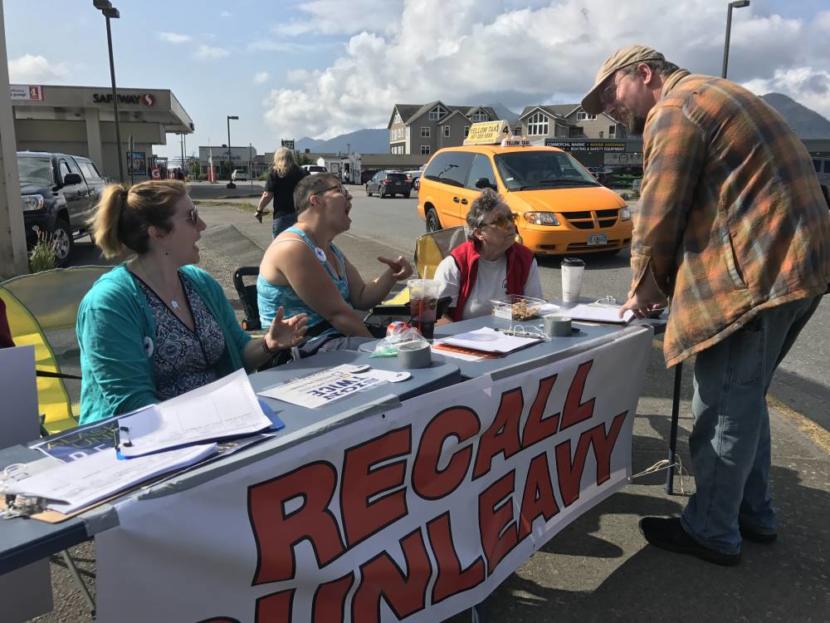 Signature gathering for the campaign to recall Gov. Mike Dunleavy has officially started.
The Alaska Division of Elections on Friday delivered the booklets that Recall Dunleavy organizers will use. After organizers received the booklets at the division's Anchorage office, they mailed out some 60 packages to recall supporters around the state to start gathering signatures.
The campaign must gather 71,252 signatures to hold the recall election. The recall organizers gathered 46,405 valid signatures over five weeks to apply for the recall. But to get the recall on the ballot, they'll have to start from zero.
The recall campaign already has a list of 44 different places across the state where supporters will be able to sign the petition. They range from Utqiagvik on the North Slope to Prince of Wales Island and Ketchikan in Southeast Alaska, and they include a cross-section of businesses and interest groups frustrated by Dunleavy's agenda — there's a store in the Southeast island community of Angoon whose owner voted for Dunleavy but says he's been devastated by cuts that the governor approved for the state ferry system; there's an Anchorage coffee shop as well as union halls in Fairbanks, Palmer and Juneau.
Campaign kickoff events are scheduled for cities next weekend; organizers have rented out Sullivan Arena in Anchorage, the Carlson Center in Fairbanks and Centennial Hall in Juneau. Campaign manager Claire Pywell says that the effort will have roving signature gatherers along with the stationary sites.
"We want it to be easy, so when someone's leaving the house, right, or they're taking the kids to gymnastics or they're going to the grocery store later, they can just go to the website and look up where they can reliably find a signature gatherer, and go and get it done," she said.
Pywell spoke from Costco in Anchorage, where she was buying hundreds of pens for signature gatherers.
Recall organizers have said they want to hold the election as soon as possible. To ensure a special election before the Aug. 18 primary, they must submit the petition before April 20.
The recall could still be stopped if the Alaska Supreme Court overrules a Superior Court decision that allowed the petition to move forward. Oral arguments in the case are scheduled for March 25.
Alaska Public Media reporter Nat Herz contributed to this report.
This story has been updated.