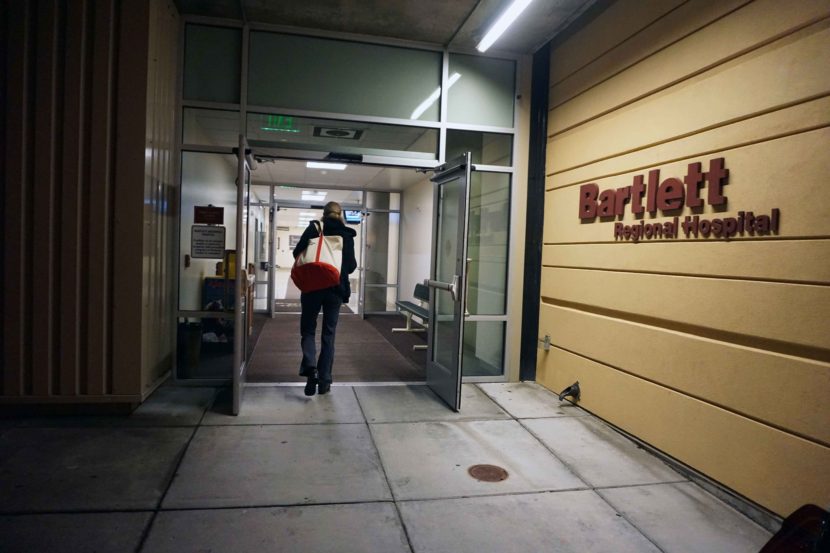 There have been no reported cases in Juneau so far, but that doesn't mean that the staff at Bartlett Regional Hospital isn't preparing for the increasing possibility of that happening.
Charlee Gribbon, an infection prevention specialist, recently disputed rumors of there being a patient in isolation at Bartlett because of coronavirus.
"No. Nobody at the hospital that is under suspicion or is tested or even considered a case is here right now," she said
In late February, Gribbon said they would test for coronavirus if someone with symptoms of a severe lower respiratory illness returned from China or had contact with someone who had. Now that recommendations from Centers for Disease Control and Prevention have changed, Gribbon says they would also test anyone who had any respiratory symptoms that were unexplained.
"(If it's) a severe case of respiratory illness with no close contacts and no exposure risk to an area that's got a high concentration of this virus, then that's where we would talk to the state about doing this test," she said.
They'd send a sample to the state for that test and if it came back positive, Louisa Castrodale, epidemiologist with Alaska Department of Health and Social Services, says they would investigate beyond that one patient.
"We would be working in concert with the health care providers and the family to figure out where they had been, who they might have been around, and figure out the next sequence of events for potentially those people who are exposed to this person and what would happen next," Castrodale said.
That could be isolation either at home or at the hospital.
Gribbon says at Bartlett that would depend on the stage of the virus and whether the patient is suffering from any heart or lung complications.
Coronavirus has emerged in west coast states. As of Monday afternoon, there were six deaths in Washington state.
Gribbon says she's more concerned now with the virus so close, but it's still not as widespread as the regular flu.
"So, your exposure risk traveling through Seattle and traveling through Washington, you may come into contact with it," she said, "but still 80% of people aren't getting that sick."
Two people were admitted to Bartlett Regional Hospital in February because of complications from the flu and three hospital staff members were sent home for at least a week because they developed symptoms.
Whether it's coronavirus or regular flu going around, Gribbon recommends good hand hygiene and respiratory etiquette, like keeping the mouth and nose covered when coughing or sneezing.
Anyone showing up at Bartlett with any symptoms of a respiratory illness will be asked to put on a mask if they didn't bring their own.