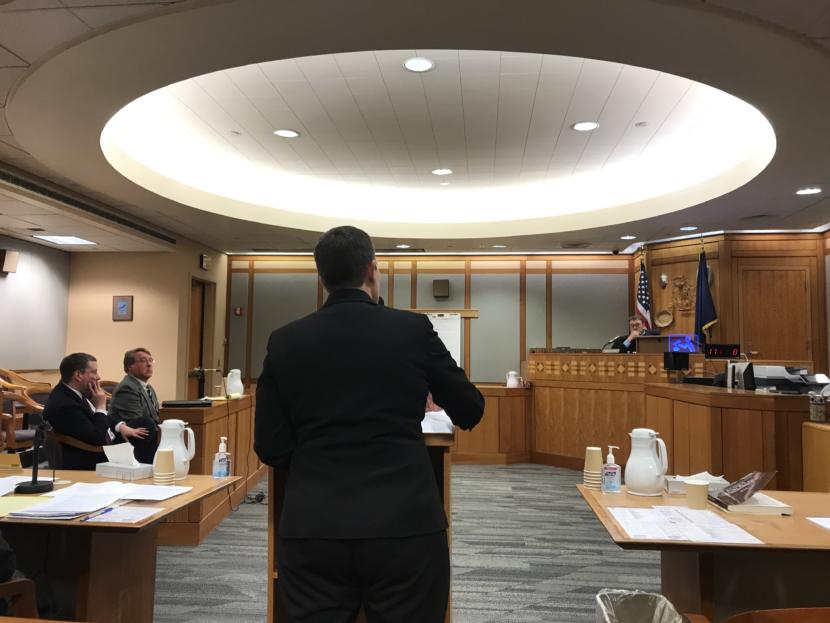 Update (Jan. 29, 11:04 a.m.) — Andrew Kitchenman, KTOO and Alaska Public Media
Anchorage Superior Court Judge Eric Aarseth has once again issued a stay that halts the organization Recall Dunleavy from gathering signatures to hold a recall election, pending a decision from the Alaska Supreme Court. (Read more)
Update (Jan. 22, 10:57 a.m.) — Nat Herz, Alaska's Energy Desk
Anchorage Superior Court Judge Eric Aarseth, in his second reversal in as many days, has revoked an order pausing the campaign to recall Alaska Gov. Mike Dunleavy, saying he'd issued it accidentally. (Read more)
Original story
A Superior Court judge in Anchorage issued an order that temporarily halts an effort to recall Gov. Mike Dunleavy.
The order effectively prevents the Recall Dunleavy campaign from gathering signatures until the state's Supreme Court reviews the case.
The group defending Gov. Dunleavy, Stand Tall With Mike, filed a brief last week telling Anchorage Judge Eric Aarseth that its efforts would be "irreparably harmed without a pause."
"There are four charges that the Superior Court ruled should go before the voters," said Craig Richards, Stand Tall With Mike's attorney. "It simply makes sense that we make sure that those are the ultimate ones that survive before people sign it. Otherwise the validity of the signatures will get muddied."
Judge Aarseth had ruled in early January that recall proponents should be allowed to gather signatures. He gave the state's Division of Elections a Feb. 10 deadline to provide the group with petition booklets.
At the time he said "this court does not intend on granting a stay of that process," according to the Anchorage Daily News.
This ruling runs counter to that statement. But, Richards says he wasn't surprised by the order.
"Just the nature of how this is teeing up and the very good chance that the Supreme Court will review this rapidly," he said. "The judge has been very good about getting out all the orders in the case very soon, within almost a day or two of when the requests for them are filed."
The recall campaign, by Tuesday afternoon, had already filed a motion asking Aarseth to reconsider his ruling, noting that he granted Stand Tall With Mike's request for a pause without hearing counter-arguments from Recall Dunleavy.
In a prepared statement, Recall Dunleavy's campaign manager, Claire Pywell, stressed that Aarseth's order Tuesday did not affect his underlying judgment that the recall grounds were valid.
"Recall Dunleavy intends to pursue all necessary procedures at every level to guarantee that Alaskans will have the opportunity to sign the recall petition as soon as possible," she said.