Loading election results…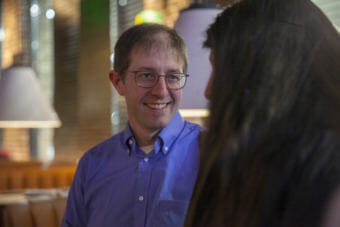 Updated (11:10 p.m.) — Jacob Resneck
Unofficial returns show Democrat Jesse Kiehl comfortably winning a seat on the Alaska Senate.
"It's humbling how many people have put their faith in me to work on Southeast Alaska's behalf," Kiehl said Tuesday night.
With most precincts reporting, the Juneau Assemblyman leads independent Don Etheridge by more than 3,600 votes.
Until this spring Kiehl had been an aide to Sen. Dennis Egan, a Democrat, who retired this year for health reasons. There was no Republican in the contest.
Etheridge told CoastAlaska he'd conceded.
"We fought a helluva fight," he said Tuesday evening.
The Senate race had pit two labor-friendly, politically connected Juneau men to represent District Q, a constituency that includes all of Juneau, Haines and Skagway plus a number of smaller communities like Gustavus.
But the two candidates received support from opposite ends of the political spectrum and differed on a number of key issues: Etheridge is a supporter of the now-stalled Upper Lynn Canal highway extension — "the road" — whereas Kiehl does not.
Kiehl supports a state income tax — something that's anathema to Alaska Republicans and was the subject of a controversial flier paid for by the Republican Women of Juneau.
Etheridge didn't think the flier – which he had publicly disavowed – was a factor.
"I don't think it hurt it that bad," Etheridge said Tuesday evening. "No, I think it's just that Juneau's not ready to go to anything but a Democratic Senator. That's the only thing that I can see; it's been that way for so long I think we've gotten used to it."
Kiehl did not make the GOP women's flier – which some saw as potentially anti-Semitic – into a campaign issue.
"Don ran a positive campaign, I ran a positive campaign," Kiehl said Tuesday.
The 42-year-old Democrat was far and away the most successful fundraiser, reporting an income of nearly $120,000 whereas Etheridge reported a little over $50,000.
Kiehl's support included $10,000 from the state Democratic Party, though the lion's share of contributions came from individuals — many giving $100 or $50 or even less.
By contrast, Etheridge often received $1,000 — the maximum allowed under state law — by political action committees tied to organized labor, oil companies and mining interests.
That's likely because Etheridge campaigned on repairing the state's infrastructure – popular with organized labor – but also promised to cut "waste" in government rather than institute new taxes, a line popular with Republicans, who did not field a candidate in the race.
"I see a lot of waste in the state and I know where a lot of it is at and when I'm on the finance committee, I'll take care of that," Etheridge said at an Oct. 9 candidates forum when asked where he would find trim the state budget.
Kiehl, by contrast, had said he'd look to tapping oil companies to help balance the budget.
"I think there are still some parts of our oil tax structure that don't make business sense for us as resource owners," Kiehl said at the same forum.
Etheridge, 66, worked for years as lobbyist for the state's largest union and is close to Alaska's most prominent union leader Vince Beltrami. He also served a single term on the Juneau Assembly about 20 years ago. More recently, he was an active member of Juneau's Docks and Harbors Board. He said Tuesday he planned to return to lobbying work.
Kiehl has served on the Juneau Assembly since 2011 and currently serves as chair of the finance committee. He'll have to resign his Assembly seat to join the Legislature. The Juneau Assembly will appoint someone to fill-in until his term expires in 2020.
KTOO's Kavitha George contributed to this report.
Watch live election coverage: