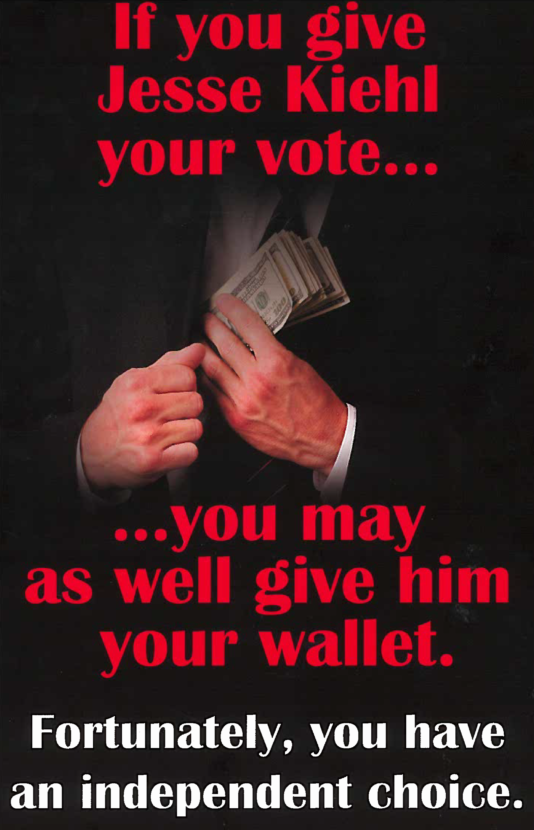 An attack ad targeting a candidate for state Senate in Juneau has some residents accusing a local political group of anti-Semitic language.
The ad targeting Democrat Jesse Kiehl, who is Jewish, arrived in mailboxes days after the shooting at a synagogue in Pittsburgh, Pennsylvania, and quickly set off a flurry of posts on social media.
When Claire Richardson got home from work last week and found the flier in her mailbox, she thought it was a national ad at first.
Then she noticed it was talking about Jesse Kiehl.
"I was just looking at it and I was like, 'This is just bizarre,'" Richardson said. "Then when I saw the hand with the money, the red and black glossy print, there was just something in me that just recoiled and I was like, 'Oh my gosh, is this a dog whistle for anti-Semitism?"
On the front, it shows a picture of a headless politician putting a stack of $100 bills into his jacket pocket.
It reads, "If you give Jesse Kiehl your vote … you may as well give him your wallet. Fortunately, you have an independent choice."
The flier was paid for by an independent expenditure group and was not authorized or approved by a candidate or campaign.
Richardson is the chief of staff for the Lt. Governor but spoke as a private citizen. She said she reached out to a member of the group responsible for the flier, the Republican Women of Juneau, a local affiliate of the Alaska Republican Party.
She said their response was that the ad was simply about taxes and meant to remind voters they have a choice.
"I thought that was pretty disingenuous, that it was really about Jesse Kiehl … and it seemed terrible timing to have this very odd photo and targeting a local candidate for a local office," she said.
According to filings from the Alaska Public Offices Commission, the group paid a local design firm to create the ad in October and another company for direct mailing, two days before the shooting at the Tree of Life Congregation in Pittsburgh.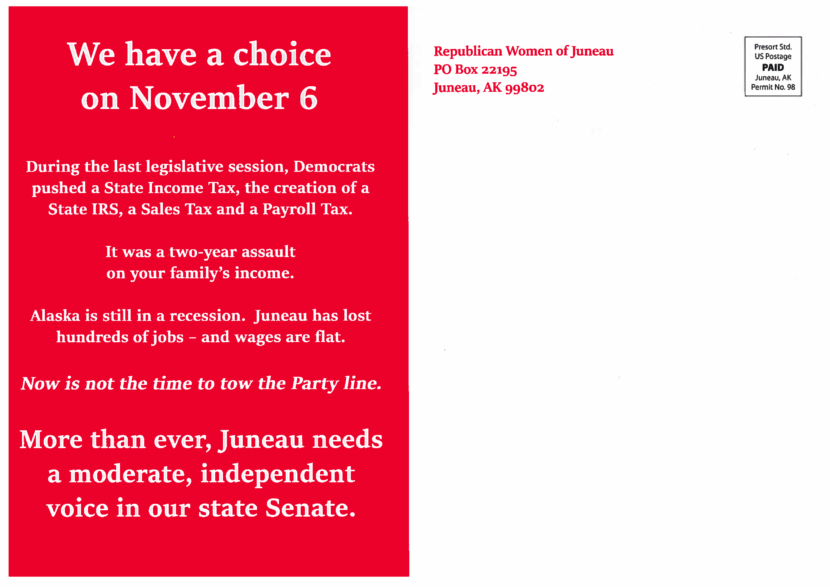 Other filings show the group also made donations to Jake Sloan and Josh Revak, two Republican candidates running in Anchorage districts.
The group's president, Ginger Johnson, declined to comment by phone Monday.
She emailed a statement saying the ad was clearly about taxes and the fact that Democrats, such as candidate for governor Mark Begich, have run on platforms that include a state income tax.
The statement reads, "We realize that as the election nears, some campaigns may be overtired and overthinking things, but our commitment to our cause remains steadfast."
Kiehl's opponent, independent Don Etheridge, declined to comment when reached by phone Monday.
A statement posted on his campaign's Facebook page Saturday says he had no knowledge of the ad prior to its distribution.
It also says Etheridge and Kiehl have worked together at the Alaska State Capitol for years and that he will continue to work with Kiehl, win or lose, and oppose discrimination of any kind.
As for Kiehl, he declined to comment as well Monday, saying he plans to focus on his campaign.
On social media, some people likened the situation to a mailer sent out by a Republican state Senate candidate in Connecticut last week depicting his Jewish opponent clutching money with a crazed look on his face. The candidate's campaign later issued an apology to the opponent and the Jewish community.
Richardson said she reached out to the Republican Women of Juneau suggesting they apologize and that they try to use the opportunity to open a respectful dialogue in the community.
"That's what I'm hopeful for, that we can actually have a conversation about this rather than a viral Facebook, Twitter firestorm over the actual ad," she said. "Because I think it goes deeper than that and I think our town is better than that."
Jacob Resneck of CoastAlaska contributed to this report.