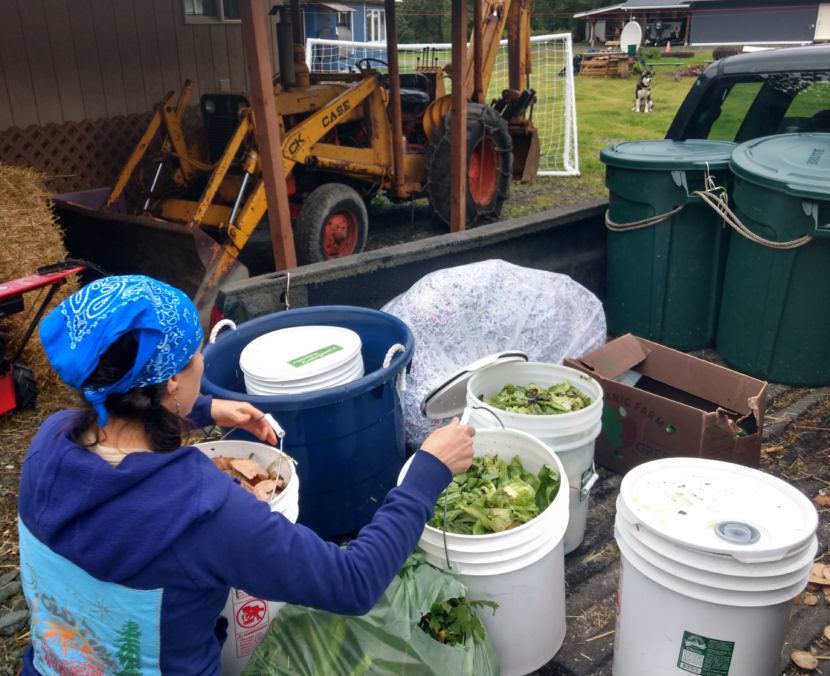 Juneau Composts!, the city's only composting service, might be getting a new home in coming months at a city-owned gravel pit in Lemon Creek.
The company's owner and sole employee, Lisa Daugherty, currently maintains her compost pile on a property out at 25 mile.
"There's no composting option unless you do it yourself, and I think a lot of people think that you can't do it in Juneau because it rains and because we have bears," Daugherty said over the phone. "People are kind of wary about doing it at home, or maybe they just don't even have the space or time to do it, and so I kind of had my compost system dialed and thought 'well, jeez, I should share this.'"
Daugherty currently picks up food scraps from households and businesses around Juneau and brings them back to her property to compost. Right now she collects from about 160 customers, but she said that the new site will allow her to accommodate more compost material.
"The main difference is that it's a central location, so I'm going to be able to change how I run my business," she said.
That means customers will also be able to drop off compost on their own, which they can't do now. At the new location near the Home Depot, Daugherty also says it will be easier to obtain wood chips and other carbon material, an essential ingredient for compost piles.
"I'm hoping just by being able to secure extra yard debris and things like wood chips in the centralized location, then I'll be able to process more food scraps," she said. "Because now I can't really accept huge generators — like I couldn't take Costco or Fred Meyers or things like that. Just because, you can't just pile food scraps in a pile and say it's compost. You know, you have to mix it with other things."
So far, the Juneau Lands & Resources Office and the Assembly Lands Committee have supported Daugherty's idea. Lands & Resources manager Greg Chaney says the next step is an Assembly vote at their Nov. 5 meeting.
"I'm expecting that this will be well-received by the Assembly," Chaney said. "It meets Assembly goals of trying to reduce input into the landfill."
Right now, Juneau's landfill is only expected to last another 20 years, so the need for waste reduction is pressing.
"We're creating a way to use a waste product that now goes into the landfill," Chaney added. "We'll be able to turn it into good topsoil, and that topsoil can then be distributed to gardeners and landscapers. So we can extend the life of the landfill, and that's a good thing. Everybody would agree."
If the Assembly votes to proceed, the city's Planning Commission will draft an ordinance to specify the terms of the lease, and that will go back to the Assembly for final approval. If everything goes well, Chaney says, Juneau Composts! could be at its new site by next spring.
The application process is somewhat arduous, he said, because the Assembly wants to make sure city property is being leased responsibly. But he also seems to think Daugherty's chances look good.
"She's very motivated," Chaney said. "Which is one of the reasons why we're excited to be working with her. It takes a lot of energy to get something like this off the ground, and it takes a special kind of person that wants to oversee a composting facility make sure it runs right."
Editor's note: An earlier version of this story stated incorrectly that Daugherty does not currently accept yard waste. The photo caption has also been updated to clarify that it was taken in August of 2017, not this year.