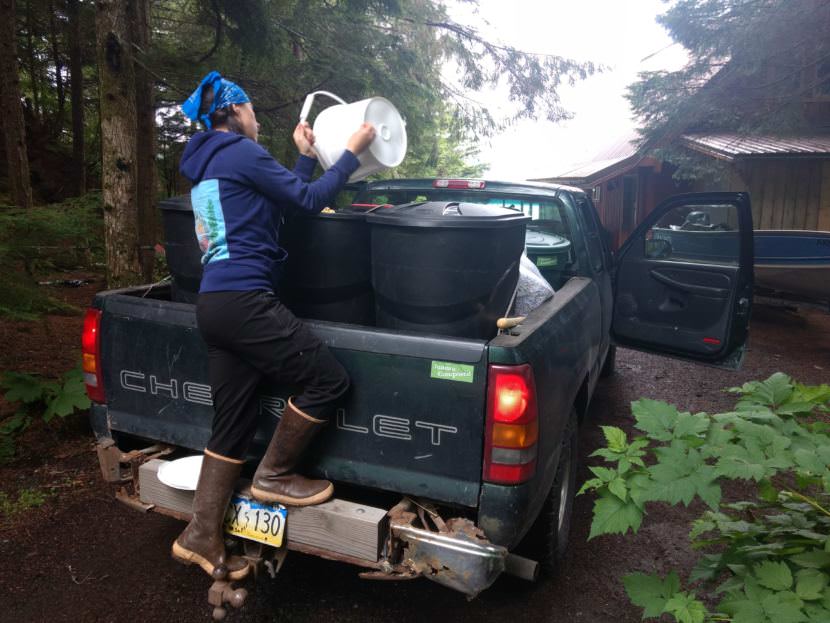 Compostable waste makes up nearly a quarter of the waste that ends up in Juneau's landfill. Yet the food scraps, green waste and other organic material could be put to better use.
As part of CoastAlaska's series, Talking Trash, a small Juneau venture is already demonstrating how it can be done.
Juneau Composts! is a woman-and-her-truck kind of operation: Lisa Daugherty and a green Chevy pickup.
Each Friday the commercial fisherman and small business owner drives from one end of Juneau's road system to the other collecting compost bins set out by her customers.
This is her first year in business. Households and businesses separate their compostables and pay a monthly fee for her to haul it away.
"Community composting is something that goes on all over the country," Daugherty said. "It's actually shocking that it hasn't happened here yet."
Juneau's landfill accepts conventional recyclables such as aluminum cans and plastics. But stuff like food waste otherwise gets lumped in with the rest of the trash.
Most of her clients already pay for curbside trash and recycling pickup — so why pay for another service?
For one, it's keeping material out of the landfill.
Juneau's privately run dump is projected to fill up in the next 20 years. That may seem like a long time away but finding another site won't be easy.
Juneau has even talked about shipping its waste south, as five other Southeast cities do.
The city is working on a diversion strategy to extend the landfill's lifespan, which could one day include a city-run composting operation on a large scale.
The City and Borough of Juneau's solid waste official says composting food, paper scraps and green waste makes sense — on a number of levels.
"Diverting that waste stream from going into a landfill, that's a huge benefit," said Jim Penor, the city's solid waste coordinator. "Another benefit is to actually compost it into a marketable product or a usable, beneficial use product, namely being a good topsoil."
Juneau Composts! is already working the topsoil-production angle.
At an 8-acre property in an area north of town, Daugherty unloads the day's pickups.
Under a tarp, there's a compost heap she's been tending since her operation started in April.
"Your compost pile is alive, it's full of billions of organisms per gram — it's crazy," Daugherty said as she turns the pile with a pitchfork. "Basically when you create the right sort of environment, all those bacteria are colonizing and they're working and they're producing heat."
She produces something that resembles an oversized meat thermometer to take its temperature.
She's checks to make sure it reaches 131 degrees, to kill pathogens and making it safe to handle.
Eventually the bacteria breaks down the food waste, old paper and green matter into a dark mealy material called humus. It takes months to mature and smells faintly sweet — plants love it.
"It looks like soil, it's high in organic matter, it's full of nutrients and it's definitely a good nitrogen boost," she explained. "You can use it as a growing medium. When I make new raspberry beds, I mix in compost, sand and seaweed and that's it – I don't buy topsoil or get bagged topsoil or anything."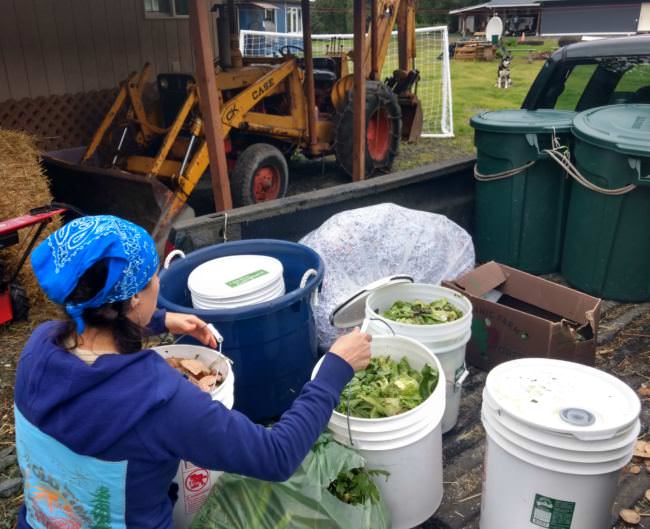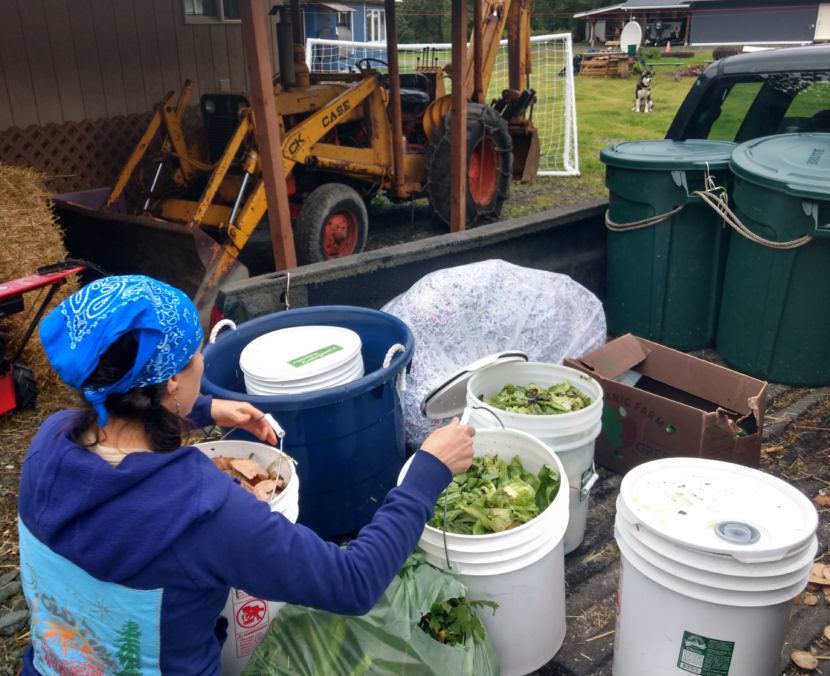 Daugherty keeps track of how much compost is collected from each client. The tally will eventually be a credit towards buying the nutrient-rich mix she'll sell for home gardening.
Her operation doesn't approach the scale envisioned by the city's municipal planners, but it demonstrates that it can work in Juneau, and that's already earning praise.
"I think it's wonderful what Juneau Composts! is doing," said Darren Snyder, agriculture agent with the University of Alaska Fairbanks's Cooperative Extension Service in Juneau. "Lisa has provided, essentially a truth-in-concept that people will participate and people will pay to participate. She's able to successfully compost moderate quantities of waste and it certainly is doable, there's no question that we can compost our waste here."
It's still small scale; Juneau's privately run landfill takes in about 32,000 tons of garbage annually.
During the past six months, Lisa Daugherty's personally diverted about 10 tons. But for Snyder there's a moral imperative, especially when it can be put to good use.
"We can turn this stuff into something that's beneficial and it just should be done – I don't know how else to put it," he said.