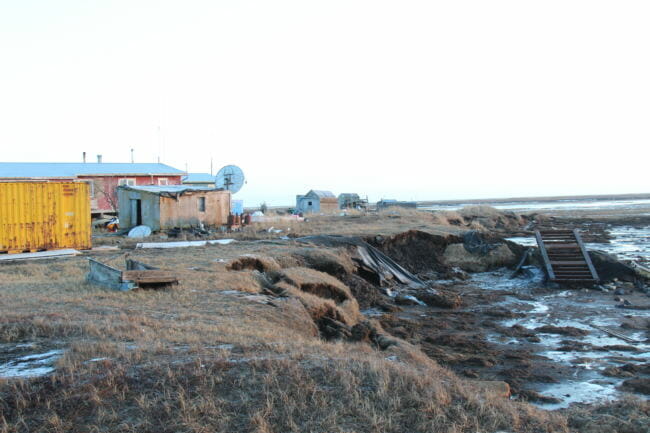 When a new Alaska governor takes office in December, they'll be faced with choices: Which priorities from the previous administration should they continue to develop and which ones should they scrap? In September, a team appointed by Governor Bill Walker released a comprehensive plan to address climate change. But the work is far from over.
Lately, Kristen Lyda Rees has had her nose in a book about how huge catastrophes and natural disasters affect cultural change.
Rees is an anthropology major at the University of Alaska Southeast. And today, she's leading a group discussion on Alaska's Climate Change Action Plan. As a giant bowl of Halloween candy gets passed around, the conversation shifts between anxieties over the the future to questions about whether the action plan is enough to initiate change.
The plan is basically a big menu of options, including target reduction goals, establishing a bank for energy efficiency projects and considering a state carbon tax.
Rees admires some of the ideas in the document. But still:
"It is a paper report," Rees said. "And I feel like when you focus so much of an effort into one place, it makes it easy to just sit that basket of eggs on a shelf somewhere and just not acknowledge it again. Especially, when you have something like elections, like last week."
Last week, Governor Walker announced he would be suspending his reelection campaign. Rees already had her discussion in the works, as part of her senior project. She says the announcement changed the mood a bit — now that the policy Walker endorsed seems even more up in the air.
So, the question is: Will the two frontrunners in the governor's race keep this team intact to work on climate change issues in the state?
"Yes, but I also want to underline that I don't them to just meet to meet," said Democratic hopeful Mark Begich. "I want to meet to get things done."
Begich says that means identifying solutions that Alaskans can implement now. He points to things like improving energy efficiency in state and municipal buildings and incentivizing the private sector to invest in those projects.
But, would he support passing some kind of legislation to reduce emissions?
"I would be interested in that sure. But I want to be realistic," Begich said. "You know, [for] the legislature to do something, while we're waiting we'll see a couple more villages disappear into the water. And I'd rather get busy while we're trying to do things like that help deal with the emissions issue and not sit around and wait for things to happen."
Begich says he wouldn't support a state carbon tax, something that was even a sticking point for Governor Walker.
Republican Mike Dunleavy has also stated he's not a fan of taxes. Still, his remarks about prioritizing the climate action team were different from his opponent's.
Dunleavy's staffers said he couldn't squeeze in the time to talk about this. But in an earlier interview, he had this to say:
"I think we have a lot of issues that, in my opinion, are quite frankly and bluntly more important than the climate task force," Dunleavy said. "And I'll be focusing on these immediate issues for Alaska instead of focusing on the issues in this task force."
Keep in mind, this isn't the first time an Alaska governor has assembled a team to address climate change and priorities shifted after a change of power.
Luke Hopkins knows all about it. He served on Governor Sarah Palin's work group in 2007 and recently spent months helping create the plan for the Walker administration.
"Yes, it very much could sit on a shelf," Hopkins said.
Hopkins has been here before. In 2014, after Sean Parnell was elected governor, Hopkins jokes that report sat "high up on a shelf." That is, until this year when some of those same ideas were incorporated into this more formalized policy.
Hopkins says now the real work to address climate change can start. But it's hard to know what that might look like under new leadership.
"All of that has to be refined. How are you going to do some of these statements? How are you going to implement them? What is the next step for that?" Hopkins said. "Again, we certainly hope that continues. But we have to wait and see."
Currently, Hopkins says there are no Climate Action Leadership Team meetings planned. But the team is appointed for the next two years. He expects a meeting could occur sometime shortly after the governor's race, and Hopkins hopes it's not another shelving of ideas, another send off.