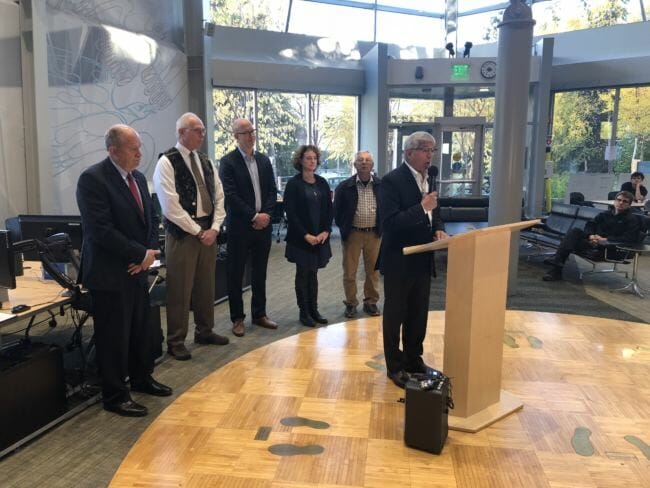 A team appointed by Governor Bill Walker collaborated all summer to produce a comprehensive policy to address climate change. Their directive was to act bold. And on Wednesday, the group formally handed over the plan.
But the work has only just started. It will be up to state agencies and elected officials to prioritize what's there.
The state of Alaska recognizes that climate change is happening. And rather than wait around for outside help, the 37-page document outlines the prospect of local solutions to mitigate the damage. For instance: set targets for reducing greenhouse gas emissions, invest in a diverse economy less reliant on fossil fuels and educate the public about the impacts of warming. 
At the press conference in Anchorage, Governor Walker acknowledged there have been cutbacks to climate change programs at the federal-level.
"There has been a change in that regard," Walker said. "We don't change what we do because somebody else changes what they do. So that didn't change. If anything, it perhaps might have escalated it a bit."
The Walker administration did go ahead and greenlight dozens of the team's suggestions spread out across various state agencies.
Most of that focuses on developing a framework to address the climate change challenges that are already here and the ones that are still to come.
The climate action plan also includes the possibility of Alaska supporting some kind of national carbon pricing legislation, while also investigating a state carbon tax.
When asked about that, Governor Walker wouldn't commit to endorsing it.
"I have said, and I remain, that I'm not interested in anything that's going to raise [or] increase the cost of energy to Alaskans." Walker said.
Walker said continuing to utilize the Climate Action Leadership Team comprised of stakeholders around the state was important, and he was confident no matter what happens in the November election, whoever was in charge would see the benefit of continuing that work.
The team is still appointed for the next two years. But that could change with an administrative order from a governor.