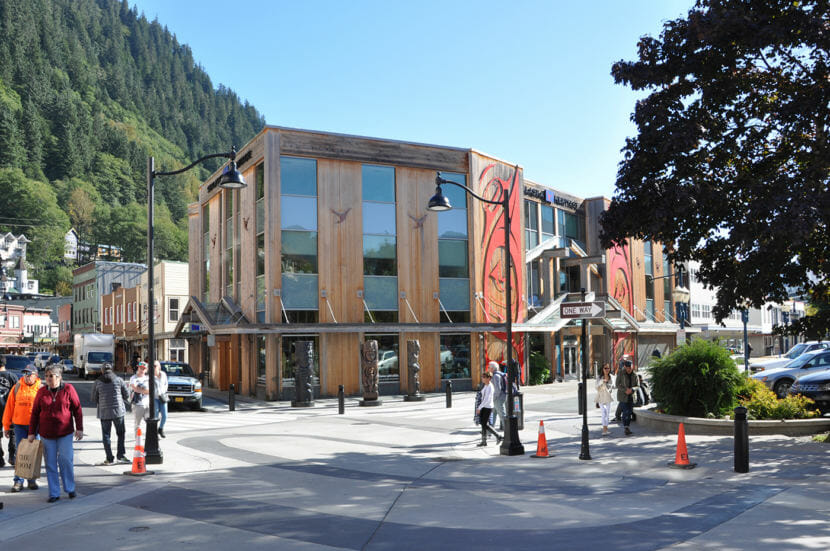 The downtown intersection of Front and Seward streets has been named Heritage Square, paying homage to Juneau's cultural history.
The Juneau Assembly approved the name unanimously on Monday with a resolution.
Sealaska Heritage Institute recently installed three bronze house posts on the intersection's southeast corner.
SHI President Rosita Worl said she wants the new name to represent pride in every culture, not just that of Alaska Natives.
"The name Heritage, in my mind, also implies that we could also recognize the multicultural populations that we have in Juneau which I think makes Juneau rich. Plus our mining history," Worl said.
This summer, the City and Borough of Juneau collaborated with local artists to redesign the intersection in a way that incorporates formline design and traditional Alaska Native values into the sidewalk and crosswalks.
SHI also plans to create a Native arts campus in the parking lot of the Sealaska Corp. building across the street.
Worl said they are working with architects to finalize the drawings for what that campus will look like.
The institute's goal is to establish Juneau as the nexus of Northwest Coast Art, the style practiced by cultures indigenous to the region.
"All of these efforts are moving us to the realization that we can make Juneau the Northwest Coast Arts capital, as the economic engine for our region," Worl said.
Worl said she expects signs with the intersection's name to go up at some point in the future.
YALL LOOKIT THIS BEAUTIFUL INTERSECTION RICO WORL MADE. Front and Seward, downtown. Tlingit Aaní. #juneau

Photo by Josh McGraw pic.twitter.com/oC1coY1Oxe

— Christy NaMee (@tsu_namee) June 8, 2018