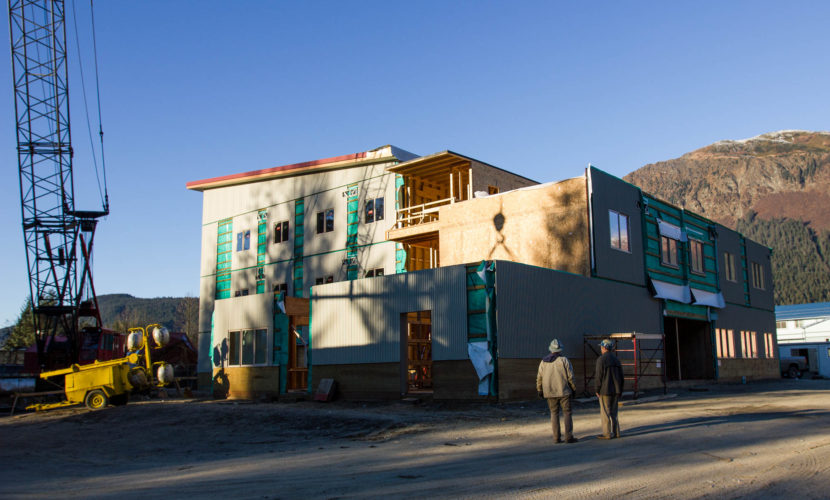 The Juneau Assembly unanimously approved funding for Phase II of Housing First on Monday night.
The Assembly's $1.8 million grant to the Juneau Housing First Collaborative brings them closer to expanding. The collaborative wants to more than double its capacity to provide permanent, supportive housing for the homeless.
Mariya Lovishchuk, one of the administrators for the Juneau Housing First Collaborative, was emotional outside the Assembly chambers after the vote.
"This is just — I'm so proud to live in this city."
She said they currently have a list of 67 people eligible for housing in the Phase II complex.
"And we still, we still have a lot of work to do until that happens, but … if we started building this spring, it would take a year to build so we could potentially open in the spring of 2020."
The city's funding makes Housing First eligible for up to $2.8 million more in grants from the Alaska Housing Finance Corp. Lovishchuk said they will apply immediately to meet the Oct. 5 deadline.
They expect the new facility to cost $7 million.
The city's end of funding will come from a mixture of sales tax, tobacco tax and general funds.
The city contributed more than $2 million to the project's first phase.
Since the 32-unit apartment complex opened last September, researchers studying the impact on residents have noted a sharp decline in police calls and emergency room visits.
Bruce Denton, a member of the Housing First board of directors, told the Assembly the funding will be a gift that keeps on giving.
"The grant requirements include maintenance reserves and provide funding for operation, so your $1.8 million is basically going to be doing what it's doing and has done up to this point for the life of that building."
In other housing business, the Assembly also unanimously approved an ordinance accepting more than $16,000 in grant funding from the Alaska Mental Health Trust Authority.
It's to cover what the city paid in rent to operate an emergency cold weather shelter last winter.
The city leased space in a building downtown owned by the trust last year. The cold weather shelter began operating in December to give the homeless a warm place to sleep on nights when temperatures dipped below freezing.
The shelter operated from Dec. 1 to April 15. According to the city, it was open 70 nights total and served nearly 160 individuals.
The trust later offered to sell the building to the city for about $488,000. The city plans to tear the building down after operating the emergency shelter out of it again this winter.