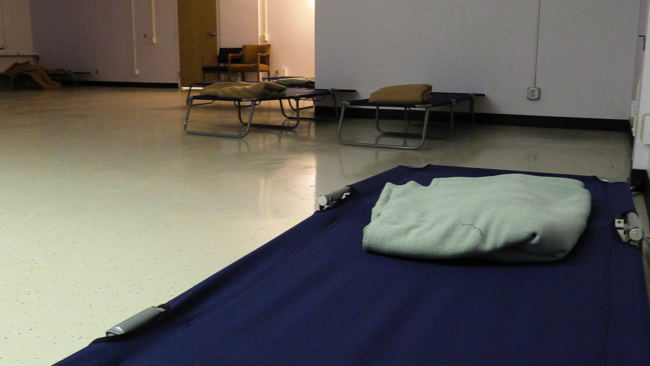 Juneau's warming shelter is in its first month and already it's operating over capacity.
Just a handful of people used the shelter in the first three days of December. But a cold snap has kept the shelter open nightly since Dec. 17 and a record 28 people spent the night Wednesday.
"We were only expecting to house up to 20," Mandy Cole said Thursday. Cole is deputy director of AWARE, one of the social care agencies that staffs the city-run facility. "But over the holidays and during the colder part of the cold snap, we've had more people come than we had originally planned. So we have been trying to make as much room as possible."
The Juneau Assembly allocated $75,000 to run the warming shelter on nights when temperatures drop below freezing.
It's a bare bones operation offering little more than a cot inside the former state Public Safety Building downtown. Doors open at 11 p.m. and police officers wake people up at 5:45 a.m.
Cole says most patrons just want some rest in a warm, safe place; there haven't been any major issues reported.
"The design doesn't allow any kind of extra stuff, we're not doing anything social, we're not feeding anyone," she said. "We're not doing anything where I think people would be expected to get along with their neighbors. The only expectation is that you come in and you go to sleep and it seems like it's been working."
Reacting to complaints from downtown merchants, the Assembly banned sleeping outdoors in the downtown core. Juneau's longstanding downtown shelter screens out intoxicated people for safety reasons, so people are still caught out in the cold.
A former co-chair of the Juneau Coalition on Housing and Homelessness, Cole said shelters are only part of the solution to a complex problem.
"The long-term goal is to figure out how to not just house people for one night but what's really going on for individuals so that they can get the interventions they need so they can be housed permanently," she said. "We know they are not able to take advantage of some of the services that are currently offered. And so, it's a nice opportunity to figure out what isn't working so that we can then try something new to help get people into permanent housing."
The warming shelter is scheduled to shut down for the season by April 15. The city posts updates on whether the warming shelter will be open on its social media accounts.