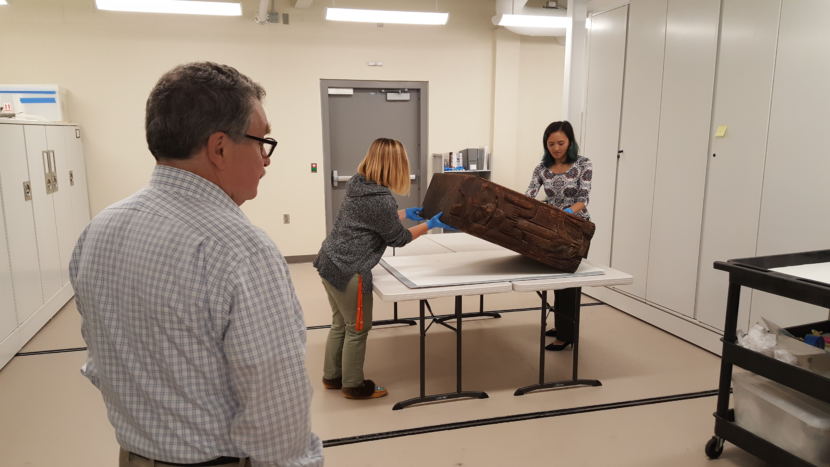 A Southeast Alaska cultural center will study a Tlingit bentwood drum that's more than 100 years old. By scanning the box drum in infrared, century-old details are returning to the surface.
The bentwood box drum is downstairs at Sealaska Heritage Institute in the cultural center's collections room.
Chuck Smythe is the director for the cultural and history department at Sealaska Heritage Institute.
"We have the drum pulled out. You can see what it looked like what we were starting with," Smythe said.
The slender drum is about 3 feet tall when standing, and it's about as deep. But today it's laying on one side on a cart in the back of the room. It's weathered and aged. The wood is a dark chocolate color, while the grain is almost black.
"It looks like it was smoked," Smythe said, laughing. "It's very dark all over."
Sealaska Heritage is studying the carvings and paintings on the wooden Tlingit drum, which is on loan from the Hoonah-based T'a̱kdeintaan clan.
"It's a bentwood box with the backside is open and the front side has a carved piece attached to it that looks to be a bear and some other designs that are carved into it," Smythe explained.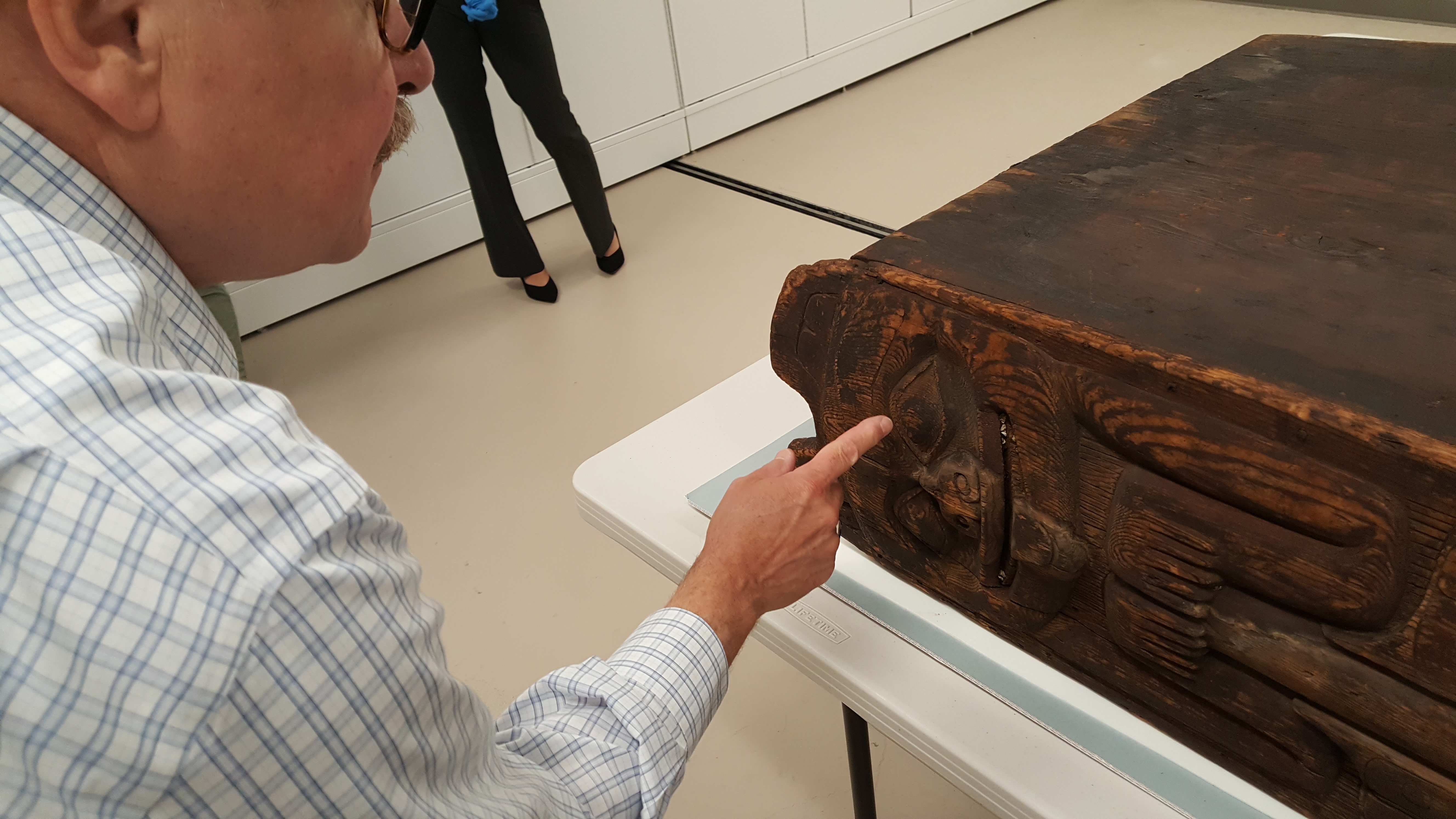 Many details have been lost to age. So Sealaska Heritage enlisted infrared scanning to help bring back some of them.
"The idea of infrared photography is to bring out what's not visible on the surface and what's not visible here through the dark surface of this drum and see what the painting might be," Smythe explained.
Smythe knows the drum is at least 130 years old because that's when a German geographer made a sketch of it and published it in a book. In 1924, a Tlingit art collector visited Hoonah and took the drum to a Philadelphia museum where it was kept.
The drum was eventually repatriated in 2011, back to Hoonah and the T'a̱kdeintaan clan.
Sealaska Heritage hired local photographer Brian Wallace to take infrared images of the drum. He taught himself about infrared photography.
"Without getting too technical, it really increases the contrast, so I had a camera that I converted to an infrared camera," Wallace said. "It is what police use for forensic examination. So it can see blood splotches that aren't visible to the human eye under normal light conditions."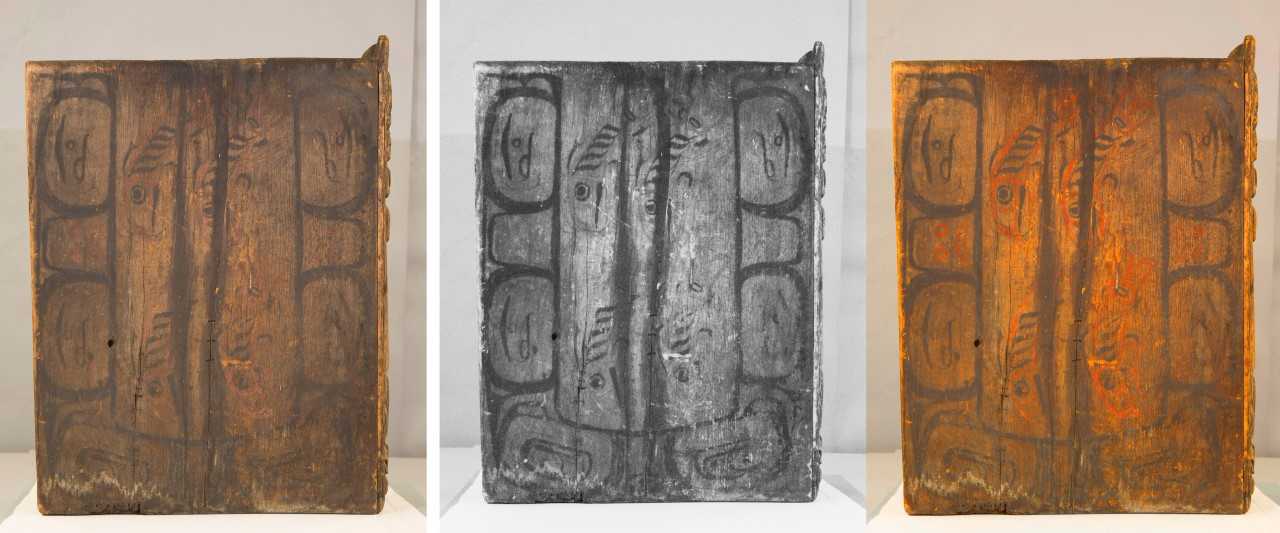 Wallace pointed out all the different parts you couldn't see without the help of the infrared images.
"You can see all formline here that are not visible or barely visible and once you get to the image, it just totally pops."
The red paint that outlines formline salmon is very faded, hardly visible in places. But Wallace's images really accentuate the fish and even faces painted on the box.
Smythe said a full-size box drum this far north in Southeast is unusual. They're more common further south. Still, it's an outstanding example of northern Tlingit craft.
"The paintings … they're not standard formline. We could see some salmon on one side and on the other side, we could see there were some figures there but we couldn't really tell what they were before that photography. … It's kind of a voice from the past," Smythe said.
Smythe said he hopes drum designs inspire present-day artists to create new formline designs.
Sealaska Heritage hopes to display the drum for First Friday in September. It also will be on display at the Sealaska Heritage Institute this winter.