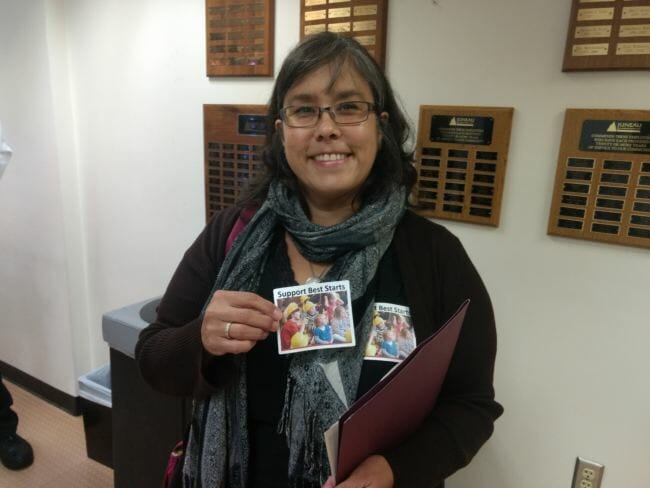 A measure asking Juneau voters to support raising property taxes to expand child care will not appear on the October ballot.
Residents packed Assembly Chambers with an overflow crowd upstairs watching on closed-circuit TV as supporters made their case.
Joy Lyons, executive director of the Southeast chapter of the Association for the Education of Young Children, addressed the Juneau Assembly before the vote.
"There is no more important issue before you than the critical years of young children during birth to 5 and how we support them in our community," Lyons said.
The Assembly was voting on whether or not to put an advisory question about child care on the October ballot. Specifically, it would have asked voters if they'd support up to $2.8 million to expand child care availability in Juneau with higher property taxes. For a house assessed at $300,000 — annual tax bills would increase by $174.
Mayor Ken Koelsch opposed the wording of the measure. He said he felt the advisory question would tie the hands of future Assembly members.
"I could support this if we would take out the portion of the resolution concerning property tax and also the cost," Koelsch said. "That, to me, puts the next Assembly in a situation I would not like to see them put in."
The Assembly was short-handed. Two members resigned to run for mayor leaving seven for the vote.
How did they vote? 
The yeas were Rob Edwardson, Maria Gladziszewski, Loren Jones and Jesse Kiehl.
The nays were Ken Koelsch, Jerry Nankervis and Mary Becker.
The ballot initiative failed with three "no" votes and four "yes" votes. It marked the third attempt in two years for supporters to get Assembly support.
After 12 years in the child care business, Samantha Adams closed her center down earlier this year citing high overhead costs. She said reluctance to put the question to voters was puzzling.
"For the number of times that we've come before the Assembly to ask for their support on this matter, there's always that, 'Hey, here's one more thing we need you to do.' Or 'here's one more hoop that needs to be jumped through.' And really, I think at this point it should be up to the community to decide these things," Adams said.
The next Assembly will be markedly different with at least four new members. Mayor Koelsch won't seek another term and two members are running for state office in addition to the two who resigned to run for mayor.
But Maria Gladziszewski's term doesn't expire until 2020. She said the question should be put to voters.
"I think we've heard from lots of people who say, 'Support daycare.' Many, many, we've gotten certainly over 100 emails. But the question for me is, 'Will you be willing to raise revenue to support this?' And I think that people in this city should have a chance to vote on it," Gladziszewski  said.
She asked the vote be brought back to the Assembly in the near future. Depending on the October polls, the vote could go the other way.