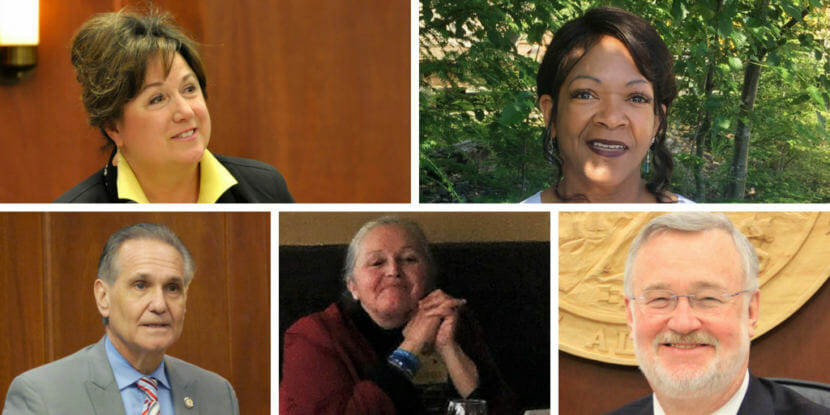 Six Alaskans are running to be the Republican nominee for lieutenant governor. Half are current or former state legislators, the other half are military veterans.
The lieutenant governor has limited duties under the state constitution: to succeed the governor if necessary, and to oversee initiatives and referendums. State law has given the lieutenant governor a few more responsibilities. They include administering elections and serving as guardian of the state seal.
Wasilla resident Lynn Gattis is a former state representative. She said she's most excited about the process of approving initiatives and referendums, and communicating to the public what the proposed laws mean.
"I think that is so very important, that Alaskans understand both sides," she said. "And that would be my job, as the lieutenant governor, to make sure that folks get the real story on both sides."
Gattis was defeated two years ago by David Wilson in the Republican primary to serve in the state Senate.
Some of the other candidates pointed to issues other than the lieutenant governor's duties set by law, in citing why they're running for office.
Edie Grunwald is a Palmer resident and retired Air Force colonel.
"We have a resource-royalty state," she said. "We have historic unemployment right now. And we're one of two states in recession and crime is skyrocketing. Over the last several years, what Alaskans have suffered through under our leadership right now is just unacceptable."
Grunwald has been particularly vocal in calling for the repeal of the criminal justice overhaul passed in 2016. Her 16-year-old son David Grunwald was murdered that year.
Sharon Jackson also served in the military, and her position with the U.S. Army brought her to Alaska. She also has worked for the National Federation of Independent Business and in constituent relations for U.S. Sen. Dan Sullivan. She said her energy and determination will serve Alaskans. She also has ideas about how to administer elections.
"We need to clean up the voter registration list," she said. "We need to make sure that everyone on the list are here living in Alaska, and living."
She said she received a ballot at her home in the Anchorage municipal election for someone who moved away 15 years ago and died five years ago.
Sen. Kevin Meyer has been a legislator for nearly 18 years. He said he'd be able to help the governor improve on what he sees as an unproductive relationship between the current administration and the Legislature. Meyer also works as an investment recovery coordinator for ConocoPhillips.
"I think that's where I can be a real asset to whoever's running for governor, is having the years of experience that I have, both in elected office in the Legislature and in the private sector as well, to help the governor sell his ideas to the Legislature and ultimately to the public," he said.
Meyer emphasized that the primary won't be a vote-by-mail election, like the recent Anchorage municipal and special elections. So voters will have to go to the polls or request an absentee ballot to vote.
State Sen. Gary Stevens, R-Kodiak, was the only candidate who said his main reason for running was to focus on administering elections.
"One of the things – few things – the lieutenant governor is absolutely responsible for is the elections issue," he said. "And we're facing some serious problems. We have equipment that's aging, and the most important thing, I think, for the voters is to make sure that their vote counts."
Stevens hasn't been actively campaigning, and said that voters who know his record will either vote for him, or will choose someone else.
The sixth candidate is Wasilla resident Stephen Wright, who served in the Air Force. He's emphasized restoring the full permanent fund dividend under the formula used before 2016. He didn't respond to requests for an interview last week.
The primary is Aug. 21. The only other lieutenant governor candidate on the primary ballot is Democrat Debra Call, who's running unopposed. Lt. Gov. Byron Mallott is also a Democrat. But he's filed to be on the general election ballot, on a ticket with independent Gov. Bill Walker.