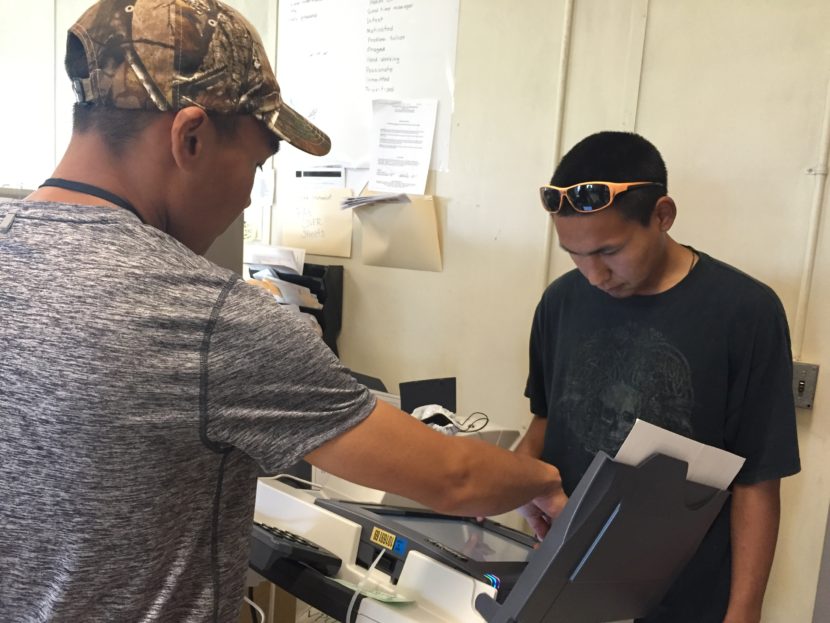 Alaskans ejected as many as five incumbents from the House in the primary Tuesday. And they also rejected two House members who tried to move up to the Senate.
But not many people showed up to vote: It was the lowest turnout for a primary in state history.
Three Republican incumbents and two Democrats who caucused with the Republicans trailed their opponents in a primary that drew only 15 percent of voters, not counting outstanding absentee ballots.
House Majority Leader Charisse Millett attributed both incumbents' headwind and the lowest-ever turnout to the same factor – low oil prices that have hurt Alaska's economy and the state budget.
"When you are in a deficit, I think … it's depressing," Millett said. "People want  to get and vote for, you know, candidates that are upbeat, and it's hard to be upbeat in this environment."
A lack of highly competitive statewide races also contributed to the low turnout.
Millett, who was unopposed, said it was a tough year to run for re-election.
"People are looking for someone to blame for the falling oil prices and … a sitting legislator is an easy target," Millett said.
It's not yet clear how the primary will affect the balance of power in the Legislature.
If the current totals hold up and Republicans continue to hold the majority, then they will have to do so with two fewer Democrats joining them — Bob Herron of Bethel was defeated by Zach Fansler, and Benjamin Nageak of Barrow trails Dean Westlake of Kotzebue (by five votes).
Casey Reynolds, who edits the political blog The Midnight Sun, said this year's special sessions kept incumbents in Juneau and away from their districts. With the apparent losses of Herron and Nageak, he sees the chances of a bipartisan coalition increasing.
"A bipartisan organization is more likely today than it was before the election," Reynolds said. "And the general election is going to be very important. It's really going to be the deciding factor on this one."
One Republican who showed a willingness to cross party lines lost.
George Rauscher defeated Republican Rep. Jim Colver in a district that sprawls from Valdez through parts of Palmer to Big Delta.
Business groups targeted Colver after he voted to reduce oil and gas tax credits.
Other incumbents who lost include Wes Keller of Wasilla, defeated by David Eastman, and Bob Lynn of Anchorage, defeated by Chris Birch.
Rauscher had said Colver was likely to join a bipartisan coalition with Democrats, though similar comments aimed at other candidates didn't succeed.
In Palmer, Richard Best lost after making a similar charge against DeLena Johnson. And Homer incumbent Paul Seaton won, despite, he said, being subjected to disturbing and unfounded charges..
"It was the most negative campaign I've ever seen on the lower peninsula," Seaton said.
State Republican Party spokeswoman Suzanne Downing said the party has room for improvement in turning out voters in the November general election.
"Every single district could improve their voter turnout, and I think as a party we're going to work a lot harder on that for the general," Seaton said.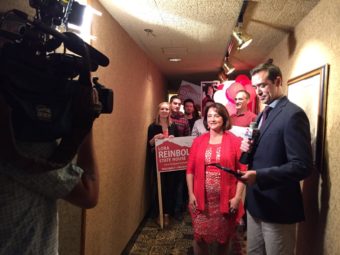 The only legislator who isn't a member of either caucus – Eagle River Rep. Lora Reinbold – was re-elected. The Republican caucus expelled her in 2015 after she refused to support a caucus-backed budget. She says she wants to rejoin the caucus and work with them to set their principles for the next term.
"And alls I'm asking is that we stick with those principles," Reinbold said. "And that's why it's really important, the team that we send down there. And we're just hoping that we're lock-in-step and stay under the umbrella of our principles."
While most competitive races were in the House, the state's most expensive race was in an Anchorage Senate district, where Natasha Von Imhof defeated Rep. Craig Johnson and Jeff Landfield.
Another representative, Lynn Gattis of Wasilla, was defeated by David Wilson in her attempt to move up to the Senate. Rep. Shelley Hughes succeeded in winning the Republican nomination to succeed Sen. Bill Stoltze.
Tom Begich defeated Ed Wesley to be the Democratic nominee to succeed Sen. Johnny Ellis in his Anchorage district. Forrest McDonald defated Roselynn Cacy for the Democratic nomination to face Von Imhof.
In the House, Jennifer Johnston defeated Ross Bieling, who ran the best-funded House primary campaign, to be the Republican nominee to succeed Rep. Mike Hawker in Anchorage. Gary Knopp defeated three opponents to be the Republican nominee to succeed Rep. Kurt Olson in the Kenai Peninsula. And Don Hadley deated Lisa Vaught to be the Republican nominee to face Democratic Rep. Ivy Spohnholz in Anchorage. Colleen Sullivan-Leonard will be the Republican nominee to succeed Gattis in Wasilla. And incumbent Republican Representatives Dan Saddler, Liz Vazquez, Lance Pruitt, David Talerico and Mark Neuman defeated challengers.
The state Division of Elections still has to count absentee and questioned votes, and the results will remain unofficial until they're certified in early September.
Anne Hillman of Alaska Public Media and Shahla Farzan of KBBI contributed to this report.