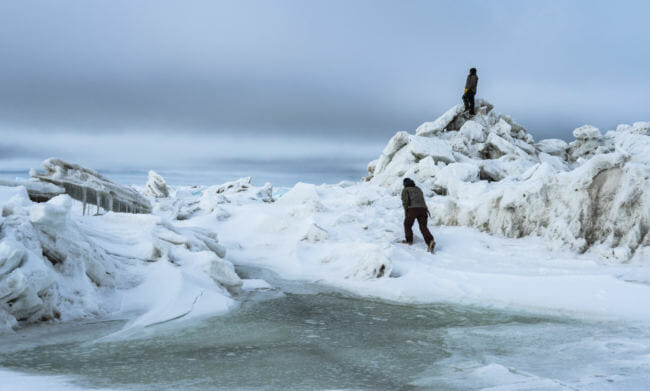 It's well established that Arctic ice is changing in dramatic ways. As the climate warms, ice coverage is decreasing, the amount of multiyear ice has gone down significantly and in Alaska, many communities are seeing the ice come in later, and leave sooner. So, what do those changes look like up close?
On a late-May evening, about a dozen graduate and post-doctoral students gather at the north edge of Utqiaġvik, by the Barrow Arctic Research Center. They've come to Alaska for an Arctic field school and are about to go out onto the sea ice, led by two men who have logged a lot of time out there.
One is Craig George, a wildlife biologist with the North Slope Borough since the early 1980s. He's spent months of his life on the ice in this part of Alaska, often camped out for days or weeks at a time doing bowhead whale counts, and helping to measure and sample whales during spring whaling.
The other is Andy Mahoney, an ice researcher at the University of Alaska Fairbanks who has been coming up to Utqiaġvik for the past 18 years to study sea ice.
"Craig was there at the very beginning of my sea ice career," Mahoney says by way of introducing George to the group.
"During the Pleistocene," George quips.
"During the Pleistocene, yeah," says Mahoney, "back when ice used to be ice. Before this 'new ice' that we've got now."
The group piles onto snowmachines, and charts a path toward the Chukchi Sea, whipping over snow-covered lagoons, down the slope leading to the ocean, and over several miles of relatively flat ice close to shore.
Then, the surface gets rougher. Big piles of broken ice start appearing — pressure ridges; they're created when big chunks of floating ice bump up against the shore-fast ice the group is snowmachining on, forcing it to crumble and push both up above the surface, which you can see, and down below it, which you can't.
The group stops to get off the machines and look around. As Craig George surveys the landscape, he says he sees a lot of differences from when he started coming out here decades ago.
"The ice tells you what it's made out of, when it formed," he says. "The ridges… see the thickness? So that's relatively thin first-year. I haven't seen any multiyear."
Multiyear ice is ice that's survived at least one summer. It's usually several feet thicker than the ice that forms and melts away in a single year. Back in the '80s, George says he used to see a lot of it out here.
"First/second year ice looks like the Rockies, the Rocky Mountains," George said. "And the old multiyear ice looks like the Appalachians, sort of rounded."
A few decades ago, sixty-one percent of the ice on the Arctic Ocean was multi-year ice. Now it's about half that.
One reason that multiyear ice matters is that it's one of the ways the Arctic stays cold. Ice reflects heat from the sun, while water traps it. So if a ton of ice stops being ice during the summer, and instead becomes water… the Arctic is going to get warmer. Which means it won't be able to help keep the rest of the earth cool.
The students clamber up onto a 20-foot pressure ridge. Out to the north is a seemingly endless field of ice rubble — sharp blue shards jutting up in every direction. No rounded Appalachians here.
The lack of multiyear ice doesn't just mean that certain shapes are jagged when they used to be round. Andy Mahoney says it helps explain why the landscape looks different in other ways.
"These ridges that we're standing on, there would have been more of them, and they would have been bigger," Mahoney says. "So it really has changed. I mean you look back at some pictures of that era, and the features that we now see, they're something of a shadow from the past."
There are other changes too. The ice here is forming later, and in some places this year was record thin.
But that doesn't necessarily translate to a bad ice year for people who depend on the ice, like hunters here in Utqiaġvik. Yes, it means the window of time to hunt certain animals on the ice is shorter. But when it comes to the ice conditions that make for a good whaling year, wind, currents and weather play a huge role too.
"Weather, it plays a big factor in our hunt and this year the weather was pretty windy," said Joseph Leavitt, an Utqiaġvik whaling captain. "Pretty windy but… our ice stayed solid… there was hardly any current on the ocean, and so it turned out to be a good year. At least, we got eight whales."
Billy Adams is another whaler who works for the North Slope Borough Wildlife Department. He said that yes, ice is freezing later, and yes, parts are thinner, but even as they see changes in the ice, whalers are adapting.
"We just make changes to how we're going to hunt, and when we're going to hunt. That's the biggest thing," Adams said.
So even as the ice continues to change, whalers say they will keep finding ways to bring whales home to the community.