Cruise ship passengers in Alaska are expected to climb above 1.3 million next year. That's led to concerns in both the public and private sector about Juneau's carrying capacity.
John Binkley is the face of the cruise industry in Alaska. Back in February, the president of Cruise Lines International Association Alaska delivered a speech to a roomful of municipal leaders from across Southeast.
"We are happy to announce that in 2019 our preliminary projections for cruise visitors to Alaska are 1,310,000 visitors," Binkley said.
The presentation announced 22 additional port calls this year. Next year will add 48 more sailings on top of that.
Juneau City Manager Rorie Watt was in the audience that day.
"I just about fell out of my chair," Watt said this week. "That's a big number and from last summer to next summer – that's 250,000 more summer visitors and that's a really big deal."
The cruise industry recognizes that not all impacts are welcome.
"Sometimes it's a burden to have visitors coming into your community and clogging up your streets," Binkley said, "taking up space in restaurants that you like to frequent and other inconveniences."
But the president of CLIA said an estimated $1 billion is spent directly by passengers, the cruise lines and their crew in Alaska each year.
"Just like any resource, it's bringing new money into our economy every day and in big, big numbers," he said.
Because of its attractions, large port infrastructure and its place on the map, Juneau can expect to receive virtually every Alaska-bound cruise ship visitor.
The community's most popular attraction is the Mendenhall Glacier.
The U.S. Forest Service permits up to 500,000 glacier visitors annually.
"And the popularity of the site is increasing faster than we can accommodate — we're really at capacity," said Brad Orr, the forest service's district ranger in Juneau. "That's the biggest problem: Is how do we accommodate an expected increase in visitation?"
Planning for expansion of the glacier's visitor center is underway. A public meeting on its progress is set for April 26 at the visitor center but any construction is likely years away.
The private sector is also raising concerns about saturation.
Bob Janes owns Gastineau Guiding, a tour company in Juneau. He said during peak times, it's pretty tight just about everywhere visitors want to go.
"The glacier, the visitor center, downtown congestion, and also whale watching on the water, these are hot spots that we're beginning to – we're hearing from the public and from each other as operators," Janes said. "(That) we that we need to do something, we need to get a jump on it."
He says if Juneau fails to keep pace with the growth it will impact visitors and residents alike.
"The consequences are going to be a diminished experienced for our visitors and probably a diminished experience for us as residents in where we live and where we love to be," Janes said.
Cruise ships are getting bigger. This season, Norwegian Cruise Lines will bring a new ship to Alaska. The Norwegian Bliss carries about 6,000 passengers and crew.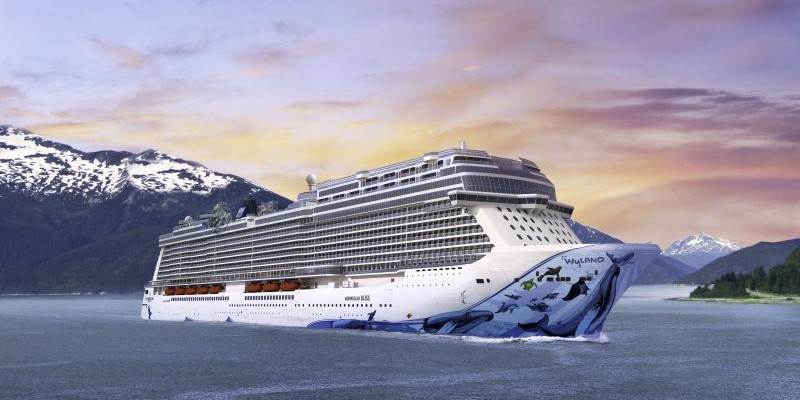 But port calls are also getting shorter. The ship is only scheduled to dock in Juneau for six and a half hours. That's not fair to merchants and restaurants, said Sierra Gadaire, general manager of Gastineau Guiding.
"For Gastineau Guiding, five hours is fine," she said. "We're going to show them all of the biggest, natural wonders of Juneau. But we have to think about the other businesses as well. Because it's really limiting where the dollars can go."
Binkley told the audience of municipal leaders back in February not to worry about increasing visitors. In the 1990s cruise ships in Alaska went from carrying 500 to 900 passengers, and there were skeptics and critics, he said.
"I know that as intimidating as 5,000 passengers at once coming off a ship sounds now, 10 years from now we'll be talking about what a piece of cake that was and how we're going to handle the next challenges that are ahead of us," Binkley said.
Watt, Juneau's city manager, recalls that transition period when he was a city engineer.
"We struggled as a community on how we were going to embrace and manage tourism on the cruise ship scale," Watt recalled. "I think we're back to that question of do we have a carrying capacity? Should we have a carrying capacity?"
The Juneau Economic Development Council is hosting a working group of public and private sector interests that is asking these kinds of questions.
"I think largely it's going to be positive," JEDC Executive Director Brian Holst said of the projected growth. "But only if we are smart about how we deal with this growth that's coming."
In Juneau this year, there are projected to be more than 1.1 million cruise ship passengers disembarking. That doesn't include the ship crews.
The first scheduled arrival is the Ruby Princess. It arrives at the end of the month with up to 3,080 passengers and 1,200 crew.