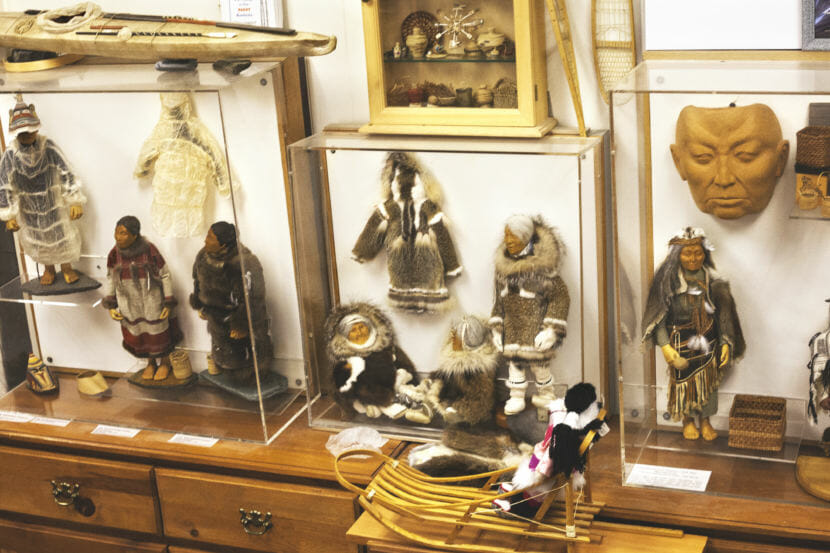 Kerri Tanner has lived in Juneau for six years — but there's one place she's never been, and she has lots of questions:


Curious Juneau stars you and your questions. Every episode we help you find an answer. Catch up on past episodes, or ask your own question on the Curious Juneau page.
"What is the doll museum? How did it come to pass? How do you get in it? How does someone collect enough dolls to put in a museum? Are they old worn teddy bears? Are they antique dolls?"
Tucked away on the second floor of the Triangle Building, there's a museum filled with snapshots of history – but in this museum, they're made out of wood, cloth and plastic.
Aunt Claudia's Dolls, a Museum, displays a collection of handmade Alaska Native and antique dolls.
The nonprofit museum's curator is a dollmaker herself.
Plastic, wood and tools clatter around as Mary Ellen Frank searches some boxes.
"I've sort of cleaned up now, because I've been … working on the museum more," she says. "But this is a doll I've been working on."
She picks up the torso and a head with long dark hair. She test fits the pieces together, along with a pelvis, and the doll begins to take shape.
"I'm interested in trying to do a fully articulating wooden body so there'll be springs," she says. "So she'll be fully posable and movable. I've got her legs all ready to go. Here's some of her springs."
Born in 1952, Frank's fascination with dolls began early. Some of the dolls that she had in her crib and as a young girl are nestled with care in a green shoe organizer hanging on her studio wall. There's giraffes, knitted dolls and even a pink bunny.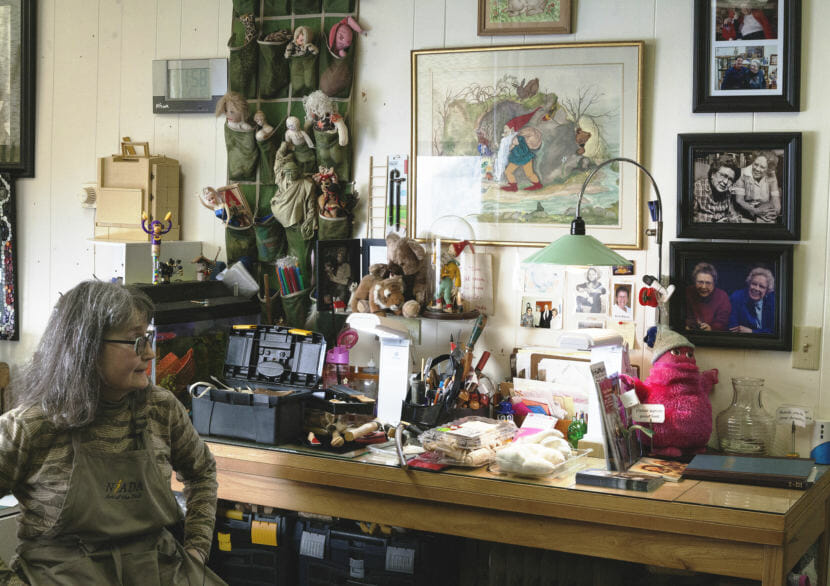 Now she's the director and curator of Aunt Claudia's Dolls. Pictures of the museum's namesake, Claudia Kelsey, are featured throughout museum.
A former state economist, Frank took a doll-making workshop in 1988, where she met Claudia.
"At that time, some little old lady with a doll collection. I sort of trivialized it," Frank said. "But then I saw at Christmastime at times the state museum would put on shows of her dolls and they were so fascinating."
Frank began visiting Claudia's house weekly.
"She was mainly interested in antique dolls and dolls from around the world," she said. "She had probably 800 dolls. Her thing, she was so proud that she had never purchased a doll personally. They'd all been given to her by family to start with and then people that knew that she loved dolls started giving her dolls."
Claudia died about 10 years ago, leaving her collection of dolls with a friend, who in turn asked Frank what to do with them.
"I had a studio in this building so I said, 'Until we find another place for them, we can move them into an adjacent room to my studio and I'll store them there until we find another place.'"
They moved Claudia's collection from the house to the studio, cabinet by cabinet and doll by doll.
The two women first opened the studio for its first First Friday in 2008. Then they decided the downtown location was the perfect place for the collection.
Claudia's antique and cultural dolls are just one part of the museum. The other is Frank's collection of Native American and Alaska Native dolls she's collected — and some she's made herself.
She creates likenesses of Alaska Native leaders and elders, and favors Northwest Coast art and dolls. Frank took Northwest Coast carving classes and uses several of the tools in making her dolls. She even uses Alaska yellow cedar.
"Dolls are so culturally interesting and you can see so much about a culture from looking at these dolls," Frank said. "And you kind of learn stuff by looking at the clothing that dolls provide. People don't wear a lot of this clothing anymore but you get a picture of where it came from."
Aunt Claudia's Dolls is located at 114 S. Franklin St., Suite 105, with street access across from the Rockwell. Normally, it's only open during tourist season, but the rest of the year the museum opens for First Fridays and Saturdays. This weekend, it's open from 4 to 7 p.m. Friday and noon to 5 p.m. Saturday. Admission is free.
Our question asker Kerri Tanner plans to finally make it to the museum.
"When I think of doll museum, I don't think of the Native dolls. I think of the typical baby doll or teddy bear," Tanner said. "So it's neat that she's got all of it."
David Purdy contributed to this report.