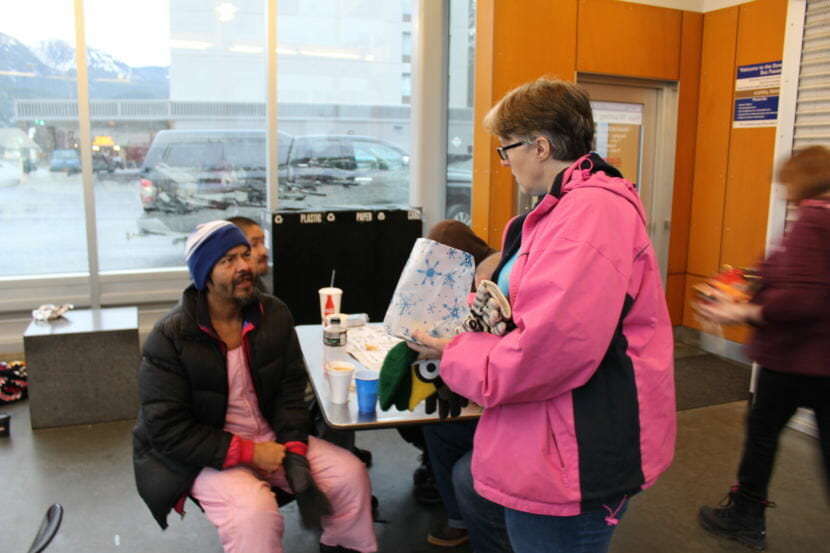 Juneau's homeless population struggles in winter. Although the city has new housing options this season with a warming shelter and the Housing First complex, some locals are going out of their way to make sure the homeless can get a hot meal easily, too.
"All right, who's hungry?" Anna Timpane asked as she took the lid off her pot. She and several volunteers were dishing out potato soup at Juneau's Downtown Transit Center on Sunday afternoon.
Timpane had the idea for a regular makeshift soup kitchen last month, after a friend told her about the limited food options for the homeless on Sundays.
"So I decided, you know, why don't I step up and do it myself and see who wants to join me and come with me and see what we can do?" Timpane said.
At the time, it was very cold and almost Thanksgiving. Timpane's friend made some hot soup and they headed downtown. The transit center is a popular place for the homeless to keep warm when it's open. She said more than 30 people showed up to eat.
This time, the warmer weather meant only about eight men were there when she and the other volunteers arrived. While they set up, Timpane's husband Robert drove around to let others nearby know about the free hot lunch. One by one, they trickled in. Some quietly ate and left, while others settled down for a nap afterward.
William Denny got a cup of soup, but asked for seconds on the milk.
"Oh, it was great. Little bit of milk, little bit of soup. Two rolls," Denny said.
In addition to lunch, Denny also received one of the dental kits Timpane put together with a toothbrush and toothpaste. Another volunteer handed out hand and toe warmers, hats and mittens.
Robin Brenner decided to volunteer when she saw Timpane post the idea in the Juneau Community Collective Facebook group. She brought cups and spoons and helped serve soup and dinner rolls.
"It's hard because it's the holidays and so many people are lonely already, and then put Christmas and the holidays on top of it," Brenner said. "It's hard for people. It probably makes their whole situation worse."
Timpane said she will continue to organize Sunday soup kitchens through Facebook. She plans to be at the transit center each week around 1:30 p.m., as long as there's a need. She said she's not worried about expenses since people have been generous with their time and extra supplies.
"So the food we can definitely work out ourselves," she said. "But things like blankets, those are always very welcome. Right now, we're just a bunch of people that showed up with a pot of soup."