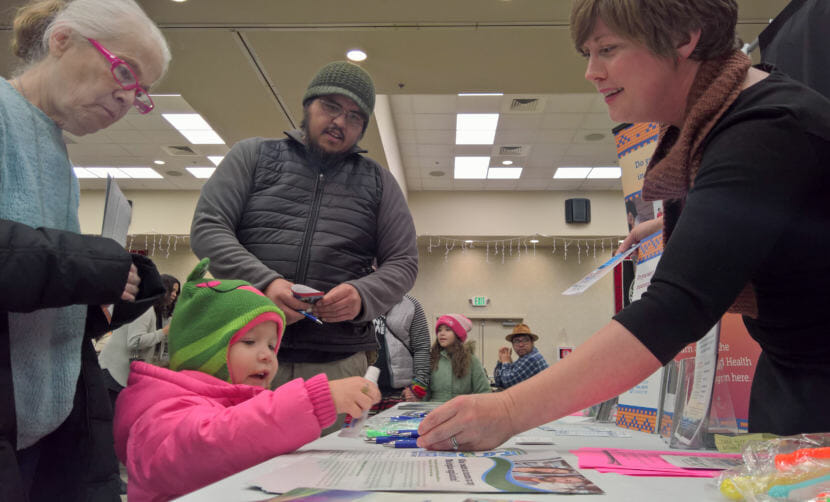 If you need health insurance, you've got three weeks left to shop for it on the federal health care exchange. Then, open enrollment closes.
While the federal budget for enrollment outreach and the amount of time to shop have been slashed since last year, the pace of enrollment in Alaska has picked way up.
Jessie Menkens is the coverage initiatives coordinator for the Alaska Primary Care Association. That means she oversees health care navigators statewide, and she keeps a close eye on health care enrollment numbers. She says she's pleased with the latest tallies.
"Just Wednesday morning, we saw the numbers for week three here in Alaska. We're up 49 percent in participation compared to where we were at this time last year," Menkens said. "Last year, we had 3,805 individuals in Alaska covered. This year, we have 5,667 people covered with a healthcare.gov plan."
How to reach health care navigators in Alaska
To hit parity with last year, Menkens said they'll need about 11,000 more sign-ups by the deadline. She said she's hoping for 12,000 or more, and thinks it can happen because insurance prices have fallen this year.
However, the amount of time to sign up was halved to 6 weeks from last year.
"We have a very short amount of time, so again, it's just really important for Alaskans to not wait," Menkens said.
The deadline is Dec. 15, and the uninsured are subject to federal income tax penalty under the Affordable Care Act.
Though Menkens' organization lost a lot of grant money for enrollment outreach, she's still finding potential enrollees one at a time. Amid Christmas music and artists' booths at a holiday craft fair in Juneau on Friday, Menkens handed out pamphlets, toothpaste and toothbrushes, and answered a lot of health care questions, including some from Sue Clayton.
Clayton gets health care through a tribal health system. After talking with Menkens for a few minutes, Clayton explained that she's interested in supplemental coverage through the exchange.
"Yeah, I picked up two-program information things here, and the tribal affiliated program sounds like it's the one I need to sign up for first," she said with pamphlets in hand. "And then later on down the line, Medicare will kick in."
Clayton may be the latest tick mark for Menkens' enrollment tally.
Enrollment information is available at www.GetCoveredAlaska.org, including contacts for one-on-one help in communities across Alaska. Help is also available by calling 1-(844)-PlansAK.