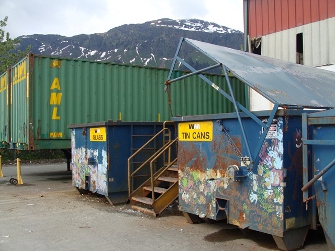 A consolidated recycling center at the Juneau landfill will not be built.
CBJ Public Works Director Kirk Duncan says city officials have decided not to pursue the project with landfill operator Waste Management. The facility would have combined drop-off recycling, household hazardous waste and junk vehicle disposal under one roof. The city would have paid Waste Management a million dollars a year to operate the programs. It also would've contributed some of the up-front costs for the new center.
Duncan says the new curbside recycling service offered by Arrow Refuse was a major factor in the decision not to do the project.
"We were just leery of doing that given the uncertainty of what's going to happen when you consider Arrow's curbside recycling program," Duncan says. "Because it would be pretty bad to go ahead and enter into a ten-year contract and then see the volume of source-separated recycling fall off enough that it wasn't a good investment on our part."
To allow for Arrow's landfill deliveries, the city and Waste Management previously agreed to reduce the number of days the recycling center is open to the public from five to three per week. Duncan says that arrangement will continue through the end of the year. In the meantime, the city plans to solicit proposals for separate contracts covering drop off recycling and hazardous waste disposal.
Even with Arrow's curbside program, Duncan says the recycling center at the landfill remains as busy as ever, with about 13-hundred customers per week.
"We don't see a falloff in our volume at this point in time," he says. "So, initially it looks good for our source-separated program. But being conservative we want to give it some time to see if that trend holds true or if it's just an anomaly because of summer or whatever it might be."
Juneau residents pay for the recycling center at the landfill and the household hazardous waste program through a surcharge on their utility bills. Channel Construction currently offers free junk vehicle disposal to residents willing to have their clunkers towed to the company's lot.
Waste Management officials did not return phone calls seeking comment for this story.