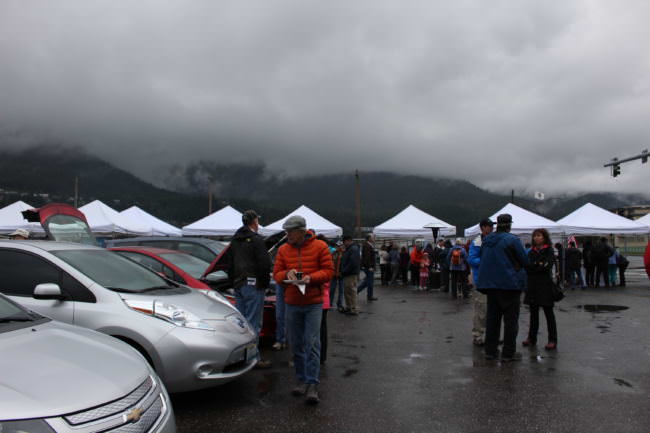 Alaska's economy is powered by oil. So are the vast majority of cars and trucks worldwide. But globally, the market for electric vehicles is growing. So as more people move away from gasoline powered cars, the big players in the oil industry have started to pay attention — and that includes Alaska.
On a recent weekend, nearly 70 electric vehicles are lined up in a bare parking lot near downtown Juneau. It's the city's annual electric vehicle fair. The 1980's song "Electric Avenue" is playing in the background. 
John Cooper is here showing off his two EVs. And he's proud to say he was one of Juneau's early adopters.
He invites me inside his fully-electric sedan and pops the keys in the ignition.
Cooper says there are plenty of charging stations in Juneau. Range anxiety isn't an issue. He says the convenience of owning an electric car was a big selling point.
"When you're on the way to work, your car is [at] full [charge]," Cooper said. "And it's an incredible feeling to get in the car — like, the whole time we've been talking — this car has been on and idling."
It's quiet because there's no rumble of a gasoline-powered internal combustion engine.
Not too long ago, electric vehicles weren't commercially available. But over the span of about five years, the number of EVs has reached into the millions worldwide.
That's still only a tiny fraction of cars on the road. Even so, oil companies and Alaska state economist Neal Fried are paying attention.
"Does it keep me up at night? Not too often," Fried said. "But it's not just a thought experiment by any means."
For the past 40 years, Alaska has paid its bills largely using oil revenue.
Recently, that's presented the economy with some extreme challenges, and Fried says electric cars are potentially yet another threat. How big of a threat? That depends a lot on how quickly the shift happens.
"Look at iphones and how fast they were adopted. Could the same thing happen to us?" Fried said. "I don't know."
There's a range of opinions on that. Some energy analysts forecast that electric vehicles could outsell gasoline cars by 2040.
Then, there are companies like BP, which project much smaller numbers.
Sam Ori, the executive director at the Energy Policy Institute at the University of Chicago, agrees with Fried that electric vehicles are nothing to scoff at. 
The global demand for oil is still increasing, but Ori says as consumers snap up more electric cars, the demand could start to flatten out.
"It's not as if people are going to stop showing up to buy oil from Alaska," Ori said. "But the price that they buy that oil is going to be less than it otherwise would have been, because of this change in the oil market. And electric vehicles are a piece of that — a small piece, but they're going to become a bigger piece of it."
Already, he says, electric vehicles and more fuel-efficient cars are affecting the global oil market.
That trend is likely to continue as countries consider measures to reduce carbon emissions. The Chinese government is thinking about banning gasoline-powered cars altogether.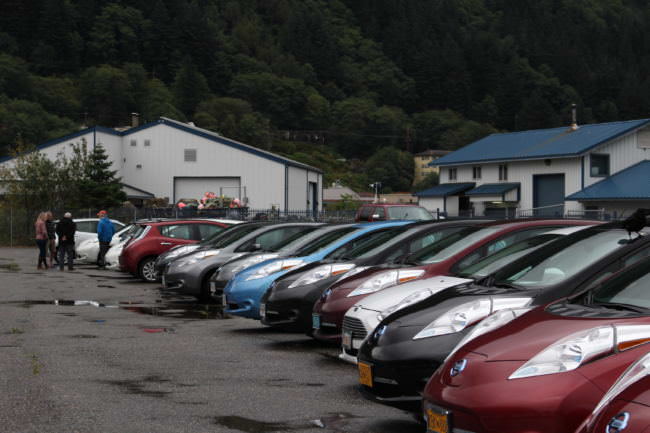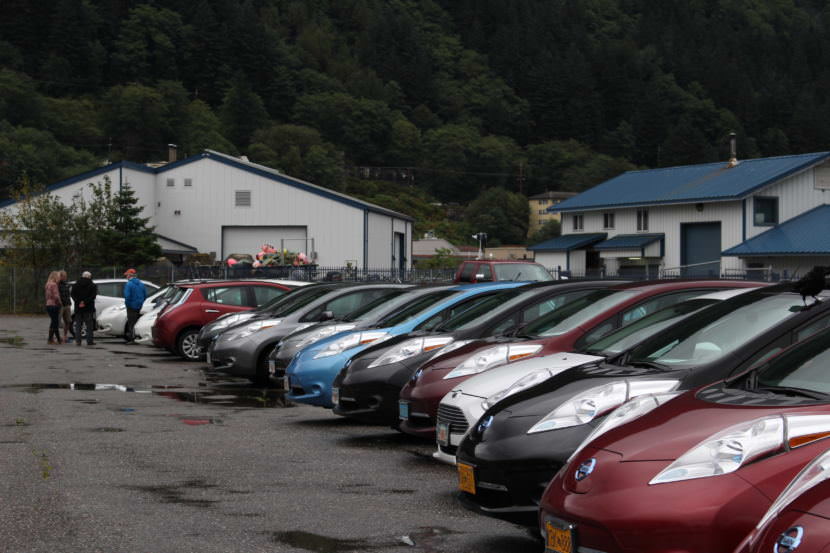 But Ori says the transition isn't going to happen overnight.
"I think if people are thinking of it as like, 'Well, are electric vehicles going to become so widespread in the next few years that they eliminate the demand for oil?'" Ori said. "That's not happening soon."
Still, Ori says globally it's becoming cheaper to produce oil. Far-flung places where it's expensive to drill, like Alaska, could start to look less and less appealing.
Back at Juneau's electric vehicle fair, Monique Reeder is taking a break from the rain under a tailgate tent.
She's here promoting her dealership, which carries electric vehicles. But Reeder herself?
"You know, I actually don't own a car," Reeder said with a laugh. "But I do take home demos."
In any case, she doesn't think the capital city's enthusiasm to move away from gasoline cars has to be a reflection on the state's economy.
She says Alaska will have to adapt.
"Because we don't want what's happening with the barrel prices, we don't want that to affect our economy so much, where it's really hurting our budget because we're dependent," Reeder said. "If we can diversify, it's going to be a positive all around."
As for her business, Reeder's been selling electric cars for about a year, and she says they've been flying off the lot.