With its limited road system, Southeast doesn't seem like a paradise for car lovers. But it might be the perfect spot for Travis McCain.
He's the enthusiastic owner of a 2013 black sedan. With the push of a button, he starts the quiet car and describes some of his favorite features:
"Heated seats, heated steering wheel, heated rear seats."
McCain hasn't been to the gas pump in months — ever since he bought the all electric Nissan Leaf. When he bought the car back in February, he tried to shop locally.
"I went to all the dealerships in town and said, What can you do that's similar to the Nissan Leaf?' And nobody quite had the answer," McCain said.
So he bought one from Washington and had it barged up. He says he wanted the car to help cut fuel costs — the electricity for the vehicle is only about 2 cents a mile. The positive environmental impact was the icing on cake. In Southeast, there's one thing he doesn't have to worry about, and it's something that does worry drivers in the Lower 48.
"Range anxiety. That's associated with the car, which I never really had," McCain said. "It's Juneau, if I get stuck somewhere, oh, well. I'll call a friend."
But even that scenario is unlikely because along Juneau's nearly 60 miles a road, there are a lot of plugs.
Alec Mesdag, a director at the Alaska Electric Light & Power Company, runs down a list of ten public charging stations.
In 2014, he worked with the city's economic development council to help identify the locations for the charging stations, which were grant funded.
Mesdag says at first some criticized the charging stations as a handout. The electricity is free, and the city doesn't give away gasoline.  
"While that analogy is out there, the biggest difference is the expense is so different," Mesdag said. "It would literally cost the city more to administer the collection of funds than to give the electricity away."
Mesdag says Alaska's capital currently ranks with places like Austin, Texas and Portland, Oregon when it comes to plugs per capita, but he thinks Juneau has the advantage.
"In all honesty, we're better suited for the vehicles than a lot of those other communities," Mesdag said.
What some see as an oddity — the city's remoteness — is actually a superpower for electric vehicles. There's just not that far to drive. Still, it can be a pain to ship cars here or have them repaired. Groups in Juneau and Sitka are trying to organize regular visits from technicians. Soon, there might be enough electric cars to warrant the trip.
Mesdag says there's a new Nissan Leaf arriving just about every week. There are about 50 fully electric vehicles, or EVs, now.
"We'll be close to 100 EVs in Juneau by the end of the year," Mesdag said.
This couldn't work everywhere in the state. Fully electric vehicles can have issues in colder climates. Furthermore, it requires cheap — or relatively cheap — electricity, which means it doesn't make sense in regions that rely on expensive diesel. But in Southeast communities with lower-cost hydropower like Juneau, Sitka and Petersburg, electric vehicles pencil out.
Mesdag thinks they could start to become the new norm.  
"A year ago, I would have been less sure this was going to happen, but now people seem to be developing a pretty strong comfort-level with the vehicles," Mesdag said. "Word of mouth is a big sales tool. And we have a lot of people who own these vehicles now, and they're pretty happy with their experience."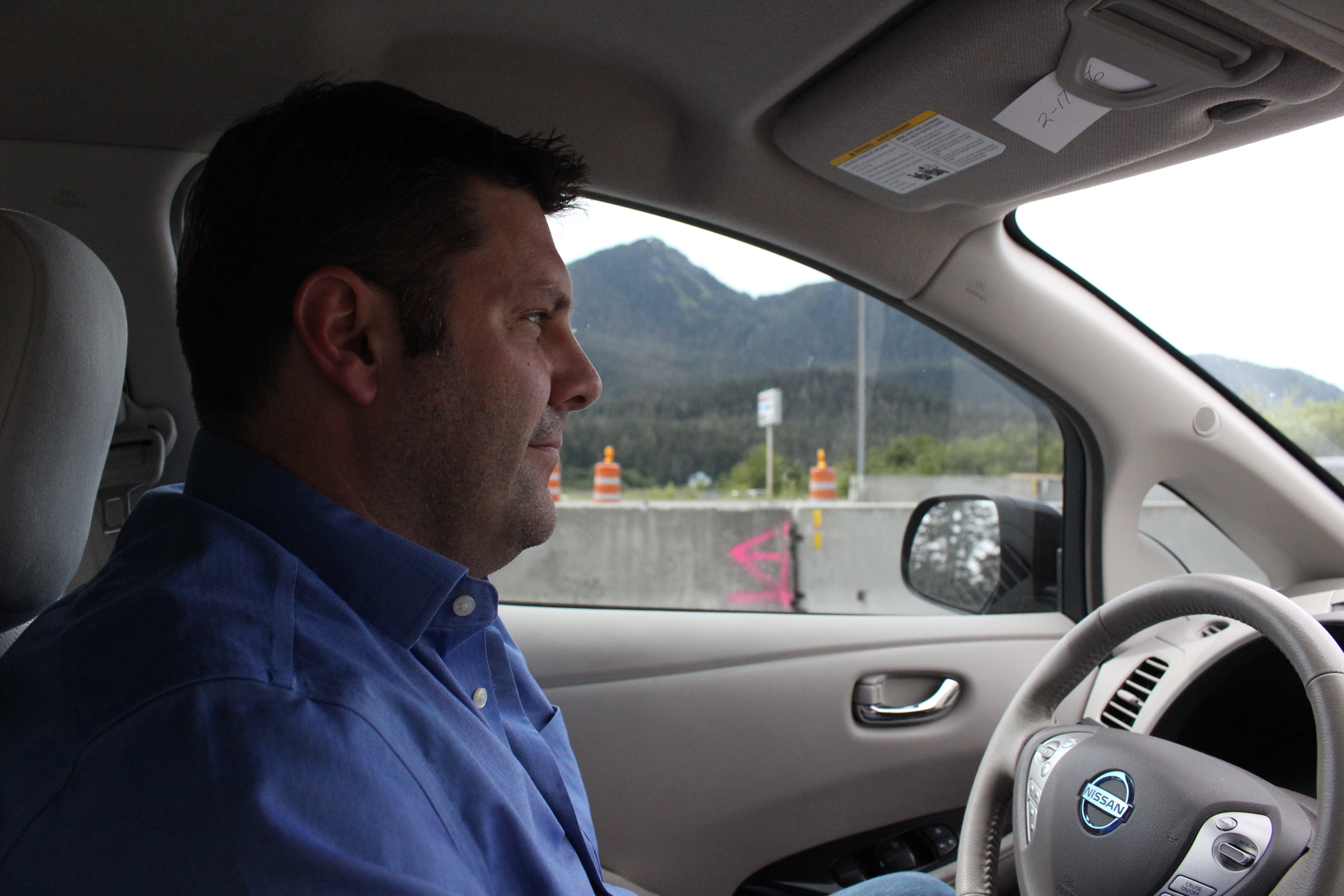 Back on the road in his Nissan Leaf, Travis McCain is going down the list of five people he's converted to the church of EV, including his sister and fiancé.
He still keeps a truck around to haul his boat, but the Leaf has become his primary vehicle. It's changed the way he looks at other cars.
"On a nice day even like today, I've noticed that I might typically drive with the windows down," McCain said. "And then as I pull up to an intersection, I put my windows up so I don't have to smell other's car exhaust. Getting finicky!"
McCain is in the process of buying another Leaf. It'll be a delivery car for his business.