If a bear cornered Sarah Dolan's chickens inside her chicken run, they would be sitting ducks.
Six birds are strolling aimlessly around the run surrounded by a mesh fencing called hardware cloth. It looks like chicken wire, but Dolan says it's more solid.
"And I have that screwed into the 4-by-4s and then in the ground with cement pier blocks," Dolan explained.
She has clear, plastic roofing at the top to protect from aerial hunters such eagles. She just lost two chickens to ravens earlier this summer. She let them free-range and didn't watch for birds. It's a mistake she doesn't plan to make again.
Dolan's recommendations for a chicken coop
Use electric fencing
Must be dry
Must be well ventilated
Needs roosting bars
Install a feeder
Add nesting boxes (secure them if they can be accessed from outside)
Build in 2 to 4 feet per bird
Use wood shavings, straw or shredded paper for bedding
Install a very secure human door and a small chicken door
Chickens are just one of the attractants Fish and Game is reminding people to protect from hungry bears. The agency recommends chicken owners put electric fencing around their birds.
Dolan said it's a smart precaution but she doesn't have any.
"I know that's a gamble," she said. "Because I know it's a gamble, if I were to come out one day and a bear were actively trying to get into my run or coop, I would try to scare it off of course — that's it. It's my fault if it gets in."
But, she's confident the worst won't happen because she has a fallback plan.
"It would take a bear a little bit to break (the run) down and in those seconds I would envision my chickens being able to run into the coop," Dolan explained.
Her coop is overkill for such a small operation. Her husband calls it "Cluckingham Palace."
It's a strong wooden shed. You'd need a lot of force to break into it.
A chicken-sized sliding door, like a dog door, leads from the coop into the run. Dolan thinks if a bear attacked, her birds could hide on the other side and the bear would eventually give up.
She didn't always have a palatial coop, but in the six years she's been raising chickens, she's still never lost any to bears.
The fence helps.
"A bear can scale that in a heartbeat if it wanted to, but it can't see back here," Dolan pointed out. "The sounds of a chicken isn't really what's going to draw it back here, it would be a smell and I don't have a smell."
Dolan keeps the chickens' food in sealed containers inside her coop and she also feeds them inside. Her feeder doesn't let the chickens spill food on the floor and she has what she calls a poop hammock that hangs underneath the chickens' roosting bars.
The hammock catches poop and she composts it. She adds leaves and moss when she uses the compost to filter out lingering smells.
She's not lying. The place really doesn't stink.
Dolan's recommendations for a chicken run
Use electric fencing
Use hardware cloth and sink it into the ground
Cover the top with roofing or netting
Make a dust bath for the chickens with wood ash or diatomaceous earth
Leave a waterer in the run instead of the coop (The coop must stay dry)
Dolan is part of a growing community of Juneau chicken farmers.
Teaching chicken owners how to keep bears out of their coops is one way Stephanie Sell is trying to minimize human-bear encounters.
Sell is the Fish and Game area biologist for northern Southeast Alaska. She is having a bear-crazy summer.
"We're getting a lot of calls about bears in trash and sometimes we can address those and other times we have more aggressive behavior, like, the bear that we just dealt with, that we need to deal with immediately," she said.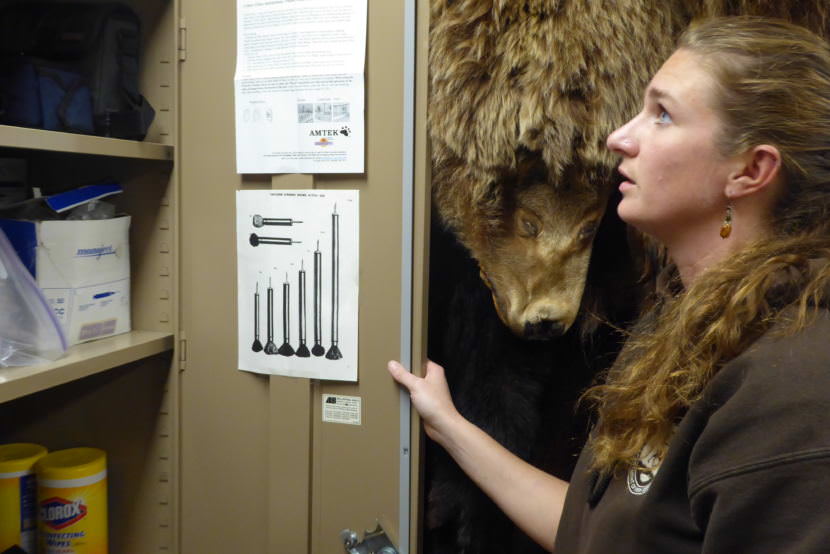 Sell and her co-workers recently put down a 470-pound black bear after it broke into a trailer home arctic entry. She said it was probably the biggest black bear she's ever handled and was a known troublemaker.
She suspects the same bear broke into another home a few days before and she remembers that two years ago it pushed a window out of another home and climbed inside.
"You don't get to be that big by being stupid so … I can guarantee that this bear has probably been eating trash for a long time," she said. "(It) has found food sources within arctic entries before, so it basically recognizes that and will go back and try to find those locations again."
This bear caught public attention because it was really big, but Sell said its misadventures are a symptom of the problem that is taking the steam out of her summer.
Some people in Juneau are breaking the rules for bear attractants.
"Trash, chicken coops, pet food, bird seed, stuff like that," Sell said. "Food conditioning is a form of habituation. They find humans as being a normal part of their world. When people are saying, 'Well it's not afraid of me at all,' that's because we've been feeding it for years."
Dolan's advice for chicken first aid
Use black strap molasses to induce diarrhea
Add apple cider vinegar to water to reduce bacteria
Keep gauze pads, first aid tape, vet wrap, eye droppers and scissors
Add electrolytes to water if chickens are sick
Use Blu-Kote antibacterial/antifungal spray for wounds
Use Vetericyn spray to kill bacteria in cuts and to treat bumblefoot
Use coconut oil to prevent frostbite on chicken's combs
Use Kocci Free to cure parasitic infestations like coccidiosis
Sell said don't leave out pet food; don't put out a bird feed in the summer. Juneau law says only put trash in bear resistant buildings or containers.
This is common knowledge. Fish and Game has been preaching it for years, but based on the reports she's getting, Sell thinks too many people are getting complacent.
Sarah Dolan highly recommends new chicken farmers use electric fencing around their coops and runs. She also said to build everything before you get chickens. Otherwise, you might get busy with life and settle for a half-finished home for your birds.