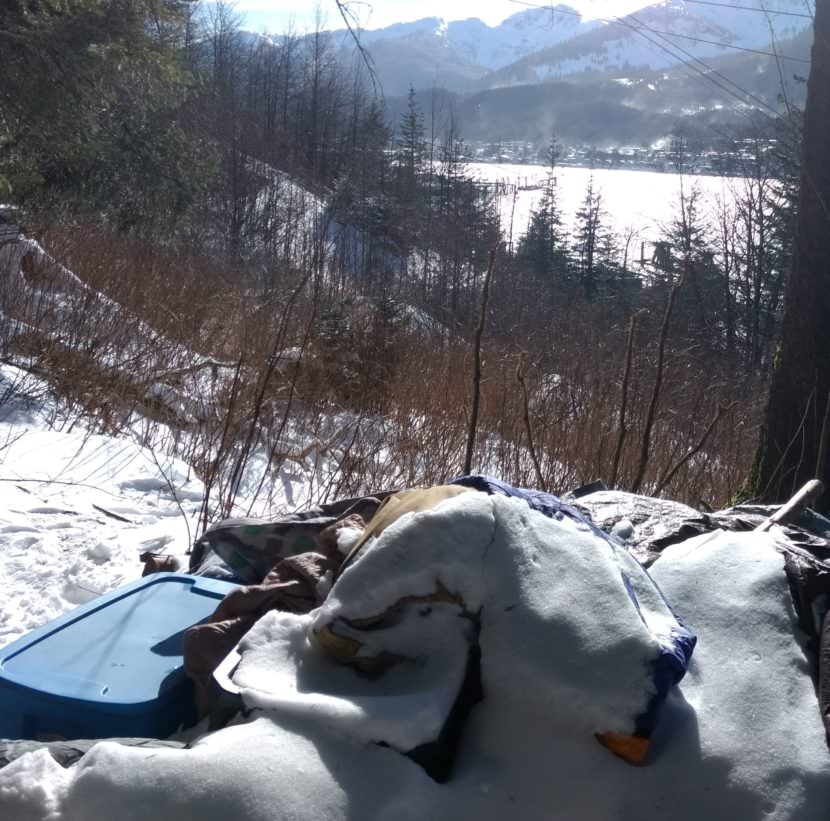 Next month Juneau's downtown camping ban goes into effect. Supporters of the ban said it would only be one part of the community's homeless strategy. Much of the land above Juneau's downtown is owned by Alaska Electric Light and Power's sister company, AJT Mining Properties. And in all seasons homeless people erect makeshift camps in the woods on those lands.
Employees of AJT Mining Properties are constantly evicting the people it finds camping on these lands. People often ask where they are supposed to go?
"Many times it's kind of hard — I personally don't know what their other options are," said Alec Mesdag, lands manager for AELP and its affiliated properties. "This campsite was tagged a number of weeks ago," he said, pointing to a former campsite behind a thicket of elderberries. A mound of gear in totes, backpacks and a collapsed tent still remains.
"We offered a period of time for them to remove their campsite and move along, find somewhere else to go — not that I necessarily know where that other place to go really is."
After April 15 they will be barred from camping downtown on private property. Mesdag said that AELP has offered the use of about an acre below the former AJ Mill to the city as a winter camping site.
"If we had this time of year a campground that we could direct people to, I think that would make it easier for us to say, 'Well, you can't camp here, but you can go over to this other managed campground,'" he reasoned.
The city already runs a summertime campground on AELP land off Thane Road. It's used as a cheap housing alternative. But it's also in an avalanche zone, so the city closes it down in the winter.
This proposed winter site isn't perfect either. It's an uphill walk from the end of Gastineau Avenue and there can be heavy snow in the winter. AELP is willing to turn it over to the city on a year-to-year arrangement. Mesdag says talks have been ongoing with city staff since December.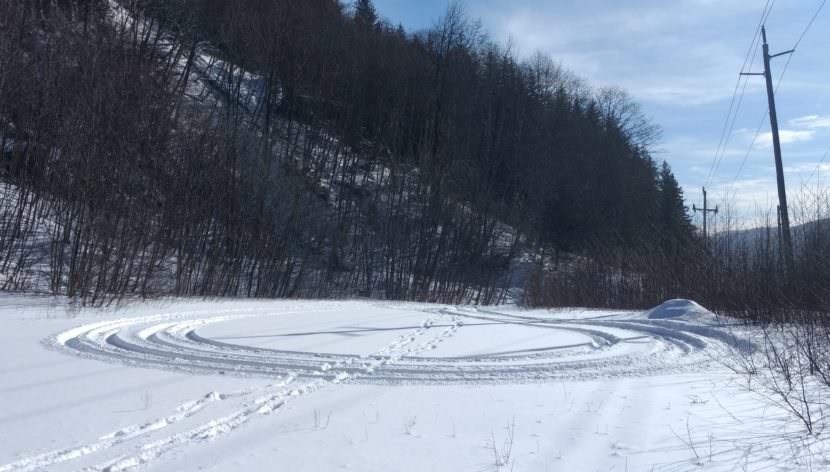 "There's actually an old fire ring sitting out here," Mesdag said. "It's been used as a campsite before and we've been up here with a number of folks from the city to look at how useful this would be, which parts of this area would be best for setting the actual tent sites, and what type of services we could bring up here."
The city hasn't decided whether it's willing to manage a winter campground.
"The question of whether a winter campground is a good idea hasn't been thoroughly vetted," said City Manager Rorie Watt. "When I look around the country other places are actually trying to shut down homeless campgrounds."
That discussion is slated for a Juneau Assembly committee meeting on March 20.
"There will be a cost to it and there will certainly be some philosophical decisions that have to be made in order to do that," Watt said. "We've got other issues as well in terms of zoning and where you could legally put a campground and some other mechanical questions — but I think the big question for the Assembly is: What is the city's role?"
Homeless advocates say just doing nothing isn't an option.
"There will be people who pick up their blanket and move three streets over or to the Marine Park structure," said Mandy Cole, co-chair of the Juneau Coalition on Housing and Homelessness. "And so it's not ending homelessness in any way — it's moving it away from that kind of one visible area."
She notes that the new camping ordinance is not enforceable on public property. That means campers could move from downtown sidewalks and into city parks.
So if the city doesn't want campers in parks it will need to create alternatives — a winter campground could be one of those options.
"There are people who live on the street who are looking for a kind of space of their own but not necessarily ready or willing to live in an apartment or participate in a program," she said. "They want a space that's theirs. Literally doorway-sized space that they can keep their belongings and themselves safe — for those individuals a campground seems totally reasonable."
The Glory Hole downtown shelter continues to operate at about capacity. Not everyone can pass the required Breathalyzer test to sleep there overnight and some continue to shelter in alcoves.
On a recent morning 57-year-old Wolf Johnson was gathering up his bedding on South Franklin Street. He says he can't understand how downtown buildings sit vacant while people like him sleep out in the cold. He says he's looking forward to the 32-bed Housing First shelter that will open in May. But he complains the Assembly's camping ordinance ultimately put private property rights over human welfare.
"They say April 15 is coming around," Johnson said. "Well, we all as homeless, we look after each other. These business people are more worried about their property. Me? I'm homeless and all I worry about is where I'm going to sleep."
There have also been talks between the city and Salvation Army over operating a warming station when temperatures dip dangerously low. That will also be up to the Juneau Assembly to consider later this month.