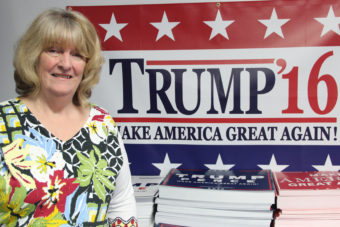 As election day approaches, we've been checking in with voters around the state, asking them what issues matter most and who they're supporting for president.
On Friday, Alaska's Energy Desk visited the Trump campaign headquarters in Anchorage, to hear from volunteer Margie Ward.
Ward is 68. Her husband, former state Sen. Jerry Ward, is the Alaska State Director for the Trump campaign. She's a longtime activist in Republican politics, but she says Donald Trump is the first presidential candidate she's worked for since Pat Buchanan's primary run in 1996.
You can find our other interviews with Alaska voters here:
In Anchorage, a Trump supporter keeps the faith
For this Anchorage Republican, Johnson trumps Trump
In St. Paul, this Alaskan vows 'Never Trump'