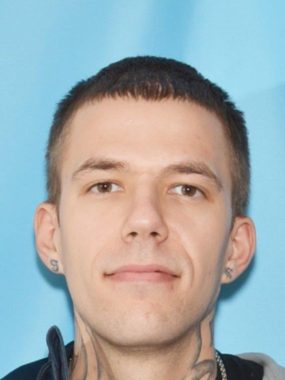 Police are looking for a 25-year-old Juneau man considered a person of interest in several reckless driving incidents including a hit-and-run since Sunday, according to a news release from the Juneau Police Department.
Micah William Nelson is wanted on two outstanding felony warrants related to probation violations, the release said.
At about 3:19 p.m. Sunday, a Juneau police officer observed a red Toyota Corolla with two occupants on Mendenhall Loop Road near Stephen Richards Memorial Drive.
The officer recognized the driver as someone with outstanding arrest warrants. The officer followed the vehicle and attempted a traffic stop near Lakeside Condominiums.
The vehicle sped up and left the area, driving on side streets and Tongass Boulevard where the vehicle briefly stopped.
The passenger, a 31-year-old woman who was on probation, got out and the vehicle sped away. She was sent to probation officials.
In another incident at about 11:43 a.m. Monday, a Juneau police officer saw a silver Chrysler with three people in it near the Switzer Village Mobile Home Park. As the officer pulled up, the vehicle fled.
The driver didn't comply when the officer tried to make a traffic stop. The officer didn't pursue the driver for safety reasons because of fast, reckless driving.
Later, a Forest Service officer spotted the suspect vehicle on Mendenhall Loop Road near the Mendenhall River Bridge. That officer also tried to stop the car, followed it onto Glacier Highway where it headed inbound, the release said.
An Alaska State Trooper near the bus barn on Back Loop also spotted the vehicle and saw it near the Brotherhood Bridge turning toward the airport.
At about 11:56 a.m., a 23-year-old woman called and said a silver vehicle struck a van she was driving.
She was at a stop sign on Del Rae Road and had just started to make a left turn onto Glacier Highway when the silver vehicle tried to pass her on the driver's side, the release said. The front of the van struck the passenger side of the silver vehicle.
The silver car fishtailed, then continued at a high speed on Glacier Highway toward the airport.
The woman was driving with four juvenile passengers. No one was injured.
At about 12:28 p.m., the suspect vehicle was located in the Switzer Creek area and impounded.
Nelson's two arrest warrants stem from a September 2014 felony drug conviction, according to online court records.
JPD is seeking the public's help locating him.