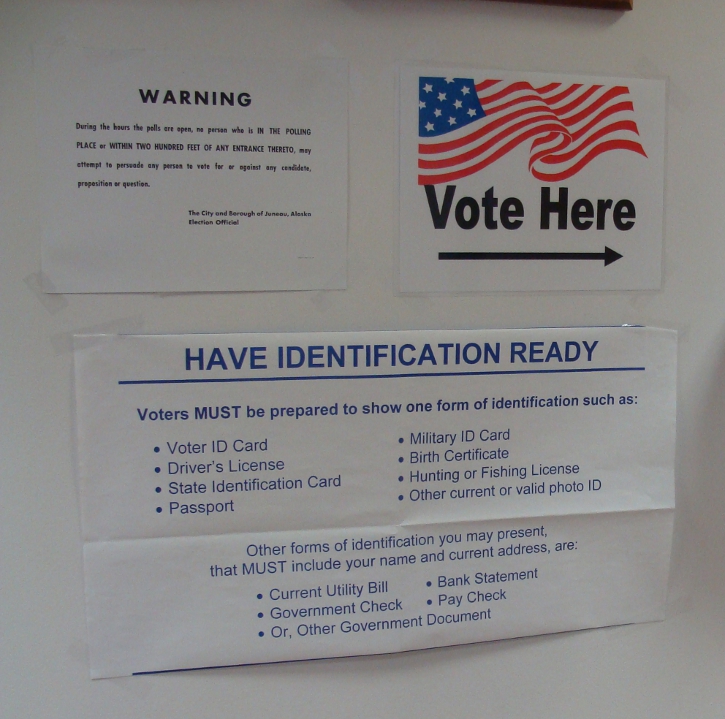 It's not too difficult to get an "I voted" sticker in Alaska.
As long as you're registered, you just have to show a piece of identification at the polls, like a driver's license or a utility bill. Even if you don't have ID, you can cast a questioned ballot if an election worker can vouch for you. But two bills lawmakers are considering this year could change that process, in very different ways.
The first piece of legislation would create stricter rules for what qualifies as an acceptable ID. It would amend current statute so you would have to show a photo ID, or bring two non-photo IDs like a birth certificate or a government permit. Utility bills wouldn't be enough anymore. And if you don't have anything on you, you would now need two election workers to recognize you instead of just one.
Representative Bob Lynn, an Anchorage Republican, sponsored the bill, and he says the intent is to keep voter fraud from happening.
"Even at my age, I go to buy some wine someplace, I have to show a photo ID, and you know, and so on," Lynn says. "And I think voting is more important than driving. Voting is more important than being able to buy a refreshing beverage. And I think it's important."
Lynn introduced a similar bill in 2011, but never scheduled a hearing for it on the committee he chairs. But now that Republicans have majorities in both chambers of the legislature, he's making the bill more of a priority and scheduling it for a hearing before the State Affairs committee over the next few weeks.
That same committee will also likely be assigned a bill that goes in the opposite direction. Les Gara, a representative from Anchorage, says a group of House Democrats will be introducing a bill that allows for same-day voter registration. Right now, Alaskans have to register 30 days before an election.
Gara says the bill would benefit first-time voters who are unaware of registration rules and people who forget to update their registration after moving. He adds that the bill also serves as a response to Lynn's photo ID bill, which Gara says could prevent qualified voters from casting their ballots.
"You either help more people vote, or you disenfranchise thousands of people from voting," Gara says.
He's also skeptical that a photo ID requirement would achieve Lynn's goal of stopping voter fraud.
"I like Rep. Lynn, but I think his bill is a solution looking for a problem," says Gara. "There's never been any voter fraud in Alaska except for one case in 50 years."
The Division of Elections backs Gara up, and Lynn didn't offer any other examples of voting fraud occurring in Alaska. But he stresses that his measure would be more preventative than anything else.
"I've used this analogy before: I have locks on my door of my home. I have not yet been burglarized, thank God," Lynn says. "And so, it's a preemptive measure to make sure it doesn't happen. If it happens just one time, it's too much."
Right now, eleven states already have photo ID laws in effect, and eight states are using same-day registration.
If passed, both the photo ID bill and the same-day registration bill would have to be reviewed by the U.S. Department of Justice to make sure they comply with the federal Voting Rights Act.