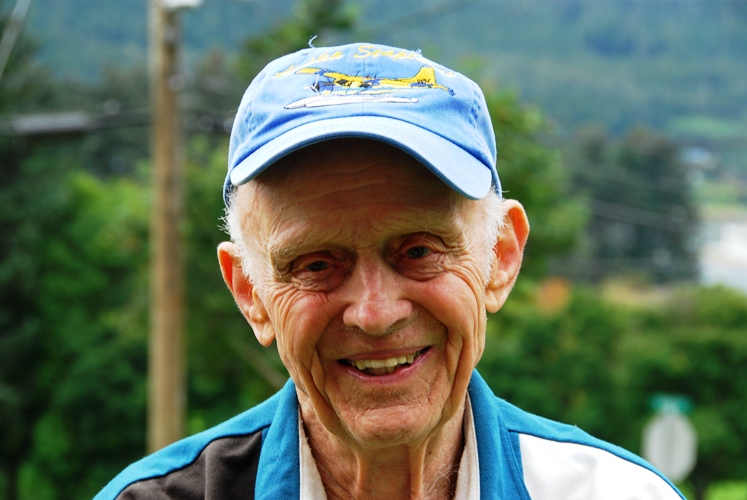 Lifelong Juneau resident Dean Williams has died.  He was 95.
Williams passed away Tuesday in a Reno, Nevada hospital.  He had been in Nevada visiting his daughter for the Christmas holidays.
Most days, Williams could be seen in downtown Juneau on his daily walk.  He worked out at the gym several times a week and when the weather was too bad to be outdoors, he walked laps, lifted weights, and did sit-ups in his living room, says his son, Gordy Williams.
Williams' father, Jay, was in the U.S. Forest Service, and Dean grew up in the outdoors and the backcountry, hiking, hunting, fishing, mountain climbing and skiing in Southeast Alaska.
"So Dad had that ethic and he certainly passed that on to us, both my sister and I were on skis before we knew how to walk. You know, he had pictures of us and him out holding us up on the skis, and getting out," Gordy Williams says.
He attributes his father's long life and good health to his love of the outdoors and physical activity.
Williams graduated from Juneau High School in 1936. He went to radio operator school in Seattle then enlisted in the U.S. Army Signal Corp.   He served with the Signal Corps in World War Two in Nome and the Aleutians.
During a World War Two symposium at the Alaska State Museum in October, Williams talked briefly about the war years.
On Pearl Harbor Day, December 7, 1941, he was teaching skiing.  He recalled heading back to Juneau from Douglas Island with three students, including a young Japanese-American woman, who not long after that day, was sent to an internment camp.
"We loaded the skis and we  started across the Douglas Bridge, and there was an Empire boy  there, yelling at the top of his voice , 'Japanese bombing Pearl Harbor,' and he didn't have to say much more than than to know our lives were going to be changed completely,"  Williams recalled.
Williams' skiing ability was put to good use when he was inducted into the Army in Haines then posted out at Adak and Attu as part of the original military Alaska Communications System.
"The general of the infantry heard that I was a ski instructor, and he said, 'Sergeant, we're going to need you to come out to the ski area and give instruction every chance you get.' So they'd send a command car to get me.  I was riding out there first class," Williams said.
He said many of  soldiers from the Deep South he taught turned out to be good skiers, but they were initially baffled by the snow, which they had never seen before.
In 1943, Williams married Edna Almquist.  They were together for 72 years, before she died last year at the age of 90.
For most of his professional life, he worked in aviation, first with Pan American World Airways then other airlines, until he started his own to serve smaller Southeast Alaska communities, which "sort of  morfed" into Wings of Alaska, says Gordy Williams.
"When Alaska Coastal got bought by Alaska Airlines and stopped service in Southeast, then he and two partners started Southeast Skyways out of the downtown Seadrome," he says.
Dean Williams also started the first flight seeing tours over the Juneau Ice field.
Beating the odds, serving the community

In 1954, Williams was struck by polio and told he would never walk again.  But he beat the odds against the disease and returned to all the things he loved to do, adding tennis. He had more time for the sport in his senior years and earned a national ranking for each age group between 60 and 90.  He was inducted into the U.S. Tennis Association's Pacific Northwest Tennis Hall of Fame in 2003, at the age of 86.  The tennis court at Cope Park is named after Dean Williams.
Over the years, he was a member of Juneau Parks and Recreation, and Docks and Harbors committees, the Juneau Chamber of Commerce and Juneau Rotary, even once named Rotary Man of the Year.
Dean and Edna Williams were Grand Marshals in 2006 for the Juneau Fourth of July parade.  In 2008, the University of Alaska Southeast gave the couple a Meritorious Service award for their years of service to Juneau.
Gordy Williams says his father's love and respect for Southeast Alaska and its people were most important to him, and he advocated a healthy balance between development and small town values and lifestyle.
Williams Mountain, near Taku Inlet, is named for Dean's father, Jay, who spent his life out and about in the forests and mountains of Southeast Alaska.
"He wanted to see if he could get a mountain named after his dad, and it was especially nice because they could see it from their home," Gordy Williams says. 
Gordy and his dad have climbed Williams Mountain.
"We're going to spread some of his ashes on that mountain this spring or summer," he says. "We're going to go up and put him up on his family mountain."
A celebration of Dean Williams' life will be held at a later date.