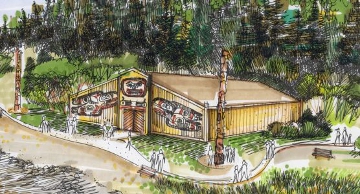 The National Park Service and Hoonah Indian Association are inching closer to a new tribal house on federal land in Glacier Bay National Park.
The 3,500 square foot structure will be built on the waterfront at Bartlett Cove.
Park Superintendent Susan Boudreau says it will be the first tribal house in the Huna Tlingit's ancestral homeland since advancing glaciers forced the people to move more than 200 years ago.
"The Huna people stayed in Hoonah, and there's people in Sitka, there's people in Yakutat, there's people in Juneau," Boudreau says. "This started about 18 years ago with some elders [wanting] to start linking the Huna people back to Glacier Bay National Park."
Boudreau says the tribal house will serve as a meeting place and visitors center, allowing the Park Service to expand educational programs in Glacier Bay. The agency already partners with Native groups on programs for school kids and some of the more than 500,000 cruise ship passengers that visit the park each year.
In addition, the Hoonah Indian Association will be able to use the tribal house for traditional ceremonies. The design is based on historical accounts and photographs, and will feature a gabled roof and thick plank walls carved with Native imagery.
Master carvers and Hoonah students have already finished the main interior wall, or screen. Boudreau says it depicts the history of the four Glacier Bay clans, and is currently on display at the Hoonah School District's auto shop.
"It is absolutely beautiful," she says. "This building has got oil on the ground, it smells like an auto shop, and the screen takes you away from all that, and brings you right into what's so important about Glacier Bay and the clans. It is pretty incredible."
Boudreau says the finished building will cost $3.2-million, with funding from the National Park Service already appropriated. Construction is scheduled to begin next summer.
The Environmental Assessment was released Friday. A public meeting on the project will be held in Hoonah on Tuesday and another in Gustavus on November 5th.
Officials from the Hoonah Indian Association could not be reached for comment.
Links:
Huna Tribal House Environmental Assessment Available for Comment
Tribal House Project