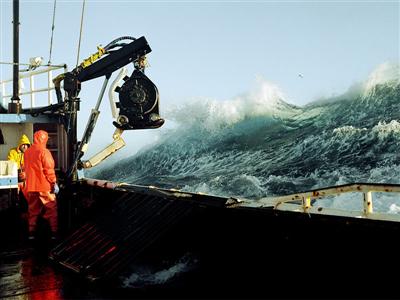 The Bering Sea's most famous fishery is underway.
The Bristol Bay red king crab season opened today, and the quota is 7.8 million pounds – a small increase from last year. As of Monday, no pricing information was available. Eighty-four vessels pre-registered, but just 42 have gone out so far, according to the Alaska Department of Fish and Game. About 60 vessels usually participate in the fishery.
Also opening today is the St. Matthew blue king crab fishery. The quota there is 1.6 million pounds. The Bering Sea snow crab fishery also technically opens today, but fishermen usually wait until January to begin harvesting that species.
Fishermen aren't the only ones busy because of king crab. Today, the Coast Guard is deploying an MH-60 Jayhawk helicopter crew to Cold Bay. That crew will stay there through the king crab season for the purpose of better responding to emergency situations.
Petty Officer David Mosley explains why the Coast Guard ramps up their presence for the crab seasons.
"We kind of follow the crab season because we see an influx of boats into an area that is known for adverse weather," says Mosley. "The high seas can be very dangerous, so we've found that it's been beneficial for everybody for us to move our assets there and have a quicker response time."
The Original Productions team is also back in Unalaska for the king crab season. They're filming the ninth season of the Discovery Channel reality show Deadliest Catch.