A family fishing trip turned to into a wildlife rescue mission for Michelle Brown and her son.
The family was out at Bridget Cove on July 8, when Brown heard two adult eagles making a lot of noise in the spruce trees.
Brown took her dog to investigate.
She found the source of all the ruckus was a baby eagle that had fallen from its nest.
"I just was concerned, he was on the ground and you could tell from the surrounding area that his mom and dad had been taking care of him but it was within the tide line where he would get taken out with a hide tide," Brown said.
Brown and her son walked to another cove to get cell signal and called 911 who patched them through to the Alaska Raptor Center.
The Center asked Brown to bring the bird to them, as it would have no chance of surviving on the ground.
"He wouldn't have normally been able to fly or leave the nest until late August. So it was kind of like either get him out of there or else he was not going to make it," Brown said.
The eaglet was about a third of the size of an adult eagle, according to Brown.
"He's a baby but he was huge. His talons and his beak looked really intimidating. He was opening his mouth at us, but it was more like feed me than it was threat. They always have that threatening look about that hooked beak. We're like 'Really, we're supposed to pick him up?'"
Brown covered the bird with a blanket and her son Beamer carried it to the car.
The bird was flown to the Sitka Raptor Center the next day.
Since then, the bird has been doing well according to Jen Cedarleaf, the Avian Rehabilitation Coordinator at the Raptor Center.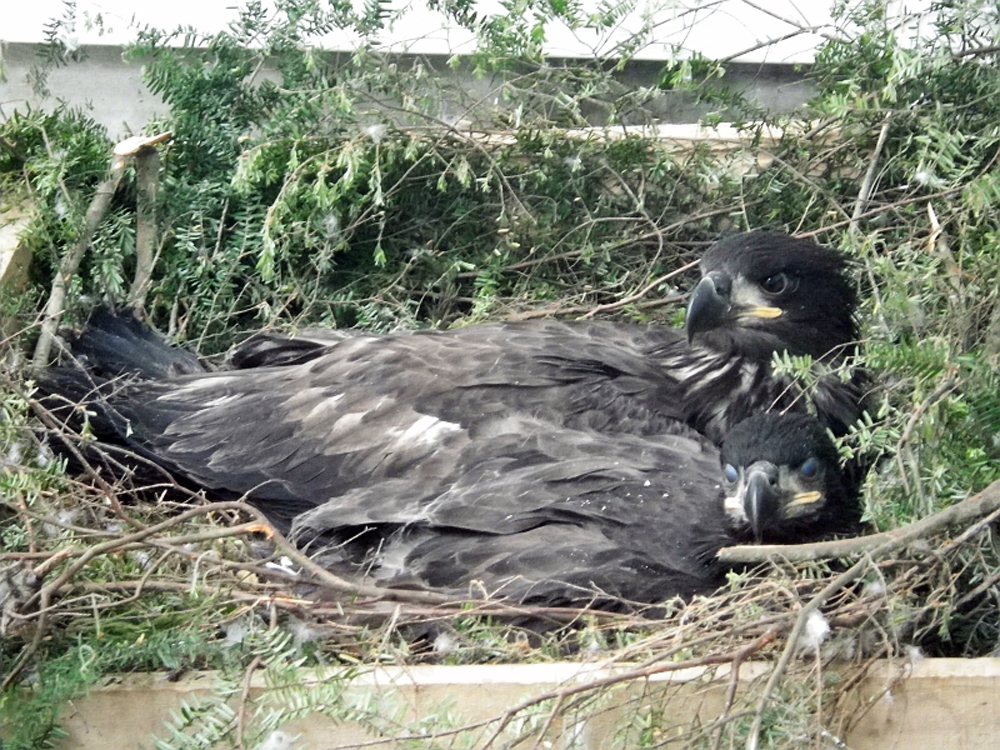 "It is doing really well right now. It's in our main flight center with two other babies. We have one baby that came from Sitka and another baby that was sent to us from Angoon last week. We built them a big nest box so they hang out in the nest box," Cedarleaf said.
"The adults come down and sit with them occasionally and the other juveniles come and sit down with them occasionally."
Cedarleaf estimates the eagle is approximately seven or eight weeks old. However, it is the smallest of the young eagles.
Volunteers at the center named the eaglet Peanut due to its small stature.
Note: This story has been updated to correct the name of the Alaska Raptor Center and the job title of Jen Cedarleaf.