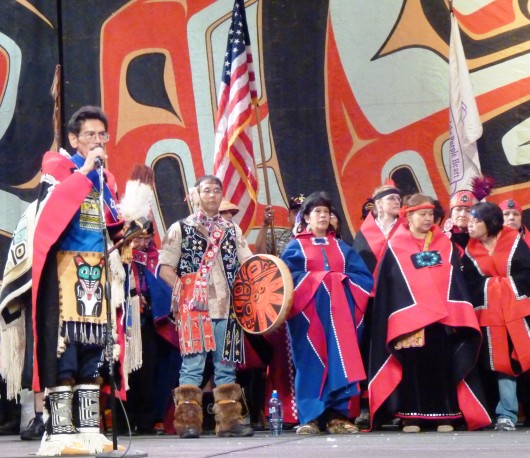 Celebration 2012 ended Saturday night with the Grand Exit, where more than 5o groups from Anchorage to Southeast to the Pacific Northwest made their final procession.
Xudzidaa Kwáan Dancers were at the lead. The Angoon group was also chosen to head up the Southeast Alaska Native cultural festival's Grand Entrance, at the start of the three-day event.
Click here for iFriendly audio
If you were there, you would have seen dance leaders Gilbert Fred and his brother-in-law Alan Zuboff move back and forth across the stage, directing traffic as they sang and danced. From time to time, one would move toward the hall entrance, urging an arriving group to sync drumbeats with those on stage.
Fred says it was a great honor.
"It was arduous and tiresome and it tested our fortitude and it was better than aerobics. But I think it was indeed a labor of love for our culture and for the fact that we had so many different nations coming together here and converging on Juneau to share our culture with one another," Fred says.
The grand entrance continued for more than two hours, until everyone was in the hall.
Zuboff says the group's strength comes from its experience, dating back generations.
"When it first began, it was just an elders' group. But as time went on, the elders realized the young ones weren't learning. So they did something that they had never done, and allowed (in) generations. They decided that the young ones, including the babies, should start dancing in order for them to learn," he says.
Today's group continues sharing those traditions. Members work with the Xootsnoowú Dachaxanx'i Yán dancers, formed through the Angoon school's Indian Education Program.
Fred says the students are eager to learn, but have to get past their electronic distractions.
"One of the requirements in class, when they come to class, is to please turn their cell phones on silent and put them into your bag. We don't want them dancing and then getting a ringtone and answering their phone while we're supposed to be in character," Fred says.
How does he keep them focused?
"We let them know that these songs and dances … carry a history connected with the people with the different clans. And it's a part of who they are, and they have to know who they are and they will better succeed in life and they'll better deal with peer pressure. It's their culture that connects them to the community, to their parents and to their elders, and to one another."
Like many traditional adult groups, the Xudzidaa Kwáan Dancers wear expertly-crafted regalia, adorned with images of their history and culture.
Zuboff wears a clan hat more than 300 years old. And he's worn blankets handed down over three or four generations.
"It's not just a common piece of thread or a piece of wood. It's a bit of all the spirits of the older generation that made this and danced in them," Zuboff says. "And sometimes you can maybe feel their energy in the dance group. Or sometimes you can hear them singing, to hear them saying, 'Do this.' "
Every Celebration has a different lead dance group, chosen by a committee of the Sealaska Heritage Institute, which organizes the events.
Institute President Rosita Worl says members picked Xudzidaa Kwáan because of its strength, and its traditions.
Leaders Zuboff and Fred are thankful for the recognition. But they're also glad they don't have to direct such a massive group of dancers for a while.
"It's almost like you feel your canoe get sucked into a tidal current, " Fred says, getting a nod of agreement from Zuboff. "And we're able to restabilize and readjust."