What makes dough rise? How do you preserve milk? Twenty-seven young chefs are learning the answers to those questions and more this week at a Juneau Economic Development Council summer camp designed to teach kids the science of cooking. Casey Kelly has more.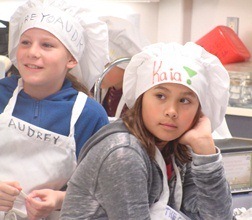 Its day three of the Kitchen Chemistry camp and students are making mozzarella cheese in the culinary classroom at Thunder Mountain High School. Working in groups of four or five, they start by warming a gallon of milk and just over a teaspoon of lime juice – a substitute for citric acid – in a large pot on the stove. But most of the kids are a little unsure about the next step.
"After I think we cook it, we just gotta wait awhile or bake it or something," says Hunter Hill, a fifth grader at Gastineau Elementary School. He says he signed up for the camp because he really likes cooking at home – mostly desserts.
"I like making crepes for my family that I get from a library book. And yeah, other than that, I like making cookies, brownies and cake, stuff like that," Hill says.
JEDC Education Specialist Bob Vieth says the purpose of the cheese making exercise is to teach kids one way to preserve milk. During the week they also learn how to preserve cucumbers by pickling them, about leavening agents by making pizza dough, and about sweeteners by making fudge.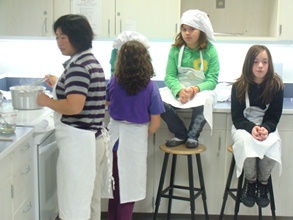 "And along the way we've been trying to emphasize the science aspects and the chemistry aspects of the various cooking techniques that they're using," says Vieth.
Simon Smith learned what happens when you use baking soda instead of baking powder to make scones.
"The whole class tasted them and wasn't so good," Smith says.
Vieth admits there have been a fair number of failures. All the kids are going into either fourth or fifth grade, but he says some of them are pretty good chefs already, and they're learning advanced science years before they would in school.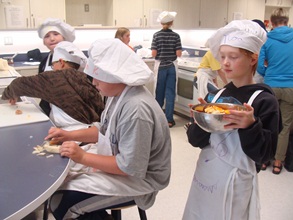 "They're learning concepts and vocabulary terms here that they normally wouldn't be exposed to until high school chemistry," Vieth says. "So when they do get them in chemistry, they'll say 'Oh yeah, I remember that from the cooking class.'"
Sophia Harvey says there's another benefit of going to a cooking summer camp.
"I like eating the stuff after," Harvey says.
Kitchen Chemistry is the last of this year's JEDC Summer Camps. Previous camps include building underwater gliders, rocketry, and LEGO robotics. All the camps are part of JEDC's STEM education program, which stands for Science, Technology, Engineering and Math. In Juneau, I'm Casey Kelly.