Together, we'll improve our sound.
Through investments in our studios and signal, we'll enhance our sound, reach more people, and better serve our community.

---
Thank you to our current Better Sound Campaign donors:
*list updated 6/20/19 
Art Peterson in honor of Carolyn Hobbs Peterson
Aja Razumny
Amy Kesten
Andy & Kristen Romanoff
Angela Lessard & Mike Meersman
Angela Lunda
Ann Turner & Marlyn Olson
Anne & Charles Ward
Anne Post
Anne Stadnychenko
Annette Coggins & Jim Mahan
Annie Calkins & Dave Hunsaker
Art Peterson
Arthur Petersen
Barbara Pavitt
Ben Disney
Betsy Brenneman & Reed Stoops
Bill & Deborah Johnson
Bill Legere & Sallie Regan
Bob & Karla Schofield
Bob Janes
Bob Millard
Bonita Nelson & Ron Heintz
Brad & Donna Pierce
Brad Cure
Brendan Sullivan & Todd Antioquia
Brita Rice
Bruce & Laury Scandling
Bruce and Susan Conant
Bruce Botelho & Lupita Alvarez
Bud & Annie Carpeneti
Bud & Bobbie Jaeger
Burton Vanderbilt, MD
C.A. Bowman
Carl & Susan Schrader
Carl Brodersen
Cathie Allen
Cathy Connor
Chad Edwards
Charlie Miller
Charlotte & William Heard
Cheryl, Darren, Gracie & Tavio Snyder
Chris & Gail (Parke) Roust
Chris & Louise Miller
Chris Gray
Chris Niemi
Christy Wallace
Cindy Spanyers & Ed Flanagan
Clare Pavia & John Hartle
Cynthia McFeeters
Cynthia Smith & Robert Babson
Darlene Matheis
Dave & Cheryl Carrothers
David Wetzel & Diana Cote
Dawn Findley-Groves
Debi Ballam & Mark Schwan
Deborah Johnson
Debra O'Gara
Delbert Carnes
Dian Martin
Dick & Jane Stokes
DJ Thomson
Doug & Anne Standerwick
Doug Liermann
Dr. Mariah Coe
Dr. Michael Stekoll & Deborah Hansen
Ed Schoenfeld & Betsy Longenbaugh
Elaine & Malcom Menzies
Elfrida Nord
Eric Brewer
Eric Kueffner & Maria Gladziszewski
Eric Olsen & Vicki Bassett
Ernie Mueller
Eva Varadi
Frank & Jane Homan
Franz Mueter & Susan Nachtigal
Gail & Jan Sieberts
Gail Dahl
Gail Findley
Genevieve Regan
George & Myrna Elgee
George Reifenstein
Greg Morgan
Heidi & Tim Olson
Jackson Wayne Felts
James Thompson
James Thompson & Margaret Dowling
Janene Driscoll
Janet Adams
Janet Grange
Jennifer Canfield
Jeremy Hsieh
Jessalynn Rintala
Jessica & Aj Gharrett
Jetta Whittaker
Jill & John Matheson
Joe & Carol Carlson
Joe Lilly & Beatrice Brooks
Joe Roth and Brenda Taylor
John & Dawn Walsh
John & Margaret Pugh
John & Sheri Williams
John Greely & Marla Berg
John Sivertsen
Jon & Anne Kurland
Joyce Landingham
Julia Smith-Kibby & Ralph Kibby
Karen & Paul Dillon
Karen Lawfer
Katharine & Jim Heumann
Kathryn L Kurtz
Kathy and Gary Miller
Katie & Bill Corbus
Katie Bausler
Kelly Henriksen
Kent & Deborah Hart
Kerri Willoughby
Kim Kiefer & Pat McLear
Kimberly Kilgore
Kirk Duncan
Kris & David Gray
Kris Benson
Kristi Allen & David Waters
Kurt and Christine Kondzela
Laura & John Haywood
Laura Wallrath
Laurie and Doug Gardner
Len & Patricia Cedar
Linda Hoven
Linda Kruger & Jeff Gnass
Linda Kruger & Jeff Gnass
Linda Miller
Linda Wild
Lindy & Colleen Jones
Lise Paradis & Dale Gosnell
Luann McVey & Richard Steele
Marina Lindsey & Shawn Carey
Mark Calvert & Sarah Schaefer
Mark Millard
Martha & James Stey
Martha Moore
Mary Borthwick & Robert Minch
Mary DeSmet & Greg Burger
Mary Furuness
Mary Hakala & Peter Ord
Mary Siroky & Kurt Fredriksson
Mary Sutton
Melanie & Jim Lesh
Melinda and John Lamb
Micah Sommers
Michael Ciri
Michael Sakarias & Anne Fuller
Michael Stanley & Natalee Rothaus
Michael Stark & M J Grande
Michael Truax
Michael Wilson
Michele Masuda
Mick Rarick
Mike Jim & Kristie Erickson
Mike Shaw
Molly Hodges
Mountain Lift & Julia Black
Myra Munson
Nancy Long & Butch Carber
Nina Kinney
Odette & Douglas Edgar
Pat Davidson
Patience Frederiksen
Patricia Turner Custard
Paul & Sioux Douglas
Pauline Marte
Pete Griffin
Peter Froehlich & Elsa Demeksa
Peter Hagen
Phil & Deborah Smith
Phil & Janet Schempf
Phil & Nancy Mundy
Rachel Barth & Ed Sessions
Rhonda Jenkins Gardinier
Richard & Jackie Yamada
Richard Cole
Rick & Chris Trostel
Rick Janik
Rick Savikko
Ricky Deising
Robert Laurie
Roger Healy
Ronald E Kreher
Rosemarie Alexander
Sally Schlichting & Bob King
Sally Smith
Sammi Conneen Baker
Sara Peacock
Sarah A Isto
Scott & Patricia Hartman
Scott and Connie Jeffers
Sean Boily
Shannon Seifert & Terry Schwarz
Shirley Carlson
Silverbow Inn
Steve Elliott & Nancy Schaufelberger
Susan Alexander
Susan Fitzgerald
Sylvan Robb
Teresa Bruce
Terry Bannister & Donald Beard
Terry Cramer
The Ayers Douglas Family
The Clark Family
The Tillinghast Family
Tom & Sue Koester
Tom Chapple
Tom Melville
Tom Paul & Jan Caulfield
Tristan Knutson-Lombardo
Vince & Phyllis Demuth
Virgil & Lori Fredenberg
Virginia Palmer
Vivian Antrim
William Diebels
William Leighty & Nancy Waterman
William Nelson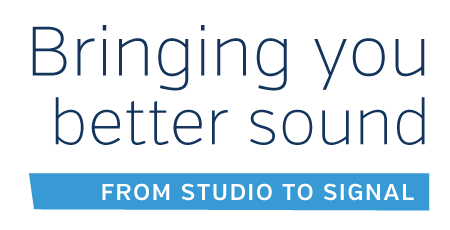 We love that our studios and offices are ideally located in the heart of downtown Juneau at the entrance to the city's recently designated arts and cultural neighborhood, enabling us to be at the crux of collaboration and community engagement. To further collaboration and bring this hub of community, culture and vital news directly to you via the KTOO airwaves, we need a few improvements.

Remodeling , improving and expanding our radio studios:
Improve the acoustics of our four existing studios through sound treatment and an improved HVAC system
Upgrade the electrical system and lighting to support current equipment needs and improve energy efficiency
Update the interior design to visually reflect the current mission and values of KTOO
Add a fifth "showcase" studio, large enough to accommodate multiple guests for live radio shows, including space for panel discussions and music performances. This new studio will be shared as a live air studio among all three of our stations, as a place for the community's civic leaders, artists, culture bearers and youth to share their talents and ideas with our listeners. 

Improving and expanding our signal coverage.  Juneau's terrain is challenging for radio broadcasting. Broadcasters rarely get the opportunity to move transmitter locations and improve signal coverage, but we have such an opportunity now.
We are working with a local tower company to co-locate all of our transmitters to a high mountain top site, on Auke Mt. just north of the Mendenhall River.  At an elevation of 1,700 feet the proposed site offers a clear shot at delivering our signals to the growing population areas of Juneau and the outlying communities of Hoonah, Gustavus and Excursion Inlet. The owner is offering a long term, low cost lease with favorable terms and an option for us to purchase the facility outright in the future.  The relocation will initially save $13,200 a year in rent and electricity  expenses for just KRNN and KXLL, and will save another $5,000 a year when we are able to relocate KTOO-FM and KTOO-TV.
---
Help us honor recent retiree and KTOO veteran Jeff Brown with the Better Sound Campaign!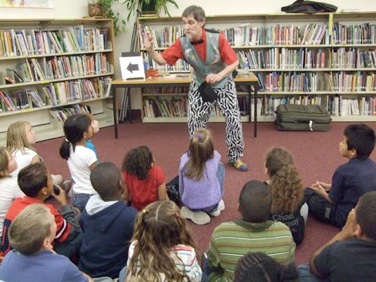 This June Jeff Brown retired after more than 30 years at KTOO.  Since his retirement, we've been trying to come up with a meaningful way to honor his incredible legacy of kindness, inclusivity, creativity and humor in the building.
We are excited to honor Jeff by remodeling the KRNN volunteer studio and dedicating it to him. The studio remodel will improve acoustics, ventilation, lighting and energy efficiency in the studio. This will mean a better work environment for volunteers and a better listening experience for KRNN's audience. We are also looking at ways to have the studio reflect Jeff's personality and passions like perhaps Hawaiian print walls or a balloon animal plaque! We have a portion of the funding in place, but we need your help for the rest. If you would like your donation funds to go towards the Jeff  Brown Studio please note that on our giving page.
---
---
Become a part of our sound . . .
join the growing list of donors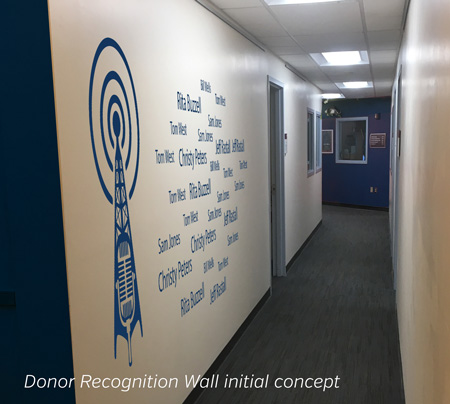 The Donor Recognition Wall will be displayed on the wall leading in to the remodeled KTOO studios. Donors will have their name or a person they are honoring imprinted on the wall. Donor recognition name sizes will match giving levels.
Tower Level: $1000
Mixing Board Level: $500
Mic Level: $250
Sound Tile Level: $125
---
CAMPAIGN UPDATE:
We have reached the goal! Thanks to community members we have been able to raise the funds to unlock the Murdock Grant. If you are still interested in donating to the campaign, getting your name on the wall, or donating to the Jeff Brown studio dedication, we are still accepting donations to cover any possible project overages. Thanks to all our generous donors!
---
Check out these images of the the ongoing remodeling and construction!