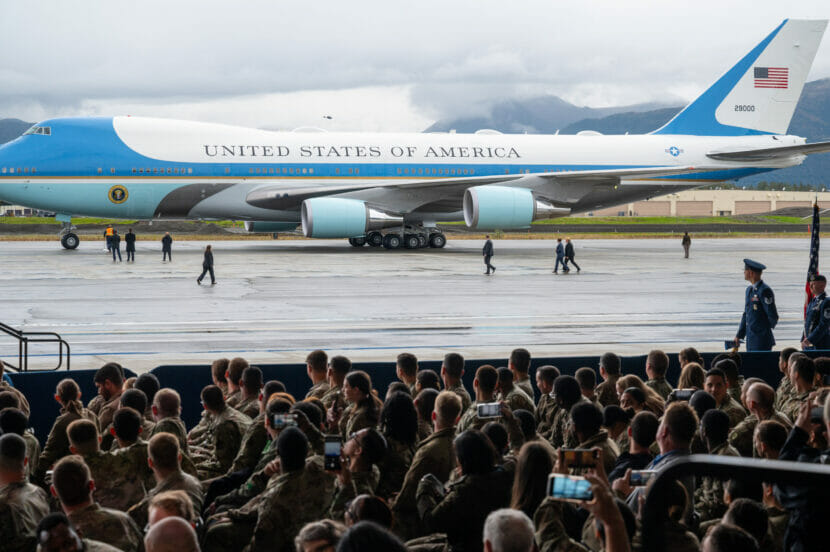 A military jet intercepted a small civilian plane over Anchorage Monday, after it entered restricted airspace during President Joe Biden's visit.
An F-16 fighter jet launched flares to get the pilot's attention shortly before noon, according to the North American Aerospace Defense Command. Soon afterward, Biden spoke at Joint Base Elmendorf-Richardson to mark 22 years since the 9/11 terror attacks as he returned from a diplomatic trip to Asia.
The Anchorage Daily News reported Anchorage residents described the small civilian plane as a Piper PA-18 Super Cub that appeared to have tundra tires. NORAD said the plane was escorted to a nearby airport.
A NORAD spokesperson, Canadian Army Capt. Alexandra Hejduk, said Tuesday morning that two jets intercepted the plane. Both were based at Eielson Air Force Base near Fairbanks, but were flying over Anchorage on Monday to enforce temporary flight restrictions during Biden's visit.
Hejduk said that pilots are responsible for reading notices to airmen, or NOTAMs, informing them of restrictions like the ones in place Monday. But Bush pilots can sometimes miss them.
She called Monday's intercept a teaching moment for pilots to "remember and to read their NOTAMs, and to pass it on to their friends and colleagues, especially if they're out in the Bush hunting or fishing."
Few additional details were available by Tuesday morning about the plane or the pilot.
Hejduk deferred questions about the intercepted plane to the Federal Aviation Administration. FAA officials referred questions to the U.S. Secret Service, which didn't immediately respond to a Tuesday request for comment.