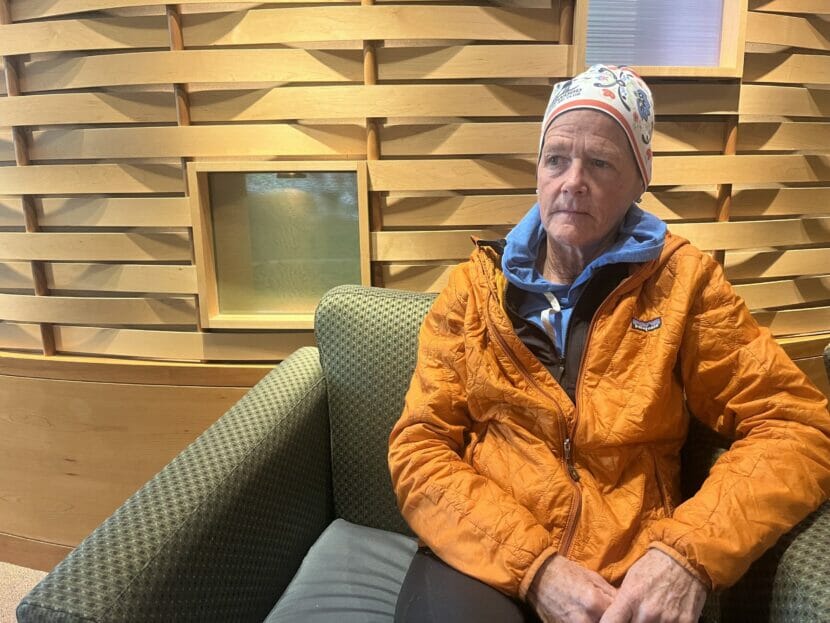 Elizabeth Arnold was diagnosed with advanced uterine cancer a month and a half ago.
"People ask me if I'm depressed, and I say, 'No, I'm not depressed. I'm just terrified.' You know, your whole world stops," said Arnold.
She started her first round of chemotherapy a week after her diagnosis. She said the healthcare providers treating her cancer have been incredible. But she said that care can only go so far when one of the drugs crucial to her treatment is in short supply.
After her first chemotherapy infusion, her doctor called to tell her about the drug shortages. Arnold said the stress of that piled onto the terror that she was already experiencing from her diagnosis.
"On top of it, to be told that the drugs that you need, that are both life saving, and in my case life prolonging, are in a shortage," Arnold said. "It's just like a double whammy."
Cisplatin and carboplatin are generic drugs that can be used for several different types of cancer, such as gynecological cancers, bladder cancer, and testicular cancer. They are frontline treatments for Dr. Melissa Hardesty, a gynecologic oncologist at Alaska Women's Cancer Care in Anchorage. Her clinic's drug supply, like the rest of the state's, is week-to-week. In mid-May, Hardesty's clinic made the difficult decision to begin rationing the drugs.
They chose to shift all their existing patients to a chemotherapy plan with 20% fewer sessions so no one would be denied treatment.
"We're making these minor modification,s and some of those decisions are based on evidence, which tells us that using a slightly lower dose might or probably is okay," said Hardesty. "Although that's not what I would consider the U.S. standard of care."
And the clinic can't take on new patients for those treatments. Hardesty said she's worried about that.
"Right now, as of today, this second, I have no cisplatin in-house," said Hardesty. "So if I have a new cervix cancer patient show up, I'm essentially going to be extrapolating from other things to treat that person."
That means she may have to look at treatments that are effective for other cancers and hope there's some benefit for her patients.
"And we say, well, that works for rectal cancer, it'll probably work for cervical cancer," said Hardesty.
She said extrapolation is common in cancer treatment, but not usually until later, if frontline treatments are exhausted.
Cisplatin and carboplatin are two of the most widely used chemotherapy drugs. And while Hardesty acknowledged that drug shortages are becoming more common in recent years, she sees this shortage as different.
"To make a grocery sort of analogy, we're out of milk and cheese and butter. You know, we've got the saffron flowers in the jar, and I've got some, you know, kale or something, but I'm out of the staples," said Hardesty.
Cisplatin and carboplatin are both on the World Health Organization's list of essential cancer medications. And they're inexpensive. A bag of one of them costs around $14 to $16. That's a fraction of the price of some of the more expensive chemotherapy drugs that are still patented. Those can cost more than $100,000 for a round of treatment.
So experts say there is little financial incentive for U.S. pharmaceutical manufacturers to produce cheaper drugs or step in when there are shortages. Cisplatin and carboplatin are in short supply because a producer in India shut down after failing an FDA inspection.
According to the American Society of Health System Pharmacists, the shortage of carboplatin should start to ease in late June; cisplatin in mid-July. But there are no guarantees.
Hardesty sees these production issues as a reason for the U.S. government to step up.
"There has to be another way to secure a supply line for these critical medications," said Hardesty. "We have to keep a national stockpile or have some other supplement that would allow pharmaceutical manufacturers to make these agents and pay their staff a living wage."
Hardesty said she treated a patient who flew into Anchorage from Fairbanks because they couldn't get carboplatin locally that week. That meant additional flights and travel to add on to an already-stressful treatment.
And one of Hardesty's newly diagnosed patients returned to her country of origin to get treatment due to the shortage.
But for those who can access it, Hardesty said carboplatin and cisplatin are highly effective.
Elizabeth Arnold has had three rounds of chemotherapy, which include carboplatin. She said it's clear her treatments are working.
"There's these numbers that tell you if it's working or not," said Hardesty. "It's called ca 125. It's a cancer marker. And my numbers have really dropped since after each chemo session."
Arnold is done with her current round of chemotherapy, with another planned for late summer or fall. If the shortage gets worse, Providence said it will prioritize kids, people in earlier stages of cancer, and cases that would likely be cured by treatment.
Because of that, Arnold isn't confident she'll have access to carboplatin when she needs it again.
"I'm an older person, and I'm advanced," said Arnold. "And so rationing- I'm kind of at the end of the list. So that's also quite terrifying."
Arnold has another few months to wait and see if the carboplatin supplies rebound.