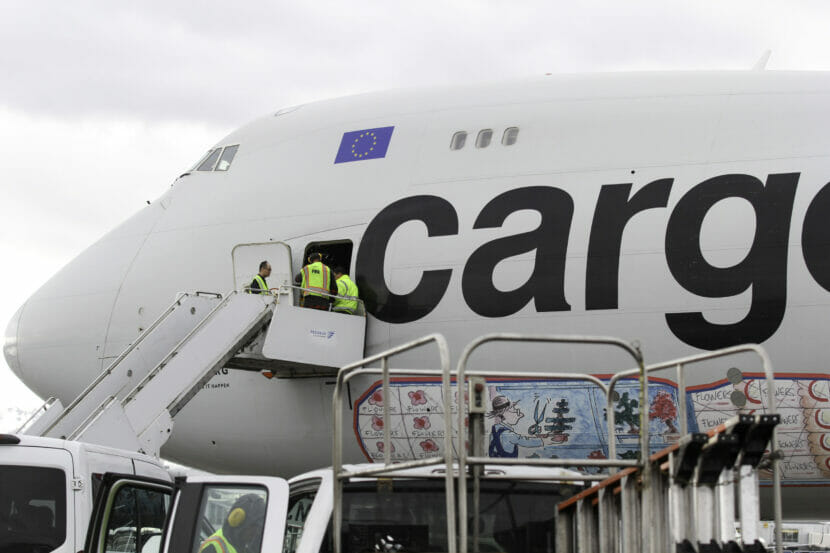 To explain why Anchorage International Airport gets so much cargo traffic, Airport Director Craig Campbell picked up a decorative globe he keeps on his desk.
He pointed to the major exporters in Asia, then dragged his finger across the Pacific Ocean to the big U.S. hub cities where the imported goods are distributed. The virtual halfway point of each of those trips, he said, is Anchorage.
Every plane has a weight limit, so in order to maximize the portion of that weight allotted to valuable merchandise, the carriers only fill half the amount of gas they'll need. They then make a pit stop in Anchorage to gas up for the second leg of their trip.
"If you put a lot of gas in to fly from Asia all the way to Chicago, that's heavier weight in gas, less cargo," Campbell said. "So by stopping here – less gas, more cargo."
Those gas (and often crew change) stops are the main reason why the Ted Stevens International Airport is now the third busiest cargo airport in the world.
Global cargo demand softened after the pandemic boom, but Campbell said thanks to its geographic advantage, Anchorage traffic is down far less than other airports. That has allowed operations — and employment opportunities — to continue expanding.
The airport now accounts for one out of seven jobs in Anchorage, according to a study by the Anchorage Economic Development Corporation. And Campbell said proposed new developments could push that number even higher.
For example, Campbell said an agreement hasn't been finalized, but FedEx wants to build a regional hub at the airport to focus solely on shipping packages throughout Alaska.
"That's going to be new and developing over the next couple of years, which shows that we are increasing," Campbell said. "The airport's increasing, the activity is increasing, the air freight, especially for Alaska, in rural Alaska is still very, very important. And it's recognized by the industry."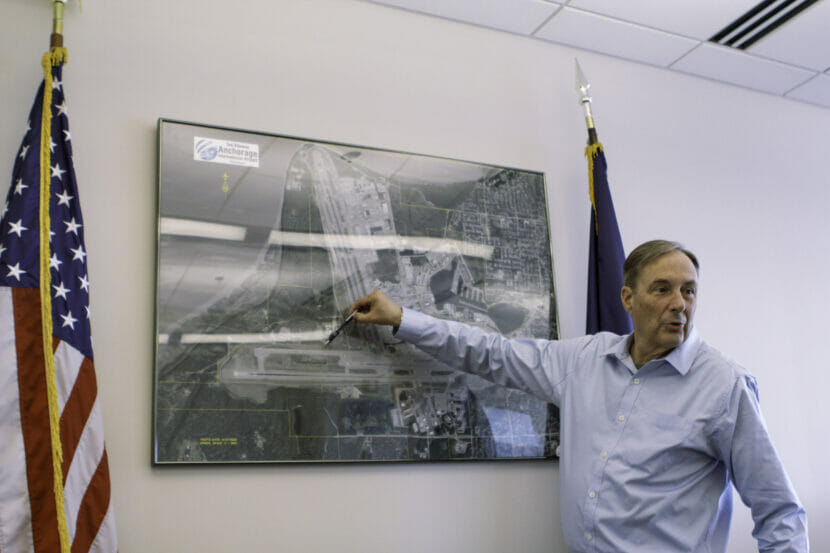 But how much air cargo potential is there in a small city in the far north? Darren Prokop is a logistics professor at the University of Alaska, Anchorage and said the potential growth of Alaska air cargo is limited by the kinds of goods the state exports.
"We have a lot of cargo that is either transiting through, some of it is coming off, but we don't have much cargo originating in Alaska," Prokop said.
That's because air cargo tends to consist of fragile, high value goods like pharmaceuticals and computer chips, he said. Alaska mostly exports bulk natural resources like oil and minerals that are shipped out on barges.
"When we think of Alaska shipping things, we think of bulk: we think of mining, we think of bulk seafood, we think of lumber. We don't think of things that typically go on air cargo planes," Prokop said.
One airport proposal could start to shift that dynamic, though. Alaska Cargo & Cold Storage plans to build a warehouse next to the runway with refrigerated storage facilities — the first of its kind at Ted Stevens' International. That means more fresh salmon could be shipped to restaurants in the lower 48. It might also heighten demand for Alaska peonies – the state is the only place in the world where the popular flower is available during summer months.
But Prokop said beyond that, Alaska would need to start manufacturing one of those high value products in order to realize its air cargo potential.
"Should we do part of value-added manufacturing of semiconductors, of computers, for example?" Prokop wondered. "So it's a real puzzle. What is that right product that makes sense that we could do in Alaska, and it's conducive to get on air cargo?"
Expanding cargo facilities could entice new businesses to set up shop here, but only if they understand Anchorage's global orientation. Prokop explained that the shortest distance between Asia and the U.S. is actually up and through Alaska, because the Earth is round. He said that it's hard to visualize that without looking at a round, 3-D globe.
"People are used to looking at wall maps, not globes," Prokop said. "Ted Stevens Airport needs to explain to manufacturers: the Earth is round, a lot of your products are coming through Alaska, maybe you want to be here."
Since Anchorage is less than ten hours from the majority of the industrial world, Prokop argued that Alaska is really more of a central locale than a remote one.