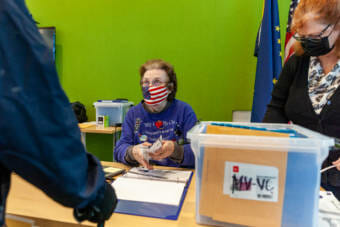 A march to promote equal access to the ballot box is planned for 7:00 p.m. Tuesday, starting at Marine Park.
On Juneau Afternoon, organizers of the rally will explain why Alaskans need to stay vigilant when it comes to protecting voting rights.
Also in this program:
A winter solstice poem from Richard Stokes, a Juneau poet.
Setting the table for healthy holiday eating.
Why JAMHI Health and Wellness has added a pediatrician to its staff.
Listen to the  all of the interviews:
Part 1. Kyle Harris, organizer of a Juneau march for voting rights.
Part 2. Richard Stokes, a Juneau poet, reads a poem about winter solstice.
Part 3. Cynthia Gordon, a diabetes education program manager at Bartlett Regional Hospital, and Loretta Bevegni from TOPS (Take Off Pounds Sensibly) talk about healthy holiday eating.
Part 4. Dr. Marna Schwartz , Loretta Harris and Rena Nordgren talk about services provided by JAMHI Health and Wellness.
Rhonda McBride hosts Thursday's program.  You can catch Juneau Afternoon, Tuesday through Friday, live at 3:00 p.m. on KTOO Juneau 104.3.  The rebroadcast airs at 7:00 p.m. on KTOO. You can also listen online at ktoo.org.