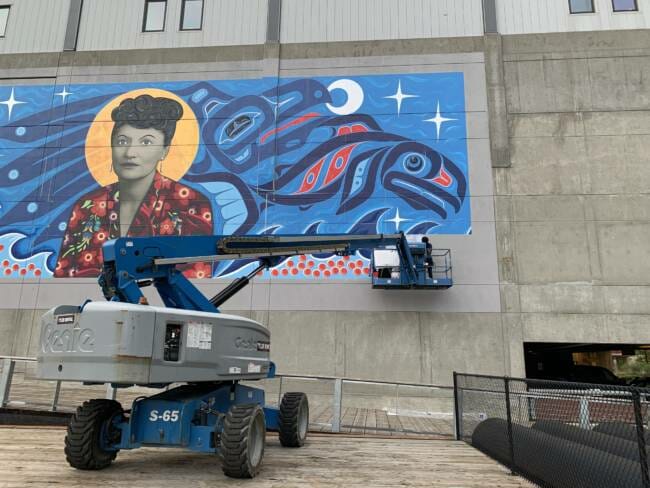 It was a race against the weather for Crystal Worl, as she and her team worked to put up a mural on the downtown library wall before Labor Day. Now a giant portrait of Elizabeth Peratrovich, a celebrated Lingit civil rights activist, gazes out across the waterfront.
Worl and her older brother, Rico, are well known for their indigenous art. Both started the Trickster Company, to sell their designs on jewelry, clothing and paintings. In fact, earlier this summer, the U.S. Post Office released a postage stamp featuring Rico's art. And while her brother focused putting his raven story design on a tiny stamp, his sister, Crystal, sought a bigger canvas. But Worl says she's never done anything on the scale of the mural, which is 60 by 25 feet.
On Tuesday's Juneau Afternoon: the story behind what sparked the project and what it took to make the mural a reality.
Also on this program:
Gustavus carver Lou Cacioppo talks about his Juneau exhibit at V's Cellar.
A preview of the Juneau League of Women Voters candidate forum this week.
Listen to the entire show:
Part 1. Crystal Worl tells the story behind her Elizabeth Peratrovich mural, three years in the making.
Part 2. Lou Cacioppo says he uses his carvings to make social commentary, and sometimes his work provokes debate.
Part 3. Kirsa Hughes-Skandijs explains the Juneau League of Women Voters's non-partisan approach to hosting forums and the group's role in this week's assembly and school board candidate forum.
Catch Tuesday's Juneau Afternoon with Rhonda McBride, live at 3:00 p.m. on KTOO Juneau 104.3, online at ktoo.org, and repeated at 4:00 p.m. on KRNN 102.7.