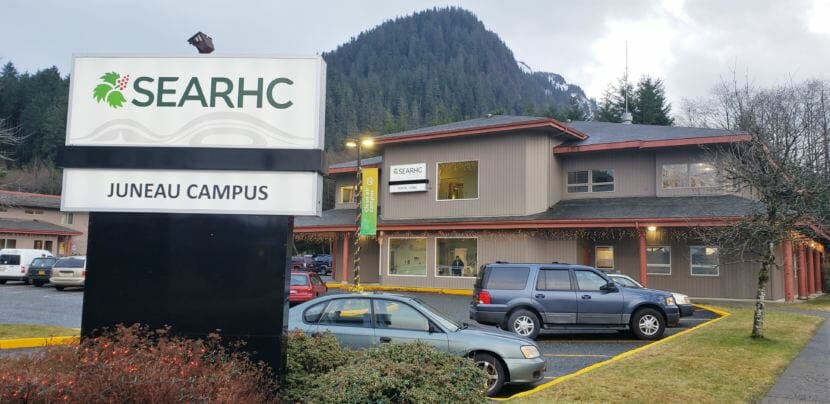 Seven women have accused a former Juneau-area chiropractor of sexually abusing them while he was working at the Southeast Alaska Regional Health Consortium, or SEARHC.
Jeffrey Fultz was working for SEARHC until 2020. Last April, Juneau Police heard from a woman who said he sexually assaulted her while she was receiving medical care from him. 
Initially, Fultz — who goes by Jeff —  faced three charges of sexual assault in the second degree and one harassment charge. 
But Assistant District Attorney Jessalyn Gillum said that after those charges became public three months ago, four more women stepped forward saying they were also abused by Fultz. 
"There are a couple of things that keep coming up. The first is the fact that they were all made to undress regardless of the type of treatment they were expecting to receive," Gillum said. 
She said there are other common threads between the women's stories as well. Gillum said several of the women described sexual contact that was disguised as normal medical care — making it difficult to distinguish between the two. 
"It was contact that made them uncomfortable or that raised concerns as far as whether it was appropriate. And then, either through the defendant giving some explanation as to the reason for the contact or the individual patient just sort of assuming they were being overly sensitive or just feeling like they were overreacting in some way, they convinced themselves that it was normal," Gillum said. 
Six of the women are Alaska Native. SEARHC is a non-profit, Native-run health consortium. The seventh accuser is a former colleague of Fultz's, according to court documents. 
Maegan Bosak, a spokesperson for the consortium, wrote in an email that they are aware that Fultz has been charged with sexual assault and harassment. Bosak also wrote that Fultz was a federal employee who no longer has any affiliation with the group. 
"SEARHC terminated Fultz' assignment following patient complaints about inappropriate conduct," Bosak wrote. 
Fultz was given the opportunity to resign from SEARHC rather than being fired in light of the criminal investigation, according to court documents Gillum submitted on Friday. 
SEARHC Senior Vice President and Chief Administrative Officer Matthew Ione, in a prepared statement, said that the organization — which offers medical, dental, wellness and social services to 27 communities in Southeast Alaska — doesn't tolerate assault, harassment or offensive behavior. 
"Due to the ongoing criminal prosecution, we cannot say anything more about this specific matter. But we want to assure our patients that they have the right to safe health care at SEARHC," Ione said. "We will do everything in our power to assure that this is the case. There are no exceptions." 
Altogether, Fultz is accused of eight felony counts of sexual assault and one count of harassment from alleged incidents that happened between 2014 and 2020. 
He was arraigned on the new charges Monday afternoon at the Juneau courthouse, where he appeared by video. 
Fultz is out on a $25,000 bail and is allowed to live out of state in New Mexico despite testimony last month from two of his alleged victims who asked that he be required to stay in town while the case moves through the court system. 
Gillum asked that the court reconsider Fultz's bail, given that he faces new charges. She asked for bail to be increased by $25,000 cash and for Fultz to be arrested, returned to Juneau and held at Lemon Creek Correctional Facility. 
She said he's a flight risk and a risk to community members because there is no way for the state to monitor his behavior to ensure that he's not practicing massage therapy, physical therapy or chiropractic care and working in the conditions that led to the current allegations of abuse. 
Two of Fultz's accusers also testified, including a woman the courts are identifying as C.E.L.  
"I have come to know Mr. Fultz to be highly intelligent and highly manipulative," she said. "The risk of further violence to us as victims is low, but I believe the risk to the community that he lives in as well as to our community is high." 
She asked that he be returned to Juneau and that his bail be set at a point that he cannot post. She asked that the court remove Fultz's ability to practice any type of medical care and that he be monitored if he is released on bail. 
Both Gillum and C.E.L. reiterated that the majority of Fultz's accusers are Alaska Native. C.E.L. told the court that, in her view, the alleged crimes should be considered racial abuse.
Another woman, who did not identify herself but was identified as an accuser by Gillum, also asked that Fultz be returned to Juneau and put in jail. 
"It was really hard for me to understand how Mr. Fultz is out and about and free to do what he is doing right now," she said. 
She said that every day is a struggle and her entire family has felt an impact from her contact with Fultz. 
"I have to find a medical facility that I'm comfortable with now because of him," she said. "I just think the conditions on him need to be more serious because these crimes are very serious."
Fultz's attorney, Natasha Norris, said that he was willing to pay a higher bail and has been cooperating with the court throughout this process. 
"We understand that the stakes have risen and, in meeting that, he is willing to put down another $15,000 cash," Norris said. "That's pretty much going to financially tap him out."
Judge Daniel Schally agreed with Norris, saying that Fultz has been cooperating with the court. 
"Past behavior is also an indicator of future behavior, and in that regard, the past behavior is good. Now I understand also on the other side of that coin given the very serious and increased number of allegations here the state could as well argue that that's an indicator of future behavior as well — and point taken," Schally said. 
Schally said he did not agree that returning Fultz to Juneau is a good idea. 
"I frankly like the idea of Mr. Fultz not being anywhere near these folks in Juneau," he said. "He's not here, he's not going to be here under the court's current orders. That, in my view, provides a significant degree of assurance that future behavior of these sorts that are alleged here are not possible in this community." 
Schally said he understood that people who are accusing Fultz of abuse feel strongly that he should be in jail, but that desire was not sufficient for the court to keep him incarcerated. 
"That's simply not how this works," he said. "And that is not how it works pre-trial, when — at this point, although there is significant evidence to support these allegations — there is a presumption of innocence that applies." 
Ultimately Schally ordered Fultz not to practice medicine of any kind anywhere, required that he pay $15,000 more in cash and said he can't have contact with any of his accusers. 
Fultz's next hearing is September 8. 
The Juneau Police Department is asking that anyone who knows about this case or who may have similar allegations contact its Criminal Investigation Unit or call AWARE — the shelter and support institution for survivors of domestic and sexual violence — at 907-586-6623.
This story has been updated with details and comments from Monday's arraignment hearing
Correction: A previous version of this story referred to Jeffrey Fultz as a doctor. He was a chiropractor.