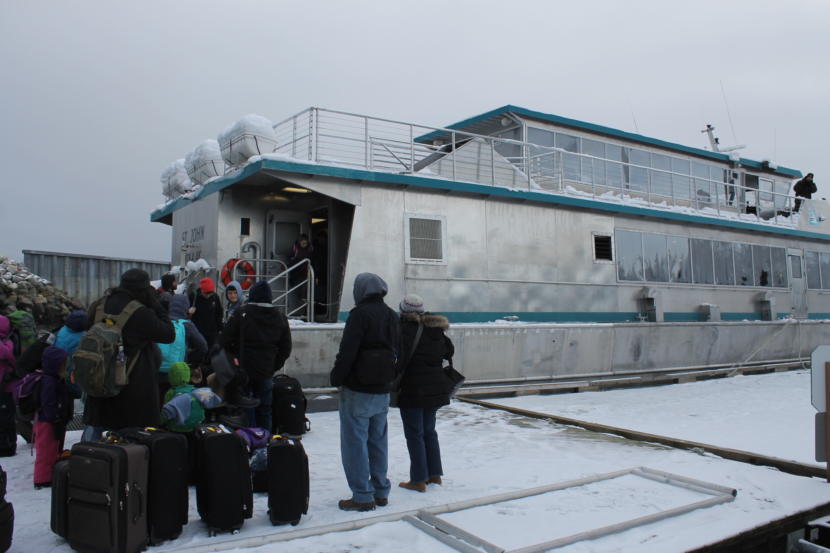 Updated post — 4:00 p.m. by Mike Swasey, KHNS – Haines
On Monday afternoon word of the Alaska Marine Highway vessel, the Matanuska, and its mechanical failure began to stream into Skagway Mayor Andrew Cremata's office. The Matanuska, the only vessel in the Alaska Marine Highway's beleaguered fleet that is currently offering service to the Upper Lynn Canal, was able to limp into Juneau on Tuesday. The state is flying a team of specialists from Louisiana into Juneau to attempt a Wednesday morning repair.
With only one ferry per week offering service to residents of Skagway and Haines, a major break in service would put many spring break travel plans in jeopardy. Cremata said it was a team effort involving the city manager and vice mayor to charter a boat owned by Allen Marine to ferry residents between Haines, Skagway and Juneau.
"We all agreed that the nature of this situation, and the fact that people probably have plans to fly south, missing flights right now can create a huge burden on people," he said. "So we all agreed that the risk of having it cost more than what we take in on the revenues was a risk worth taking."
The Allen Marine catamaran comes at a cost of $900 per hour. With an approximate seven-hour round trip to Skagway, plus a stop in Haines, the municipality could be on the hook for nearly $8,000. Cremata, however, believes that ticket sales between both communities should cover the cost of sailing.
"We're pretty confident that we're going to be able to recoup the money, so it doesn't cost taxpayers anything," he said.
In the event that the Matanuska is unable to be repaired quickly, without other fleet vessels in service at this time, Cremata said it may be necessary to charter more boat trips in the future.
"If it was long-term, yes. We'd have to go through this process kind of on a week-by-week basis to ascertain demand, and they only have one boat in the water at Allen Marine," he said. "So you know, Haines may also have a greater need, but…we're always willing to do this."
This isn't the first time Skagway and Haines have had to rely on Allen Marine. Both of the last two winters saw scholastic sports travel and resident travel impacted by the lack of reliable state ferry service.
The Alaska Marine Highway System did not respond to questions about the Matanuska Tuesday afternoon. It is unclear what the mechanical issues are or whether they have a backup plan if the ship is not repairable.
The Leconte is scheduled to be added back into the fleet on April 16th, giving Skagway and Haines two ferries that week, three the following weeks in April and eventually going to four sailings in May through the rest of the summer.
Original post — 11:45 a.m. by Henry Leasia, KHNS – Haines
The Alaska Marine Highway System's Monday night sailing from Juneau to Haines and Skagway was canceled due to mechanical issues with the M/V Matanuska. The Municipality of Skagway has chartered an Allen Marine vessel to replace the canceled sailing.
The boat departs from Allen Marine's Auke Bay dock in Juneau today at 1 p.m. It will depart the small boat harbor in Haines at 4 p.m., then depart from the Skagway small boat harbor at 5 p.m. before returning to Juneau.
Tickets can be booked by calling 907-983-2297. Skagway residents and northbound travelers must book and prepay by noon. Haines residents traveling southbound to Juneau must book after 12:30PM. Preference will be given to Skagway residents.
Tickets cost $75 per adult and $50 per child. The passenger limit is 75 people. Luggage is limited to 2 pieces per person. Animals in kennels are OK. Firearms are permitted as long as they are registered with the captain. The chartered boat cannot accommodate vehicles.