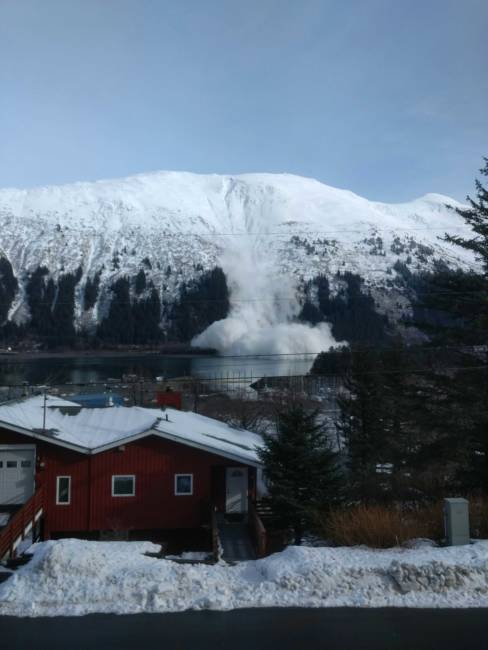 Updated post — Friday, March 5, 3:25 p.m.
From 9 to 11 a.m. Saturday morning, Thane Road will be closed for avalanche control activities.
According to a Department of Transportation spokesperson, utility crews noticed small slides coming down off Gastineau Peak and Mount Roberts on Friday.
The crews were repairing the main electric transmission line that was damaged on Thursday when a helicopter crew was setting off avalanches intentionally above the road where unstable snow had piled up in recent storms.
Original post — Thursday, March 4, 2:12 p.m.
Residents of downtown Juneau and parts of Douglas Island heard loud booms as at least one helicopter performed avalanche control measures above Thane Road on Thursday morning.
The state Department of Transportation closed the road to all traffic as they tried to set loose the unstable snowpack on the mountainside above the road.
Sam Dapcevich with the Alaska Department of Transportation said the snow was so deep that any natural avalanches would likely be very large. At the same time, they expected that their Daisy Bell device, which uses explosive gases directed at the snow, probably would not penetrate to a weak snow layer.
Instead, explosives were dropped from a helicopter to trigger several slides, including a big one that dumped wet snow at the foot of the mountain and created a giant powder cloud.
"[The] powder cloud dropped about two feet of snow on Thane Road and it also knocked down some trees. It even knocked down some power lines," he said.
Dapcevich said late Thursday afternoon that the road was cleared quickly and Alaska Electric Light & Power crews were fixing the power lines.
Video posted on social media showed an avalanche sliding all the way down to the road with a dust cloud billowing out almost midway across Gastineau Channel. 
This story has been updated with information from the Alaska Department of Transportation.