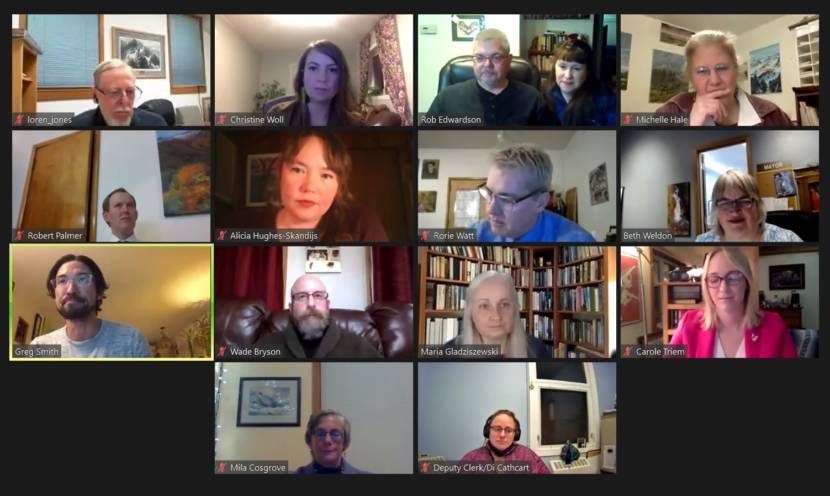 Update, 11 p.m.
The Juneau Assembly swore in its newest member and bid farewell to an outgoing member at its first meeting since the Oct. 6 election.
Returning members Maria Gladziszewski and Alicia Hughes-Skandijs took their oath together with new member Christine Woll Monday night over Zoom.
Each of them will serve a three-year term. Assembly member Loren Jones was appointed deputy mayor.
Woll replaces Rob Edwardson. In recognition for his service, the Assembly gifted Edwardson a copper artwork by artist Arnie Weimer and flowers to his wife Sandy.
Edwardson was elected in 2017 and worked on a number of issues during his one term on the Assembly. He recently spearheaded the creation of a systemic racism review committee. He was also the Assembly's only Alaska Native member.
Edwardson thanked his colleagues for their support and wished them luck with the tough decisions that lie ahead.
"Even when we disagree with one another — sometimes very animatedly — that's us working together in order to get things done. That's what it looks like," Edwardson said. "When somebody opposes on a body, they're doing what they're supposed to do and they're making things better."
Woll said she's honored to be serving her community and inspired by the way the Assembly has responded to the COVID-19 pandemic so far.
"The reason I decided to run was watching you all over the last year," Woll said. "This is a group that I wanted to be a part of. So thank you all for your hard work and (I'm) excited to jump in."
And she did jump in — Monday's meeting agenda went on for nearly four hours and was packed with topics related to CARES Act funding and COVID-19 mitigation.
They also discussed the safest way to take a group photo of the new Assembly.
Original story:
The Juneau Assembly will swear in its newest member Monday night during its meeting beginning at 7 p.m. 
Christine Woll will represent District 2 on the Assembly, replacing outgoing Assembly member Rob Edwardson. She will serve a three-year term. 
Current Assembly members Maria Gladziszewski and Alicia Hughes-Skandijs were reelected and will begin new, three-year terms. 
After reorganizing, the Assembly will take up business on a number of issues like CARES Act funding and sales tax exemption onboard cruise ships. 
Tonight's meeting will be a hybrid between in-person and virtual. Assembly members and limited staff will be allowed in Assembly Chambers. 
The meeting will be broadcast on Zoom and Facebook Live. You can also listen live on KTOO 104.3 FM and online, or here once the meeting begins. 
The public can participate during the meeting by calling or emailing the City Clerk's office ahead of time, or by hitting the "raise hand" button on the Zoom webinar to speak during public hearing. Details can be found in the meeting packet. 
This post has been updated.