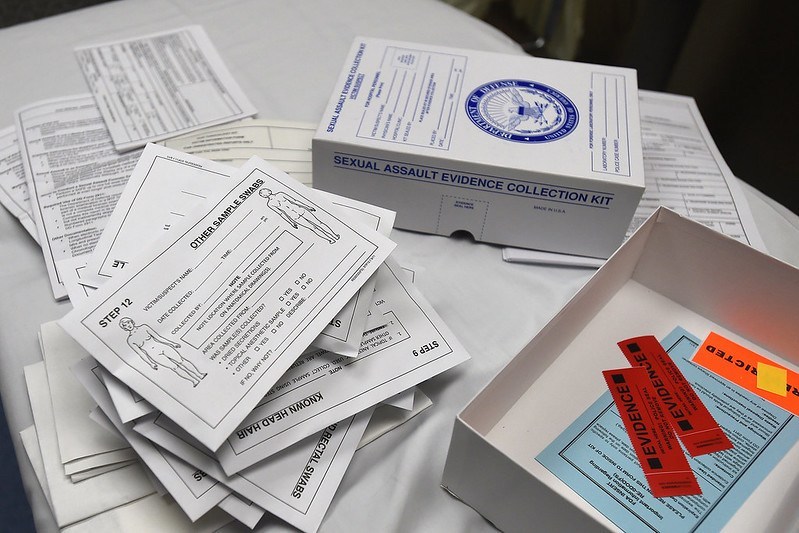 Local entities are stepping up financially to help survivors of sexual assault in Nome. Kawerak Inc., Norton Sound Economic Development Corporation and Norton Sound Health Corporation are all pitching in to pay for testing of Nome's backlogged sexual assault kits. Their donations amount to $38,295.
Kawerak's President and CEO Melanie Bahnke says the tribal consortium has made public safety a priority. In late July, Bahnke sat down with the Nome police chief and city manager to learn how Kawerak could help.
"One of the things they [Nome police and the city] shared is that they didn't have adequate resources and also that the state lab is backlogged," Bahnke said. "After they submitted all of the sexual assault kits, the anticipated wait time is a year. That's just unacceptable."
The Nome Police Department sends all of their sexual assault kits to the state crime lab for processing — and so does everyone else, including the Alaska State Troopers and other municipal police departments across the state. Right now, according to Nome police evidence custodian Paul Kosto, it's taking kits about a year to be processed in the state lab. Kosto says the donated funding will allow Nome's unprocessed sexual assault kits to get tested at a private laboratory.
"A big part is money," Kosto said. "It costs a lot of money to get kits sent to the front of the queue and to pay an outside entity to perform the test."
That means around a dozen kits will tested by BODE Laboratories in Virginia. Instead of taking a year for processing, Kosto says those kits will likely be done in 60 days or less.
"Then the investigators and the District Attorney's office can determine where they're going to go forward on those kits," Kosto said.
More sexual assaults were reported to Nome police by mid-September this year than all of last year — 98 so far in 2020 compared to 88 reported in 2019.
Kawerak's Melanie Bahnke says it's unacceptable for any of those survivors to be waiting a year for their sexual assault kit. She wants to remain focused on building a partnership with the City of Nome and local law enforcement.
"We've got some bigger hurdles ahead of us, and Kawerak will keep advocating for justice for victims of all kinds of abuse," Bahnke said.
Bahnke says that includes advocating for resources at the state level so there won't be a backlog of sexual assault kits to begin with.