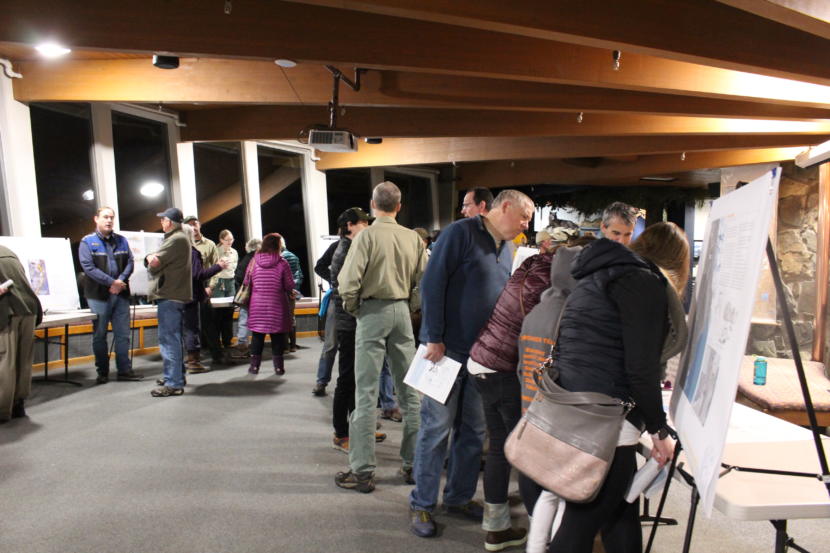 The Mendenhall Glacier Visitor Center in Juneau is getting closer to being updated. The 1960s building could be expanded, and the national forest lands around it could be used differently to address more tourists and a shrinking glacier.
Around 500,000 people visit the glacier annually in the summer. But, in 30 years or so, visitors might not be able to see the Mendenhall Glacier from the visitor center at all.
The U.S. Forest Service is preparing for that reality. The agency held an open house Thursday, Feb. 20, to discuss the new plans, which have been in the works for a number of years.
Most notably, the plans include docks for motorized boats that would carry people across the lake to the glacier's face, where a remote visitor center would be built.
Brad Orr, the Forest Service district ranger for Juneau, says people want to get close to the ice.
"People want to be able to actually go to the glacier itself," Orr said. "Not just to come here and look at the glacier from a distance. But actually go to the glacier."
In May, John Neary, the Mendenhall Glacier Visitor Center's director, retired. Neary was a proponent of electric boats instead of diesel-powered vessels. The plans don't yet specify what type of craft could be on the water. Orr says that could be decided later.
Laurie Craig, a retired Forest Service employee, isn't sure about the proposals in the plan. She'd like to see a more thorough risk and environmental assessment before public comments are finalized.
She worries about people getting too close to a receding glacier.
"The idea of chasing the ice by going over to that little corner, I hate to say it, but I think we've lost that battle. And what we have now is a big pile of gravel with some ice that could be kind of dangerous, and I don't know that we want to get people that close to it," Craig said.
The public comment period for the plans closes March 19. A final decision is expected to be made by September of this year.